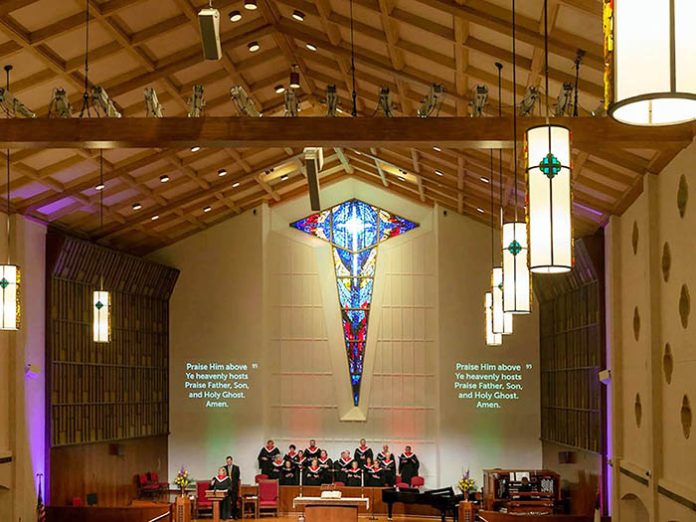 At over 130 years old and counting, First United Methodist Church of Midland, Texas is the oldest church in Midland, an oil industry hub and home to over 100,000 people. The church enjoys local fame because its spacious and beautiful sanctuary was the site of President George W. Bush and First Lady Laura Bush's wedding, and the First Lady's mother, who is local to the area, is still a member. Unfortunately, a recent sound reinforcement system 'upgrade' to line arrays disappointed congregants, staff, and musicians alike because of its murky, indistinct sound. FUMC called in local audiovisual integration firm Romeo Music, who worked with Danley representative Anderson Sales and Marketing to design and install a straightforward replacement system at a fraction of the cost using Danley's patented point-source technologies. The new Danley system is a hit, so much so that FUMC is considering a new Danley system for its contemporary worship space as well.
"This was a sensitive situation," said Rebecca Lowrey, account manager at Romeo Music. "First United Methodist holds a traditional service in the sanctuary, with reinforced voice, piano, choir, and string quartet. They also have a pipe organ. Many of the solo musicians are paid, which gives you a sense of how much the church respects music. Their new line array system was less than three years old. It was expensive, respectable technology but the wrong application. There were many spots in the sanctuary where no one could make out what the pastor was saying, and everywhere else it was muddy and reverberant. No one could even hear the choir, and the choir couldn't hear themselves or the piano that is just ten feet away. There was a lot of frustration as the line array system was very far from meeting their needs."
The decision-makers at FUMC were understandably cautious and skeptical about a replacement system. Kevin Deal, Rebecca and Romeo Music's manager of integrated systems and accounts, called on Danley rep Anderson Sales and Marketing to provide a Danley demo as proof of concept. "Based on the sanctuary's dimensions and acoustics, Kevin and Kim Comeaux [of Anderson] worked together to design a Danley system that would meet and exceed their expectations," Rebecca said. "Apart from its technology, working with Danley is great because we can't beat the design help and demos. I don't have to say, 'trust me.' I can say, 'let me show you.' The church ran through spoken word, piano, and choir at the demo, which proved convincing. Everyone was amazed at how natural and clear everything sounded."
Since FUMC already has a great console and supporting equipment, the only upgrades are the Danley loudspeakers and subwoofer and a new eight-channel Danley DNA 10k8 Pro amplifier with integrated DSP and presets for every Danley box. The simplicity of the design is its strength: a single Danley SBH20LF column-form point-source box covers the majority of the sanctuary from the peak of the ceiling with a Danley TH-Mini subwoofer for natural low-frequency extension. A single Danley SBH20 also fires down from the peak of the ceiling about two-thirds the way back on delay. Five small, but utterly faithful, Danley Nano loudspeakers supplement the main system under the balcony, and two Danley SH-Mini loudspeakers give the choir the high-end monitoring they deserve.
Romeo Music technicians installed the new Danley system on a Wednesday and Thursday, worked with the choir on Friday night to satisfy their monitoring needs, and tuned the system on Saturday before debuting it for Sunday's service. "There were so many positive comments from the congregation," Rebecca said. "Many people said it was the first time they had ever heard the choir, which is a bit disconcerting for the choir members who had been singing all those years, but a win for the new Danley system. The piano sounded stunning, and everyone could understand everything that was said during the service."
She continued, "The church didn't ask enough questions about the line array system, so they asked even more questions of us. And, of course, it's a great outcome that the Danley system is not just an incremental improvement, but a home run. This is the system they really wanted in the first place." The improvement is so great that the staff who run FUMC's contemporary service have arranged a Danley demo with Romeo Music and Anderson Sales and Marketing for their worship space. The demo will provide Kim Comeaux – who performs countless demos across multiple states in the South – with the rare opportunity to hear the installed and tuned system that he had previously demoed.