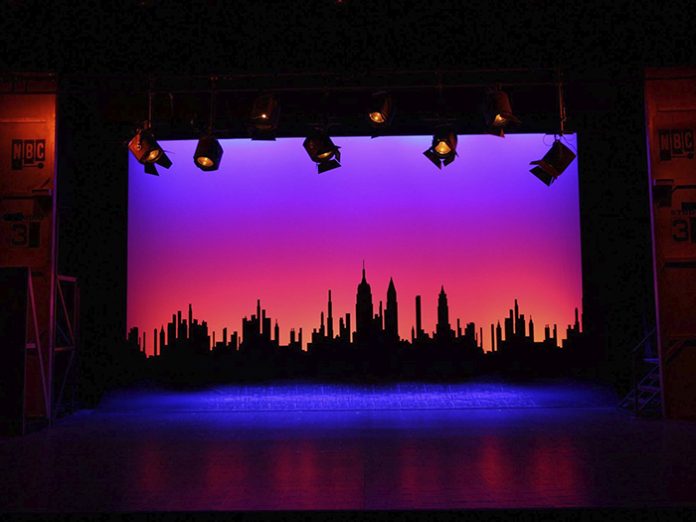 On the surface at least, My Favorite Year and Children of Eden are very different shows. The Stephen Flaherty-Lynn Ahrens musical takes a farcical behind the scenes look at 1950s television, as a hapless writer tries to keep an irascible matinee idol from a bygone era out of trouble before his appearance on a live show. By contrast, Steven Schwartz' "Eden" recounts the story behind creation in the Book of Genesis.
Both cry out for brightness and colour on stage which is precisely what Nic Farman provided for recent productions of the plays at Mountview's new theatre. Aiding him in this undertaking was a collection of CHAUVET Professional Ovation fixtures supplied by White Light, which are part of the prestigious theatre's new lighting rig.
"I've worked on a number of productions for Mountview before, so when I was approached to light the first shows in the school's new theatre, it was an opportunity I couldn't pass up," recalled Nic. "The two shows were rather different, but from a lighting standpoint they shared some things in common — and each was a fun challenge!"
Nic had his design fill a somewhat different role in each production. For My Favorite Year he relied on lighting to distinguish between the scenes that happened behind the camera and those that took place 'on air.' With Children of Eden, his mission was also about establishing different senses of location. However, since this show recounts the story of creation, he used lighting to add a 'magical element' to the stage.
In both cases, the use of colour was front and centre in his design strategy. "I'm a big fan of using a rich colour palette," he said. "The rig I had in Mountview's new theatre allowed me to play with everything from deep saturates to subtle pastels for both shows. With 'My Favorite Year,' the use of colour was intended to give the production a cartoony feel that was larger than life. On 'Children of Eden' it was a little subtler and was used to mimic everything from heightened sunsets and sunrises, through to floods and the creation of the Garden of Eden. In each case, the Ovation fixtures were immensely helpful."
Nic used eight Ovation B-2805FC fixtures and two Ovation B-1965FC units to wash the cyc, both from the top and the bottom. "This gave me great options for colour mixing," he said. "The brightness of both Ovation models was critically important. Each allowed me to convey intensity without over doing it. My Favorite Year needed to be bright and fun without over lighting it. Children of Eden needed the lighting to conjure up a lot of the locations whilst remaining subtle.
"Having used Ovation fixtures before on 'The Toxic Avenger' and 'Broken Wings' I was confident in their intensity," continued Nic. "Knowing you can run them at 80% and have them be still really punchy is great, because you've always got that extra bump on top for when you need it."
Transforming a theatre space into two very different productions in a short period of time, and with an essentially fixed rig was hard work. Nic credits his team Antony, the Production LX and Follow Spot Operators Alice, David, Emma and Issac as well as the Mountview staff with helping to make it happen.
"This was a rewarding project all the way around," he said. "It will be nice to look back and say we lit the first shows in the new Mountview Theatre."