Since its founding in 2008, Fulcrum Acoustic has proudly produced its loudspeakers domestically in Whitinsville, Massachusetts. Visiting the factory is a great way to learn about our loudspeakers and manufacturing process from start to...
VUE Audiotechnik has prepared a short video to help Churches as they prepare for live streaming. Brandon Rinas, Sales Development House of Worship Systems provided some tips: "Streaming involves taking both audio and video into...
A new video has been released on A4i.tv that documents the use of EXE Technology's DST System (Dynamic Stack Tracks) during a concert by Italian rock group Subsonica. The video shows the DST 52...
More than a century old, St. Thomas High School enjoys a gorgeous campus on prime Houston real estate. The Catholic institution's current building dates to 2002 and includes a gymnasium with a surprising history:...
Check out the new video release on A4i.tv that puts the new Milos Armor Cart in the spotlight. Learn how the Armor Cart helps reduce hoist storage and transport space, as well as making...
Over the last decade, the number of mini theatres in Tokyo has declined as multiplexes have flourished, but UPLINK and its president, Takashi Asai, have remained true to their belief that the future is...
The new Mercedes-Benz Actros and Arocs trucks launched in the Middle East and Africa in  with Germany-based lighting company tarm Showlaser. The regional launch of the new generation of heavy-duty trucks – the new Mercedes-Benz...
The Design Series comprises four modular panels of different shapes that can be combined together to create video screens of almost any conceivable size and shape. The ADJ DS4 (square), DS4T (triangle), DS4QC (quarter circle) and DS4HC (rectangle) can be easily linked...
Walk through the halls of Prolight + Sound 2018 in 360° video. Halls 5.0, 4.0, 4.1, 3.1 and 3.0 are shown in the video to give you an overview of the exhibitors at Prolight...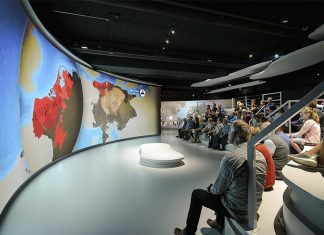 Dutch A/V design and integration firm Rapenburg Plaza worked with the Netherlands Open Air Museum to make the exhibition The Canon of the Netherlands successful, relying on 44 channels of Ashly Audio fully-networked and DSP-enabled...