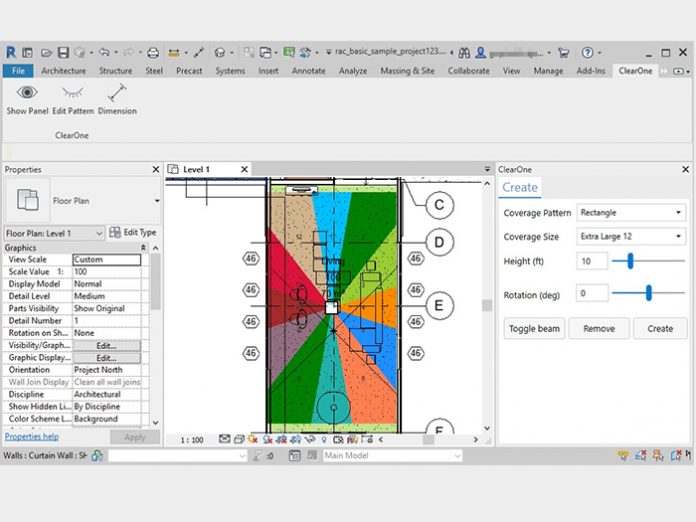 Continuing its mission to provide simple, powerful communications solutions for every professional audio and video need, ClearOne has introduced its new BMA 360 Audio Coverage Plugin for Autodesk Revit Building Information Modeling software (BIM) that lets designers and integrators quickly determine precisely where a microphone array should be placed for optimal room coverage.
The intelligent plugin helps maximize the effectiveness of the company's Beamforming Microphone Array solutions and simplifies design and installation with Autodesk's market-leading Revit BIM software.
The powerful BMA 360 Audio Coverage plugin provides dynamic support for most BMA 360 beam configuration options available within ClearOne's CONSOLE® AI software including coverage pattern selection, coverage size, height above the floor, rotation, and enabling or disabling beams.
The plugin is compatible with Revit 2019 through Revit 2022 and can be downloaded immediately here.
ClearOne's patented BMA 360 is the world's most technologically advanced beamforming mic array ceiling tile, delivering unrivaled audio performance and ease of deployment. Featuring powerful innovations including Voice Lift, FiBeam and DsBeam, the BMA 360 provides 360-degree coverage with up to two beams at once and provides up to a 20dB boost in voice lift gain before feedback compared to an omni mic. Sixth-generation Acoustic Echo Cancellation delivers unparalleled per-beam full-duplex audio performance while on-board audio algorithms for noise reduction, filtering, and Automatic Level Control eliminate the need for per-beam processing in a DSP mixer – requiring fewer DSP mixer resources.