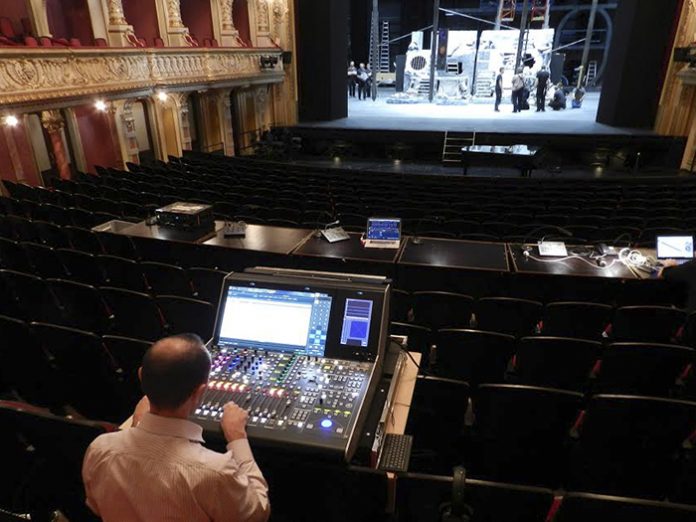 The Zurich Opera House entered the 2017/18 opera and theatre season following an extensive technical renewal that included new audio equipment, modernisation of its workflows, and fresh approaches to its sound reinforcement.
The Lawo mc²66 mixing console that was previously installed in the sound control room has been replaced with an mc²56, with a second an mc²56 also installed in the auditorium – making the sound control desk and auditorium desk mirrored consoles. Operated in mirror mode, the configurations, snapshots and adjustments of parameters that are performed on one console can also be recalled at the other. This ensures efficient preparation of performances, particularly where Microport systems are increasingly being used. Managed in this way, musical and children's opera projects planned for the future will be easier to mix in the hall.
The new Lawo mixing consoles offer 48 faders in the control room – a 32-fader console with a 16-fader extender that can also be connected to the hall console – and 16 faders at FOH, with both sharing a common core. Previously installed with the mc²66, this core remains the heart of the system and has been expanded with Wave SoundGrid with Gold Bundle, along with an additional Dante card. The capacity of the redundant routing card is 8192 x 8192 mono channels; four DSP cards provide 192 DSP channels of processing. Both consoles can be used standalone or in two-person operation so that, for example, recordings are activated and controlled from the sound control room while the auditorium console is used as part of the sound reinforcement system.
In addition, the Zurich Opera House uses Wave Field Synthesis (WFS), in which 32 possible listening positions are controlled via the Lawo consoles. The large matrix enables easy integration of 3D Sound SSW (Spatial Sound Wave) from Fraunhofer IDMT for Surround and Spatial Acoustic Applications (Fraunhofer IDMT für Surround- und raumakustische Anwendungen) – currently 88 channels. The IDMT's SpatialSound Wave technology enables object-based audio playback and generates an extended sweet spot as compared to conventional playback systems, as well as the ability to create audio productions compatible with any loudspeaker setup.
Oleg Surgutschow, Head of the Zurich Opera House Sound Department, is very satisfied with his newly installed Lawo components: "I particularly appreciate the sound characteristics of the Lawo signal processing system," he said. "The possibility of integrating the SoundGrid with Wave plugins makes it much easier for us to mix live. The almost unlimited possibilities of the router are also important for our long-term planning and further development."
About Lawo
Lawo designs and manufactures pioneering network, control, audio and video technology for broadcast and post production, as well as live performance and theatrical applications. Products include control and monitoring systems, digital audio mixing consoles, routers, video processing tools as well as solutions for IP-based A/V infrastructures and routing systems. All products are developed in Germany and manufactured according to highest quality standards at the company's headquarters in the Rhine valley town of Rastatt, Germany.
For additional information, please visit the company online at www.lawo.com.