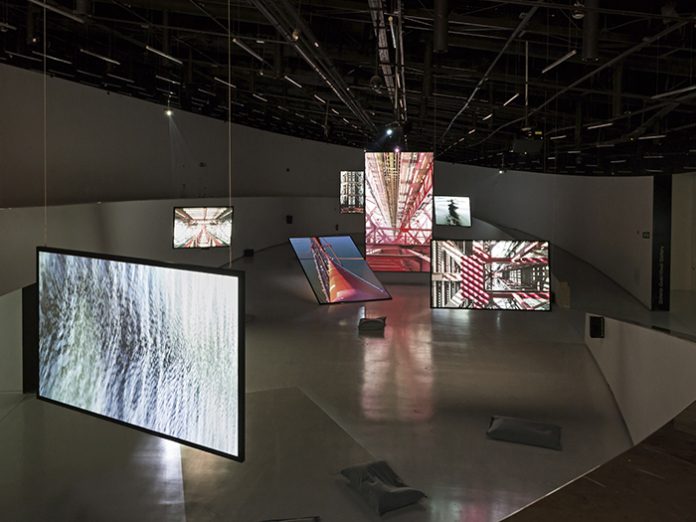 A Meyer Sound D-Mitri audio platform with integrated multichannel networking is the pivotal component in Shadow Soundings, an ambitious multimedia installation by renowned sound artist Bill Fontana, now on view at the Museum of Art, Architecture and Technology (MAAT) in Lisbon, Portugal.
Bill's work employs cutting edge audio and video technologies to give visitors an intimate and immersive experience of the city's beloved 25th of April Bridge, which spans the Tagus River just upriver from the museum. The installation's D-Mitri system comprises six frames, with one DAI-24 input frame placed on a bridge tower to carry live, high-definition multichannel audio about back to the museum's 800 square meter Oval Gallery. The indirect "dark fibre" connecting the remote frame to the main rack spanned a distance of about 21 km, making it by far the longest connection yet deployed for hosting D-Mitri's Ethernet-based audio network.
Inside the museum, the D-Mitri platform served as a "digital brain" tasked with implementing Bill's design for an all-enveloping sound experience. Using Meyer Sound's Space Map multichannel panning software, Bill's programmed the system to dynamically assign the ten live sounds from the bridge to a total of 30 Meyer Sound self-powered loudspeakers mounted in and around the gallery space.
"Shadow Soundings is the most ambitious art installation I have yet created," said Bill. "Without Meyer Sound technologies I simply could not have created such a striking sound component. That's due not only to extremely high quality sound but also the elegant spatial mixing available through D-Mitri and Space Map."
For live sound sources, Bill attached eight Earthworks condenser microphones at various locations around the bridge. In addition, he attached a Brüel & Kjær seismic CCLD accelerometer to one of the main bridge cables, digitally converting the vibrations into the unique "singing" sound of the bridge. With the assistance of the Portuguese Navy, he mounted an underwater hydrophone under the surface to capture the sounds of the river and passing ships. All sound sources were connected to a D-Mitri DAI-24 and transmitted back to the museum with 24-bit/96 kHz resolution over the fibre optic link installed by Portugal Telecom.
"The bridge is an iconic structure in Lisbon," said Bill. "You can see it from almost everywhere and you can even hear the singing sound of the steel grid roadway, so I absolutely did not want to compromise on audio. D-Mitri and its high-definition network ensure that we have fantastic sound quality for the live audio in the gallery."
Assisting Bill on the project was Scott George of London-based Autograph Sound. Also a collaborator on several prior Fontana projects, Scott was similarly enthused by the promise of AVB networking.
"AVB networking is an exciting technology that enables us to transport extremely high audio quality over long distances," he observed, "so this greatly expands possibilities for projects where we want to get pristine audio from distant sources and bring it back to the exhibition space. I hope this will continue to grow and eventually allow us to send extremely high quality audio over networks to any point in the world."
Inside the Oval Gallery, the 30-channel D-Mitri system connects to two concentric rings of Meyer Sound self-powered loudspeakers. In the main gallery, eight UPJ-1P loudspeakers and six UMS-1P subwoofers play a sonic choreography made from the oscillating tones of traffic over the steel grid roadway and the accelerometer picking up sonic energy from the suspension cable. A separate zone, comprising 16 UPJunior compact loudspeakers, covers the sweeping outer walkway and plays a spatial composition derived from the live hydrophone in the river. In addition, four UPJ-1P loudspeakers extend the sonic effects on the exterior façade of the building.
"Meyer Sound loudspeakers are the best choices for sound artists in these situations," commented Scott. "They are created with the utmost quality to reproduce any sound consistently and without coloration. When an artist like Bill is trying to reproduce sounds with uncompromising accuracy, then Meyer is the only choice." Cameras positioned under the roadway, on top of the south tower and directed upward from the tower base send moving images for projection onto hanging screens viewable from both sides as well as on ceiling screens.
Shadow Soundings, curated by MAAT Director Pedro Gadanho, opened on October 4th and remains on exhibit through February 12th, 2018. Bill's work marks the beginning of a continuing, five-year technology collaboration between Meyer Sound and MAAT. As part of the collaborative effort, the partners will sponsor a "RESONATE: Thinking Sound and Space" conference on February 12th, focused on innovative applications of sound in architectural environments."
"What has fascinated me about Meyer Sound is that it is a very high-tech company with a creative vision," said Pedro. "It is not market oriented but rather focused on innovation. I think that is very close to an artist's spirit, and in that sense our museum's partnership with Meyer Sound is a perfect match."
Internationally renowned sound artist, Bill has changed the perceptions of visual and architectural spaces around the world with his work for more than four decades. Meyer Sound has played a central role in most of his sound sculptures, including recent exhibits at Rome's MAXXII Museum, London's Tate Modern, SFMOMA in San Francisco, Madison Square Park in New York, and the Imperial War Museum North in Manchester, UK.
Located alongside the Tagus River and opened in late 2016, the new MAAT building was designed by Amanda Levete Architects of London. It adjoins an existing museum structure, originally a century-old electric power plant. The MAAT complex is owned and operated by Portugal's EDP Foundation.
About Meyer Sound
Meyer Sound continually strives to elevate the overall dialogue about sound and bring greater awareness to the importance of how we hear and listen. A collaborative, results-focused approach to sound solutions drives a company philosophy where creative thinking, old- fashioned craftsmanship, and entrepreneurial technology are strongly intertwined. Tours for top-grossing artists and respected concert and entertainment venues rely on Meyer Sound, as do houses of worship, cinemas, restaurants, universities, corporate offices, and museums. With field offices and authorised distributors worldwide, Meyer Sound designs and manufactures all products at its Berkeley, California headquarters, allowing for rigorous quality control and testing.
Scientific acoustical research and product development have earned Meyer Sound more than 100 US and international patents and numerous awards since its founding in 1979 by John and Helen Meyer. Meyer Sound is a registered trademark of Meyer Sound Laboratories, Inc. All rights reserved.
Meyer Sound on Facebook: facebook.com/meyersoundlabs
Meyer Sound on Twitter: twitter.com/meyersound