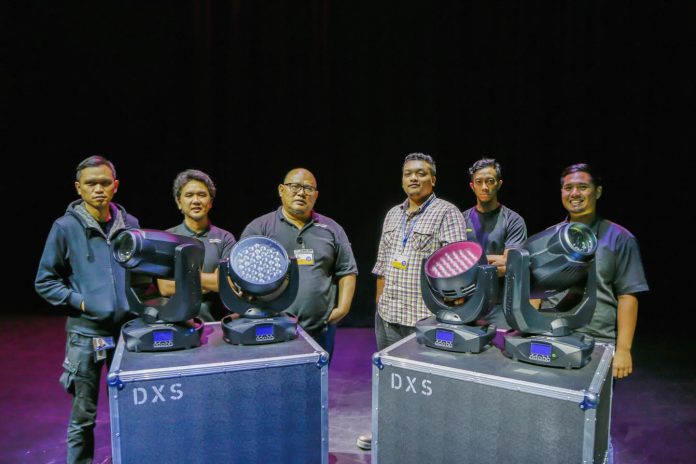 Yale – Nus College is a liberal arts college in Singapore. Established in 2011 as a collaboration between Yale University and the National University of Singapore, it is the first liberal arts college in Singapore and one of the few in Asia. Yale-NUS inaugurated its campus located at 16 College Avenue in October 2015. Within the campus under the Arts department is a state of the art 339 seater Performance Hall and Blackbox Theatre with capacity to hold 185 pax.  
Md Shafei Seri, Senior Technical Manager for the Arts department was tasked to seek an energy efficient LED based moving spots and wash lights to enhance their existing lighting inventory. "Our campus is committed to the Go-Green initiatives to improve energy efficiency and this translates to our choice of lighting equipment which traditionally are very high energy consuming products. We needed a low energy consumption yet high performance LED base product that does not sacrifice the quality of light output crucial for our shows. We also needed low noise products that suit the Performance Hall environment".  
After several months of evaluation and demos of numerous proposals from various suppliers, Shafei finally decided to order 25 pieces of JB Lighting Varyscan P7 CMY LED Moving Spots and 30 pieces of JB Lighting A8 LED Moving Wash.
Shafei commented:" We needed fixtures that are lightweight and compact sized. The JB Varyscan P7 CMY weighs only at 16kg. It has a good zoom and runs extremely quiet. It has a good output for a low 270w power consumption fixture. The output matches that of a traditional 800w lamp based moving light spot and the CMY color mixing gives us all the colors we need. The fixtures are easy to maintain due to their modular design. This is truly an ideal multifunction moving fixture for small and big stages".      
With the Spots sorted, Shafei turned to the Washes. "I find the JB A8 fits our needs well.  . The College wanted and has gotten a bright, compact sized wash with good colour mixing, they have a great zoom range to cover the stage area and it is virtually silent.  
Shafei also added that other than the JB Varyscan P7 CMY and A8 product capabilities, a firm reason for choosing the JB fixtures was due to the fact that JB Lighting is distributed by Total Solution Marketing Pte Ltd (TSM). "We studied our options and strongly considered the level of after sales service available for all our product purchases. Many of the existing lighting and rigging equipment in our venues are brands distributed by TSM. We knew from past experience that we can always depend on timely, and reliable technical support from the guys at TSM".
Glenn Wong, Managing Director of TSM concluded:" we are thrilled and honored that Yale-NUS College has chosen to trust and invest in JB Lighting.  This re-affirms our belief to represent top quality brand products and continuing to offer the best customer service to all of our customers. We are also delighted that Yale-NUS College is the first client in South East Asia to invest in the award winning JB Lighting Varyscan P7 CMY Spots. The JB Varyscan P7 CMY was awarded as best light product in the highly acclaimed 2017 Prolight+Sound International Press Awards (pipa).