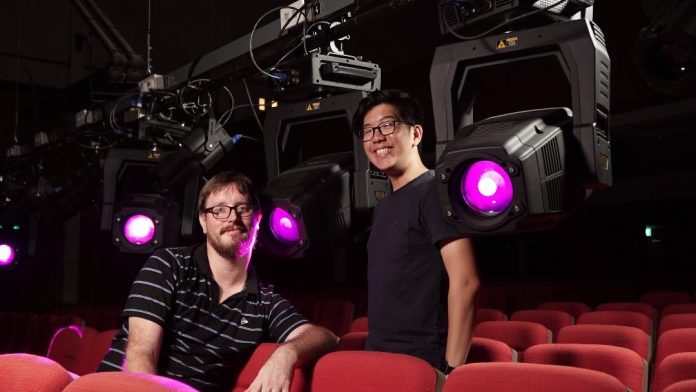 Church of Our Saviour is a parish within the Anglican Diocese of Singapore that started as a mission in the 1950s and has since grown to a congregation of about 4500. The Church currently has its services at a renovated ex-cinema in Queenstown.
The Church recently decided to replace its 15 year old Tungsten based moving head spot lighting fixtures as they were becoming difficult to keep in operating condition. The Church decided to replace the lighting fixtures with LED based light source as they are energy efficient and reduce maintenance drastically with no lamp replacement required. The Church also required that the replacement lighting fixtures offer warm white light capabilities as the replacement fixtures were meant to primarily be used to light up faces and key light positions.
Jon Hemsley, senior technical executive at the Church contacted their long term lighting supplier Total Solution Marketing Pte Ltd and laid out their requirements. "Taking into consideration the Church's needs, we recommended the SolaSpot Pro 1500 fixtures from High End, as other than the warm white light, it also has framing shutters that allows shaping of the face light coverage areas while masking curtain spill," said Kartik Keyan, Sales Executive at Total Solution Marketing Pte Ltd (TSM).
A demo was conducted and after careful evaluation of the various proposals from different suppliers and manufacturers, Jon decided to order a total of eight High End System Solaspot Pro 1500 spot fixtures for the Church. "The fixture is extremely bright with an output of 20,000 lumens using just a 400w LED engine. They come with framing shutters, two gobo wheels, linear CTO, CMY colour mixing, a prism, an iris, frost, animation effects and an 8 to 45 degree zoom range. Key features include the lens defog system which is essential in LED fixtures as well as thermal protection to ensure that the fixture always operates at its optimum," added Jon.
Jon continues, "The new fixtures are performing well with pleasing results both to the naked eye and on camera. The color saturation is also fantastic. But the biggest impact is behind the scenes. Our Tungsten fixtures required regular lamp replacement. This operating cost has been greatly reduced and we now only need to operate the flybar when lighting design requires re-rigging!
Additionally, we were previously running quite close to the available capacity of our electrical supply. This upgrade allowed us to free up a lot of power supply circuits for special event lighting.
Of course I must add that we were impressed by how professional and efficient Kartik and the guys from TSM were! They also provided the necessary training to help us get the best out of the Solaspot."