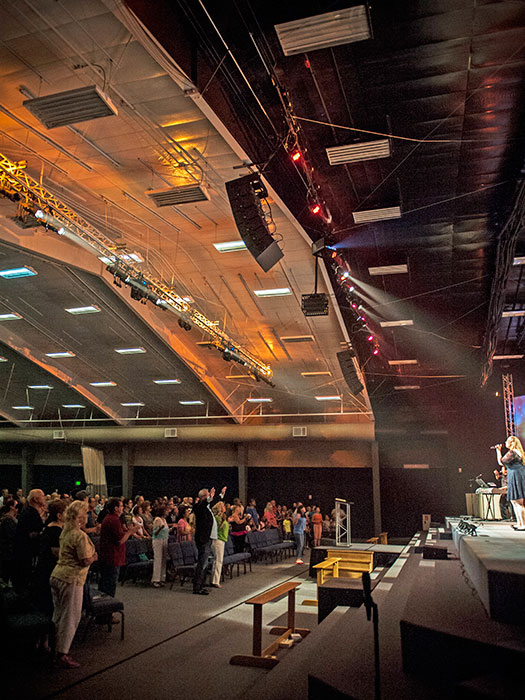 As a Protestant Christian church in the Wesleyan-Holiness tradition, Springs First Church strives to create an environment where each person attending, from long-time Christ-followers to those investigating Christ, can walk away different than when they entered. To accomplish this, music assumes a prominent role in the church's services, as it has been found to be a terrific means of engaging the congregation. To ensure the best possible music and speech reproduction, the church recently upgraded their sound reinforcement capabilities with a new system drawn from the catalog of WorxAudio Technologies, a division of PreSonus Audio Electronics.
CSD (Custom Sound Designs) Group, a design / build firm providing audio, video, lighting, and acoustics services, was contracted to manage the installation of the church's new sound system. CSD Group President Doug Hood, who oversaw the project from conception through completion, discussed the challenges and his decision to deploy WorxAudio X1i-P line arrays and TL218SS subwoofers.
"Springs First Church employs a blend of both traditional and contemporary music during their services," Doug explained, "but, overall, their services lean toward the contemporary. Not only is music a vital element of their services, the church also hosts a variety of concerts in their venue each year, so a quality sound system became increasingly important. Their previous sound system was unable to deliver the level of quality worship experience they wanted because it lacked enough power – particularly in the low frequency range – and it also exhibited inconsistent coverage."
To address these issues, Doug and the CSD crew placed a total of 12 WorxAudio X1i-P two-way, high efficiency, compact line array elements – six enclosures each over the front left and right sides of the stage area. The WorxAudio X1i-P encompasses a medium format one-inch exit compression driver coupled to a stabilised proprietary wave shaping device paired with dual eight-inch cone transducers for the low frequencies.
"While the sanctuary has seating capacity for 1,000 people, services currently run in the 600 – 700 person range," reported Doug. "The beauty of the modular line array approach is that, as the congregation grows in size, we can easily expand the system. So the plan is to eventually add another four loudspeakers per side."
Low frequency support is provided by a pair of WorxAudio TL218SS high SPL sub bass enclosures. These loudspeakers are positioned on the left and right edges of the stage. The WorxAudio TL218SS utilises two direct radiating 18-inch 2000W cone drivers in a tuned enclosure, which provides maximum output with minimal distortion for smooth extended low frequency response. Completing the setup, Hood and his team also placed three WorxAudio TrueLine V5M-PAS passive enclosures for front fills. They are positioned across the front edge of the stage to provide coverage for those seats in the front centre of the room.
When queried about those attributes that made the WorxAudio enclosures so well suited for this particular installation, Doug offered the following: "The old main speaker system didn't cover the room well, specifically in the horizontal plane. One of the greatest strengths of the WorxAudio X1i-P line array is its very wide 160-degree horizontal dispersion. Because of this, with just a left – right hang, we were able to achieve excellent coverage throughout the entire seating area. As for the TL218SS subwoofers, low frequency sources such as the bass drum and bass guitar are finally getting the low end support they deserve. Our master plan also calls for a total of six WorxAudio subwoofers as the congregation size grows."
Doug was also very appreciative of WorxAudio's technical support services. "The entire WorxAudio team worked very hard to support us during this project," he said. "They even modeled the space for us to ensure the best possible coverage." The new WorxAudio sound reinforcement system was installed in August 2015. Since that time, Doug has received numerous compliments: "The system has received rave reviews from the church, especially for the new combined service that took place opening weekend. Everyone has been very impressed with the level of sound quality that we designed and delivered."