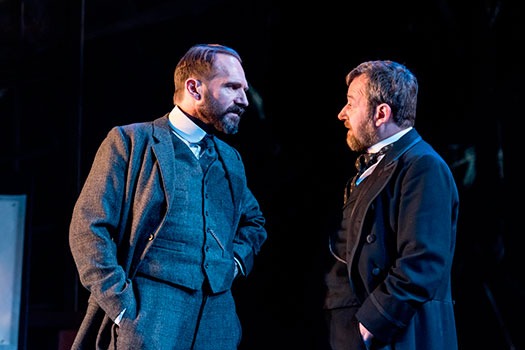 A searing exploration of power, control, death and life, The Master Builder opens at The Old Vic theatre this evening. In this lively new adaptation of Henrik Ibsen's classic play, the show stars Academy Award nominee Ralph Fiennes as master builder Halvard Solnessand and has been adapted by award-winning playwright David Hare. As the leading-lighting supplier to West End theatre, White Light is supplying the equipment on what promises to be an unforgettable production.
Following its opening performance, The Master Builder will run until 19 March 2016. It is being lit by Hugh Vanstone, who is working on the play for the first time. He comments: "This is a fantastic piece that deals with many dark and sometimes unexplained strands. Throughout the evening, the mood veers from naturalism to heightened reality and sometimes into the mythic."
Alongside the themes, Hugh's design was largely centered around the physical environment of the play. He stated: "Rob Howell, the Set Designer, has designed an enormous apertured ceiling piece so any possibility of overhead lighting was ruled out. Although this was in some ways a challenge, the aesthetic is really striking and intrinsic to the piece so it was just something I had to contend with."
As a result, Hugh drew on WL's unparalleled range of lighting equipment. He added: "I wanted to be able to roll seamlessly and, just as important, silently between colours. Therefore I chose ETC Series 2 Lustrs as the main area lights. I am using four Martin MAC TW1s to provide area highlights and specials whilst the backlight and low sidelight comes from Vari*Lite 500 Arcs, chosen for their punchy beams. Vari*Lite 1000 Arcs are being used to light the burnt wood sculpture that surrounds the acting area."
The Master Builder is just one of several prolific shows that WL is providing the lighting equipment for, with the complete production solution specialist also working on the upcoming Aladdin and Mrs Henderson Presents West End transfers.
Jedd Hamilton, WL's Hire Manager, commented: "The Master Builder is a really unique show in one of London's most renowned theatres. Throughout all of 2016, we will be working on an array of exciting new productions, both in the capital and across the country. With our continued investment in the very latest lighting equipment, we will be able to provide each of these with the exact specifications they require."
Hugh concluded: "I had a superb experience working with WL. I will be using their services once again on The Caretaker, the next play I'm designing in The Old Vic season."