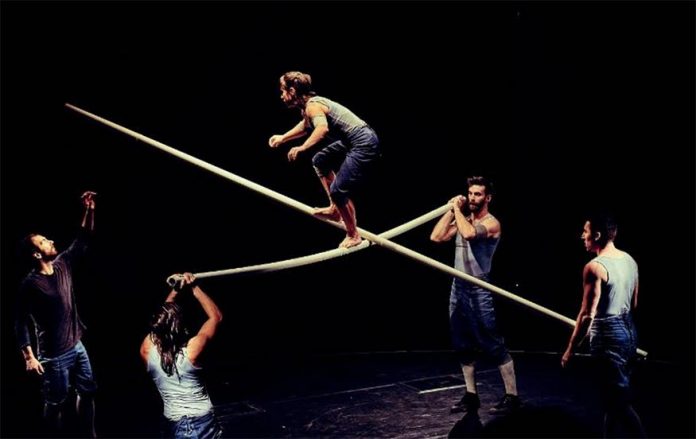 Taking place as part of the London International Mime Festival, Tipping Point is the latest production from renowned theatre company Ockham's Razor and features five acrobatic performers using simple metal poles to create an unforgettable theatrical experience. It is currently running at the Platform Theatre, London, and has already achieved critical acclaim. With its strong reputation as the leading theatrical lighting supplier, WL is providing the equipment for this ground-breaking show.
Tipping Point is a co-commission by the London International Mime Festival and The Lowry, Salford Quays, and is produced by Turtle Key Arts. Alison King, Chief Executive at Turtle Key Arts, commented: "With Tipping Point, we wanted to create something extraordinary. The emphasis was on exploring the use of circus equipment yet in an unconventional manner. We were eager to delve into this relationship and really see what performers can achieve with just ordinary poles and what takes them to that 'tipping point'".
The layout of the show featured an eight-metre circle, with the audience seated in the round; mirroring the layout of a traditional circus. Alison added: "We deliberately wanted the audience to be close to the action as we wanted this to be an intimate performance. Some audience members were only a metre away whilst the artists climbed, vaulted and performed 360 axel spins. It provided a truly immersive experience for them".
As with any theatre show, lighting played a prominent role in enhancing this experience. Alison commented: "Despite the strong physical emphasis of the show, it still had an emotionally-engaging narrative. Therefore we needed a lighting set-up to really highlight the themes being explored".
Phil Supple was Lighting Designer for the production. He commented: "This was a really unique show to light, due to both the layout and use of poles. I wanted to create a lighting design that complemented the story being told whilst highlighting these magnificent acrobatics. That said, a big challenge was creating a lighting set-up that could be used in the round without blinding the audience".
The solution was to rig lighting booms at steep angles, based around a high truss structure.  Due to the open nature of being in the round, this meant that all of the lighting used was on display. Phil added: "There was a real rawness about this performance with everything being on show. Therefore the lighting we utilised not only had to achieve the colouring and tight angles we required but also had to be very compact and as quiet as possible".
As a result, Phil drew on a series of ETC Source Four Profiles and Rainbow Scrollers to achieve his perfect design. He added: "Obviously, due to the unique nature of this project, it was about drawing on the exact equipment that I needed, as opposed to simply the latest models etc. As WL has such an extensive lighting stock, I was able to utilise exactly what I required".
The show runs at the Platform Theatre until 23 January. It then embarks on a UK tour, visiting cities such as Swansea, Cardiff, Newcastle and Cambridge – with WL providing the lighting support at every venue.
Alison concluded: "Turtle Key Arts has been producing ground-breaking theatre for more than 26 years now and for 25 of these, we have been working with WL. It's more like a friendship than a working relationship and they always manage to provide our productions with exactly what they need – just as they did on this occasion".