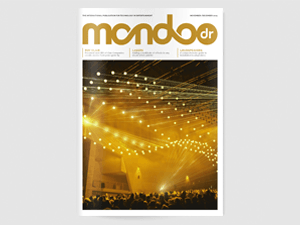 Our Product Guide this issue focusses on loudspeakers and I think it's quite possibly one of the largest product features we've ever had in the magazine. It spans across a whopping 16 pages and covers a staggering 55 products. The range includes anything and everything from loudspeaker drivers to small format cabinets for bar and restaurant installations, column arrays with beam steering technology, club-specific enclosures, large scale PA systems and much more. So if you're in the market for a loudspeaker system to kit out a certain installation, our Product Guide would be a good place to start!
The loudspeaker theme continues with our Interview this issue, as Phil Ward chatted with Roy Clair, co-founder of the company which shares his name. On the verge of celebrating 50 years in the business, most of us would consider Roy a veteran, and if you're from the audio part of 'our world', the interview is well worth a read.
Elsewhere in the issue our Report is dedicated to lasers, which is introduced by Pangolin. We also have show reports from PRO in Birmingham, LDI in Las Vegas and mondo*dr's first light festival, iMapp in Bucharest.
In the venue section we report on two clubs from The Americas region: one in Trinidad that is the first full Blizzard Lighting install carried out by integrator, Streamline Systems; and the second is Soundcheck in Washington DC, the latest nightlife venture from Panorama Productions. Over the in EMEA territory, performance venues take the lead. Simon Duff reports on Palais des Festival in Cannes, which has had an Adamson upgrade, and we cover the National Forum of Music in Wroclaw, Friedrichstadt Palast in Berlin and Colston Hall in Bristol. Wrapping up the section is Lisbon nightclub, Lux Fragil, a venue that been open for over 15 years but recently had an injection of new technology thanks to XTA's APA Series and Funktion One's Evolution Series.