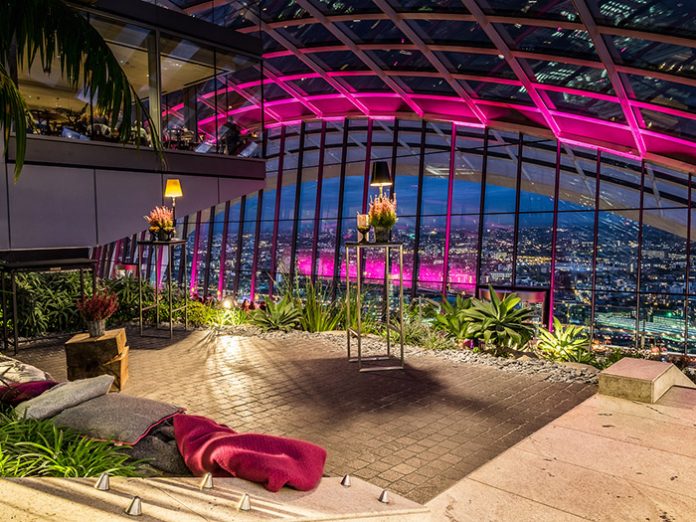 Sky Garden is a unique space in central London that not only offers a 360° view across the capital but also features a landscape garden, the Fenchurch Restaurant and the Sky Pod Bar; all of which play host to various parties and live music events. Run by rhubarb catering group, they wanted to enhance the existing space and create an unforgettable atmosphere for those visiting the venue. As a result, they called on complete production solution specialist White Light to help to achieve their vision.
PB Jacobse, Managing Director of Rhubarb, commented "Sky Garden is a unique venue as it is one of the few event spaces that offers panoramic, breath-taking views of London. That said, for those visiting the space on an evening, there was no actual lighting set-up. Therefore we wanted to create something which would not only compliment the space and surrounding views but also create an ambience that could enhance any event taking place within the venue."
Jonathan Haynes, WL's Business Development Manager, commented: "We have worked with Rhubarb before and know the Sky Garden space really well. We met and talked through their ideas before visiting the venue to see what could be physically achieved. Ultimately, to create the atmospheric feel they required, we felt that the Core ColourPoints would be the perfect solution, not least because they are extremely portable and offer a great deal of flexibility."
The Core ColourPoints are a lightweight, lithium battery powered LED event uplighter controlled by Wireless DMX. Having an unbelievably bright 2000lumen output ideal for architectural uplighting, the ColourPoint features internal programs, built-in colours and is ideal for colour-mixing. The versatility of the product, along with its numerous features, made it the ideal choice for Sky Garden.
With the ColourPoints having now been delivered to Sky Garden, they have had an immediate impact on the space. PB commented "The lights look incredible and have created the exact atmosphere which we were striving for. Not only that, but their versatility means they can be moved around the space and used as and when appropriate. We are really grateful to WL for providing this product and for their extremely helpful and efficient service throughout."
Jonathan added: "It was fantastic that a renowned venue, such as Sky Garden, was able to utilise our services and that we could provide them with the best possible lighting solution. At WL, it's important that we understand our client's needs and that we build a relationship with them, ensuring that whatever product they purchase from us, it is ultimately the right one for them."
This marks another example of WL providing the production solutions to a prolific venue, following recent work at Rambert, Queen Elizabeth II Conference Centre and Battersea Arts Centre. The company has also recently made a further sale of Core ColourPoints to The Ritz, another flagship London venue.