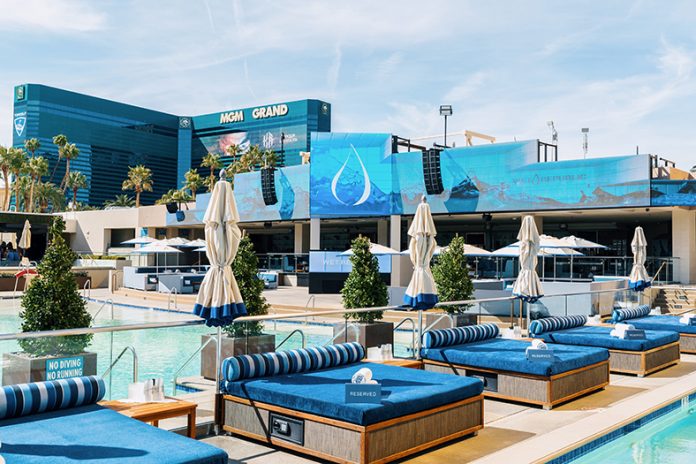 Comprising large pools, intimate dipping pools, daybeds, banquets, luxurious bungalows, and deluxe cabanas, Wet Republic provides guests with the ultimate pool party experience.
Part of MGM Grand Las Vegas, Wet Republic is the ultimate, 54,500 sq ft outdoor day club in the rolling hills of the city's strip, comprising intimate pools, daybeds, banquets, bungalows, and party cabanas, making it the go-to day party destination for world class DJs and dedicated dancers alike. The club is part of the Tao Group Hospitality's outstanding portfolio of venues, that also includes; Omnia, Hakkasan and Marquee to name but a few, and has been graced by some of the biggest names in the industry, including Calvin Harris and Steve Aoki. 
The venue underwent a major renovation in early 2020, which saw new audiovisual systems specified and designed by Audiotek, who have a long-standing relationship with the team at Tao Group Hospitality. "Audiotek has had a long and fruitful relationship with the management team and their previous international projects, including Godskitchen and the Global Gathering festival," explained Frank Murray, Founder, Audiotek.
"This relationship has strengthened as their presence in Las Vegas and North America has grown, with iconic clubs like Omnia, Hakkasan and Jewel leading the way and establishing their stature worldwide. These landmark projects cemented the relationship we had nurtured with the individuals and the group, and was strengthened in Cabo, Mexico and Dubai, with the expansion of their beach club brands, too."
However, two weeks after the ribbon cutting and unveiling of the brand-new, state-of-the-art technology, the club was forced to close due to the pandemic, mirroring the hospitality sector's devastating COVID-19 experience. "We completed the project right before the pandemic hit, so we had two weekends of events and then spent the better part of a year with an empty venue with not much going on," explained James Algate, Senior Vice President of Entertainment and Brand Strategy at Tao Group Hospitality. 
During this time, the venue operated as an extension of MGM Grand's resort pool allowing people to use the day beds and other facilities it provided, but the eclectic entertainment that it prides itself on was missing. "We were unable to book any entertainment due to local restrictions, social distancing and other mandates. However, since we reopened again in June this year, it's been phenomenal. We're now back to delivering the unforgettable experiences that we did pre pandemic, and the new technology installed has only heightened that."
The brief from James and the team at Wet Republic was to create an 'unbelievable experience for guests' that would continue to position the venue at the forefront of Vegas' day club scene. The original sound system had been in place for over 10 years, and, from the beginning, James knew that a brand-new system comprising L-Acoustics products would be the perfect match for Wet Republic. "We've completed other very successful projects across Vegas and the globe using L-Acoustics products. We've always been incredibly pleased with the quality and great service the brand offers, so we knew that using L-Acoustics on the Wet Republic project would massively improve the guest experience."
View this post on Instagram
Frank and the team at Audiotek used L-Acoustics' modelling software to maximise the performance of the system. The location presented several challenges due to the highly residential surrounding area, which also included guest accommodation, so they had to be aware of sound spillage and disruption, while also ensuring maximum performance and atmosphere within the venue. By using the modelling software, Audiotek was able to maximise high-energy audio on the more crowded parts of the club, and, for the quieter, private cabana areas, L-Acoustics X Series infill cabinets were supplied to provide good-quality sound and atmosphere. 
Installed in the main area of the club are 18 L-Acoustics KARAiW two-way line arrays positioned L-R, along with eight L-Acoustics KS28 subwoofers. In the VIP areas, six KARAiW loudspeakers were specified, and the cabana / bungalow fills benefit from 10 L-Acoustics X8W two-way passive enclosures, as well as six L-Acoustics SB18iW subwoofers. Amplification comes from six L-Acoustics LA12X amplifiers and four LA4X amplifiers. "L-Acoustics is a great brand that we have been reassured by in the quality and integrity of the support personnel, as well as in the design and robust sonic quality of its components and products," explained Frank. "Quality, reliability, accuracy, build quality, and attention to detail were all key elements in L-Acoustics winning over the management team and earning their loyalty across seven international and headline venue projects in three continents."
Pioneer Pro Audio DJ equipment is also used at the club, with one DJM900NX2 and four CDJ2000NX2s installed, along with two Shure wireless microphones. However, Tao Group hospitality is currently in the process of upgrading all of its venue to Pioneer's CDJ 3000's. Six L-Acoustics KARAiW and four SB18iWs are also in place as the main DJ monitors. "Pioneer is the DJ industry standard and the equipment we use in every one of our large-scale club and festival projects worldwide. We wanted this same high-quality equipment that performers will be familiar with at Wet Republic, too, that's why we chose to go with the brand."
Along with the venue's sonic sound quality, an intricate cantilevered cube-shaped LED display was installed in the main pool area of the club, using products from Absen and Taylorleds. The video board is the backdrop of the venue and encapsulates the DJ, creating a parallelepiped portal to another world, with custom designed content and blue hues that bounce off the pool. "Our mantra throughout this whole project has been to not replicate what other institutions are doing, delivering our own bespoke experience for our guests," furthered James.
Before the 1,200 sq ft Taylorleds P3 HD 4K IP outdoor video wall was installed, Wet Republic had a standard flat LED screen that ran content throughout the day. The idea behind the cube construction was to create something unique and different to what people would see in other clubs, as the panels can be assembled to achieve a 3D corner, creating more outstanding effects. 
Absen and Taylorleds products were chosen for their high-quality video screen technology, and are brands that Frank has, again, always had faith in. "We have tested these screens indoors and outdoors across three continents, from Las Vegas to Mexico, Indonesia, Dubai and back to the UK and Europe. We've used them across a range of installations, from major universities to exhibition centres and retail projects, and each time audiences have been wowed by their amazing capabilities." 
The project was ran by Audiotek's lead technical team on site, Rob Sherry, Chris Kmiec and Ash Attwood who worked tirelessly to complete the project under the looming threat of COVID-19. Vicent Congliaro of Salvin – Audiotek's long time SFX collaborator – also added a touch of magic to the site, supplying CO2 and confetti canons to the performance spaces.
After a pretty quiet year for Vegas' original day club, Wet Republic is now back and bigger than ever, with a calendar boasting big names such as Martin Garrix, eager to play the revamped venue. The importance of good-quality audio and video is more than apparent at the space that is sure to be at the top of every club-goers bucket list. "We're a 3,500-capacity venue and since June this year, we've been
filling it every weekend," concluded James. "This summer has been incredible since we came out of lockdown and I'm really looking forward to seeing the club continue to excel over the next few years as our guests witness the new production elements." 
Frank furthered: "Tao Group Hospitality's Technical  Manager, Gerardo  Gonzalez, provided invaluable support and assistance – as always – on this project, too, overseeing and smoothing the installation process  at a time of deep uncertainty and upheaval within the industry and the city. Gerardo has been a huge help and partner on all our Tao Group projects. Our thanks and gratitude is immense to this invaluable friend and associate." 
This article first appeared in issue 31.6 of MONDO-DR, which you can read below –