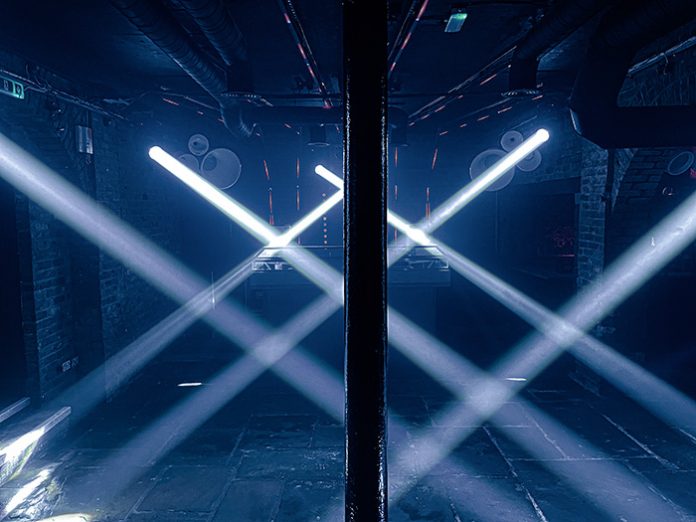 Since its inception in 1993, Joshua Brooks has played host to some of the biggest names across the global dance scene. Recently, the long-standing Manchester club relaunched with a carefully curated calendar and brand-new audiovisual systems from Void Acoustics and CHAUVET Professional. 
Joshua Brooks in the city of Manchester, UK, is somewhat of a clubbing cultural institution. After playing host to The Chemical Brothers' first ever residency back in the early 90s, the venue has continued to welcome internationally renowned DJs to its bare-bricked basement, connecting the cities most committed clubbers to the chest rattling beats of house and techno greats. 
During the COVID-19 pandemic last year, Joshua Brooks became available to take over, and, not wanting to see it fall victim to another COVID permanent closure, Director of JBM Music and Events, Jorge Meehan, snapped up the superlative space: "JBM Music has been running events in the city for years, so once I had the knowledge that it wasn't going to reopen as a club/bar, we took it over on a 10 year lease. We've spent a lot of money on the venue, redeveloping and renovating it. It's always been such a popular space within the city, and we really didn't want to see it go."
View this post on Instagram
As part of the venue renovations, Jorge and his business partner, Brian Murphy, wanted an audiovisual system that would make the club an immersive, decade defining space, bringing it out of its previously minimal aesthetic. Working with the venue's Production Manager, Tim Hawes, and integration company, Neuron AV, new audio and lighting systems from Void Acoustics, Pioneer Pro Audio, CHAUVET professional, Elation and Chamsys have been installed, constructing a creative space for clubbers to lose themselves in the music.
During the design process, the aim was to totally redefine the basement venue by taking out the existing DJ booth and replacing it centrally, with more of an open space. By moving the DJ booth out of its cramped corner and adding in risers for guests to stand on during club nights, it is now possible to see the DJ from any area of the venue. Three Pioneer CDJ 3000s, along with a Pioneer V10 mixer are used as the main mixing console, an easy choice for the Joshua Brooks team. "These consoles are like gold dust now. All of the events and festivals we organise specify this kit from Pioneer. To have this level of kit in a club this size is phenomenal!" explained Tim. 
Known for its commitment to creativity and club sound legacy, Void Acoustics loudspeakers were already in place at the venue, after being installed by Neuron AV back in 2014. Jorge and Brian decided to keep the existing system, as they were familiar with the brand and knew it was already a high-performing system. 
"We were initially approached by the in-house promoter at the time back in 2014, who was unhappy with the previous installation at the venue," explained Alex Morgan, Director of Venues & Installation at Neuron AV. "After lengthy negotiations, we were able to agree on the first part of the current system. This has been tweaked and added to over the years, but now that JBM Music have taken over, it finally feels like the venue has got the right team behind it who want to unleash its full potential." 
Neuron AV have a long-standing relationship with the team at JBM and worked with them on their redesign of the venue, advising on layouts and how to give the system a proper refresh. With a varied programme of dance music events planned, it was important to have a system capable of dealing with enough SPL, as well as having great bass impact. The all-white Void Acoustics system is also aesthetically stunning. "We were totally behind the idea of bringing the fixed DJ booth back to a central position and making sure there was enough coverage from the system throughout the venue by adding some new fill loudspeakers and upgrading the monitors," said Alex. 
The main system comprises a pair of Void Acoustics Air Motion loudspeakers with two Stasys XV2 double 18-inch subwoofers. This is supplemented by a pair of Void Acoustics Air Motion loudspeakers with a Venu 215 V2 subwoofer in the bar area and a Cyclone 8 fill loudspeaker for the raised area adjacent to the dancefloor. A pair of Void Venu 12 V2s have also been added for DJ monitors to upgrade the existing setup. The venue runs on Void Bias amplifiers, mainly so that the team could access Void's presets and warranty, with all the processing carried out by the internal DSP of the amplifiers.
Alex furthered: "We decided to keep a lot of the existing system as it was designed to cover the main space when it was first installed and does a great job of doing so. Just adding in a few extra fills now budget became available helped fill a couple of dead spots. I know the JBM guys will look to continue to develop and improve the tech in the club into the future, too."
"There are agents and DJs seeing the new space and thinking, 'we have to play there', the demand is insane. We're punching way above our weight in terms of the artists we're booking, and I know that's down to the hard work we've all put into creating such a brilliant club." 
Before Jorge and the team got their hands on the venue, Joshua Brooks was lacking a lighting package that could further enhance the sell-out shows the venue was holding every week. With a focus on vibrant colour and LED strip lighting, the team spent a lot of time exploring different manufacturers and finally arrived at CHAUVET Professional, chosen mainly for its range of products and appealing colour output. 
56 CHAUVET Professional ÉPIX Strip Tour pixel mapping LED strips pulsate across the heads of partygoers pushing beams of light across the venue and into the bar and chill out areas. Behind the DJ booth, four CHAUVET ÉPIX Bar Tour LED bars create beams of light that bounce from the DJ across the venue, and six Showtec Sunstrips light up the DJ area, creating an accessible, well-lit space for performers, too. The control is handled by a Chamsys MQ80 desk.
"We've got 21 universes with 150 channels per strip, so we needed a control system that could deal with that amount of data. The Chamsys MQ80 was the obvious choice for us in terms of functionality, and I've been training people up on it as it's simple and really easy to control, which is what we wanted," explained Tim. 
As well as the strip lighting that runs across the ceiling, six CHAUVET Intimidator Beam 335s and two Elation Protron 3K LED strobes were installed to illuminate specific areas of the dancefloor, and the team kept and repurposed some of the original par lamps in the corners of the venue to create a completely immersive lighting package. "Before we did the refit, there wasn't really much going on in terms of lighting. The main comment we get now that we've opened back up again is: 'wow, I didn't even realise it could look this nice!', so getting feedback like that is great and has made working so hard on this project and going over budget totally worth it," said Jorge. 
As the project was conducted during 2020, the team ran into their fair share of troubles due to the COVID-19 pandemic. There were the obvious issues with building materials and access to labour, as well as onsite testing of staff, but as the venue was forcibly shut, it gave them the opportunity to work on the project without feeling the need to rush to reopen. "It was great that we were able to shut the venue for a few months and do the work, as in normal circumstances this would've been impossible," furthered Jorge. "We knew that the date we'd be able to open would be around July time, so we tried to work to that being our deadline. It was still a frantic rush to get everything ready in time, though!"
With its newly renovated audiovisual systems and eye-catching clubbing calendar, Joshua Brooks is set to be a club that will continue to be at the forefront of Manchester's legendary nightlife scene for years to come. As venues start to reopen after such a turbulent year, Joshua Brooks encapsulates everything we've missed about nightlife, a captivating, carefree space to fully let go. "We went above and beyond to get the venue finished and looking like it does, and we're now fully booked up until 2022!" concluded Jorge. "There are agents and DJs seeing the new space and thinking, 'we have to play there', the demand is insane. We're punching way above our weight in terms of the artists we're booking, and I know that's down to the hard work we've all put into creating such a brilliant club."
This article first appeared in issue 31.6 of MONDO-DR, which you can read below –