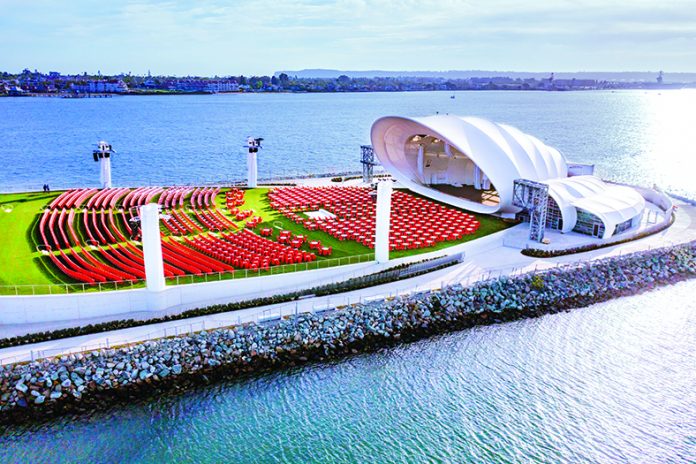 A new, visually-stunning outdoor concert hall is enhanced with state-of-the-art audio and lighting systems that envelop and immerse the audience.
The $85 million Rady Shell at Jacobs Park, the new outdoor home of the San Diego Symphony, is an architectural wonder on the edge of San Diego Bay and in the heart of the city's downtown. The captivating architectural construction, by lead architect Greg Mueller of Tucker Sadler, is a work of art in itself and the centrepiece of a newly-upgraded public park, will highlight the city's world-class orchestra, while hosting a variety of musical acts.  
Designed to complement the sails of the nearby San Diego Convention Center, the concert shell is wrapped in a translucent flexible material that covers a generous 13,000 sq ft performance space for accommodating the full orchestra and guest artists. The sheer size of the bayside structure – 57 ft high, 92 ft wide at stage front – makes it amenable to hosting large productions, while enabling orchestra musicians to hear and respond to one other, as well as they would in a top-tier concert hall. Depending on the event, audience capacities and setups at the Rady Shell are able to vary widely, from intimate two- and four-person table seating arrangements to standing crowds of up to 10,000. 
The Shell, as the venue has come to be known, is a striking addition to the San Diego skyline. However, as well as being a spectacular architectural feat, it also packs a huge amount of state-of-the-art technology, with numerous companies working on the project to deliver audio and lighting that enhances the venue.
When it came to the audio, to create an optimum acoustical listening environment that can be fine-tuned for various performances, a Meyer Sound Constellation acoustic system was installed inside the shell – making it the first Constellation system designed for stage acoustics in an outdoor venue.
Equipping the shell structure with an active acoustic system for monitoring was strongly recommended by Shawn Murphy, an Oscar-winning film score mixer – and frequent FOH engineer for high-profile outdoor orchestral events – who served as special consultant to the symphony. Meyer Sound's Constellation team designed the acoustic system, with complementary physical acoustics entrusted to Salter, the project's acoustical and AV consultant.
Because many performances at the venue – most notably amplified pop or rock – would not use the Constellation system, the Salter team was given a two-fold brief: design a baseline acoustic that would support Constellation, but would also provide a good environment when Constellation was off.
"As far as the acoustic signature inside the shell, it is quite similar to a large Hollywood sound stage," said Salter Vice President, Jason Duty, who took over as principal acoustician on retirement of David Schwind. "It has a mixture of diffusive and absorptive elements, but little for reflection across the stage because that is handled by Constellation. We didn't want it totally dry, as they wanted the stage to have a bit of life when the system was off. We definitely understood what the Constellation team was looking for."
For Jason, the shell structure's size, location and variety of performance styles made active acoustics the preferred solution: "Constellation is incredibly helpful in situations like this. The venue is right on the harbour, and having the control to let musicians clearly hear players on the other side of the stage is beneficial. In addition, there is the flexibility to adjust the acoustics to what you are hearing in the moment."
The Constellation system, which was integrated by Solotech, comprises 25 UPM-1XP and 22 UPJunior‑XP remotely self-powered loudspeakers, with 12 UMS-1XP remotely self-powered subwoofers to extend the reverberation envelope to the lowest registers. DSP for driving the system is supplied by an eight-module D‑Mitri digital audio platform, with two modules dedicated to hosting the patented VRAS variable room acoustic algorithm. Ambient sensing for the regenerative reverberation is provided by 20 Schoeps MK41 microphones with CMC6 preamps.
The Shell also has an immersive L-Acoustics PA system, which was designed in Soundvision by François 'Frankie' Desjardins of Solotech. Working in tandem with Shawn Murphy, Solotech integrated the venue's full AVL system.
The system comprises two main arrays of 16 L-Acoustics K2 per side, flanked by two hangs of eight cardioid-configured KS28 subwoofers per side and a centre array of nine K2. Another 16 KS28, also in cardioid configuration, are located underneath the stage.
In addition, six towers comprise the surround elements of the 7.1-type system design: two side-surround towers per side (for a total of four) hold four A15 Focus loudspeakers each, with the rearmost tower on each side also holding six Kara II with mechanically adjustable high frequency-steering fins. Two rear-surround towers are fitted with four Kiva II and two SB15m subwoofers each. The system is powered by two dozen LA12X amplified controllers, with system processing by L-Acoustics' LA Network Manager.
While it's designed to project the orchestra across the wide span of the open-air venue, this powerful PA system will also offer Rady Shell and the San Diego Symphony a highly-flexible venue that will easily accommodate a wide range of visiting artists. It will also give the orchestra the impact it desires when performing live scores from movies shown at the park. Solotech Business Development Manager and Senior Engineer, Aaron Beck, said the immersive design of the system reflects the growing demand by touring artists for that type of sound – and the L-Acoustics system at Rady Shell does just that – very cost-effectively: "One way we're achieving that sense of immersion is by taking some of the reverb returns from the FOH console and sending them to the surround loudspeakers, which really enhances the immersive effect."
Aaron also noted that the large number of subwoofers has less to do with impact than with directionality, always a difficult goal to achieve with low frequencies: "It's not so much about output as it is about control of the low frequencies. There are very strict noise-control measures in place here and on nearby Coronado Island, and the KS28 subwoofers in the cardioid configuration give us tremendous ability to steer that energy where we want it to be and away from where we don't want it."
The same goes for the K2 Panflex horizontal steering technology, too, which combines mechanically adjustable fins with DSP algorithms effective from 300 Hz. 
"It's all about putting the sound on the seats and keeping it from escaping the venue," Aaron added. "K2 gives us not only excellent sound quality but also the tools we need to stay in compliance with local noise ordinances. Soundvision was incredibly helpful for that."
San Diego Symphony Audio Director, Joel Watts, explained that the sound system is highly unique and particularly effective for amplifying a symphony orchestra in an outdoor environment: "In a space like this, where the seating goes back a full 200 ft, the only way to fill it with acoustical music, is with amplification. But it has to be done in such a way that everyone hears only the music, never the loudspeakers.
"And that's especially true of a surround system like this. If you truly hear the surround loudspeakers, then they're too loud. These are the only loudspeakers that can achieve this. You hear only the music, not the system. And it sounds marvelous."
Joel also pointed out that the asymmetric configuration and precise placements of the loudspeakers allow the orchestra to achieve full impact without exceeding the noise restrictions: "We have full dispersion to one side of the system and virtually none to the other side, thanks to the fins on the K2. It focusses the sound and keeps it on the seats – it never crosses the lease line."
In addition to allowing the venue to achieve the rare goal of properly amplifying a symphony orchestra, the L-Acoustics system also makes the venue fully rider-ready. "We need to keep labor and time costs to a minimum, so we hope no one needs to bring in a PA; everyone should be happy using ours," Joel added. "And ours is often the same one they'll carry anyway. That's why we chose L-Acoustics."
"It does look as good as it sounds," said Aaron. "The white exterior wrapping material is a kind of plastic cloth and the interior is covered with a white scrim material. L-Acoustics was able to provide an entire K2 system in white, as well, to match it. It's only the second one like it; the other is the Hollywood Bowl. The way it all works together visually is quite wonderful."
The immersive nature of the PA system required powerful and sophisticated mix platforms to control it, which is why the San Diego Symphony chose three DiGiCo consoles for the task. A Quantum7 is installed as the FOH mix desk, with a DiGiCo SD10 for monitor mixing and an SD12 on hand for any auxiliary mix and processing needs. The three consoles, three SD-Racks located on stage, and a Mini-Rack in the amplifier room are all on a dual Optocore network.
"There are several reasons why we chose the DiGiCo consoles, and they are all areas that the brand excels in," explained Aaron. "First, there's capacity – the Quantum7 can run 200-plus inputs. Then there's the Quantum processing power." 
Aaron cited features like Quantum's Mustard Processing channel strips, Spice Rack plugin-style native FPGA processing options, and Nodal Processing all as standout features. "Plus, there's the overall quality of the sound, which is exceptional," he added.
The Rady Shell at Jacobs Park will see scores of visiting touring groups each year, many of whom will bring their own audio engineers and all of whom will be familiar with DiGiCo console architecture and operation. That familiarity will be important for more than just operational reasons. Jacobs Park is located within a major metropolitan area that, like many, has stringent noise regulations. San Diego has deployed NTi Audio noise measurement devices nearby that automatically issue reports via cellular data to key elements of the city's environmental control, as well as directly to the house engineer at Rady Shell. 
View this post on Instagram
"The venue's engineer can adjust the overall volume of the entire system from the FOH console when necessary to keep every show within compliance," furthered Aaron.
With its state-of-the-art audio system, The Rady Shell is one of the most acoustically superior outdoor concert venues in the U.S., though it also has a first-class lighting system to match, supplied by systems integration, sales and production firm, JRLX, Inc. Chicago-based JRLX provided lighting fixture specification, consultation, and application support for the venue's lighting fixture package and installation, while Solotech handled the lighting infrastructure, data distribution, audio and video.
The Rady Shell's lighting design is by Jason Rothberg, who has served as Technical Director at the San Diego Symphony since February 2020 after working for more than 20 years as a touring designer/director. Acclaimed theatrical consultants, Schuler Shook, originally completed the initial design months prior to Jason's arrival. As the needs of the venue were further defined and modified, Jason worked with Schuler Shook and JRLX to assemble a revised specification and multipurpose lighting system.
"As a touring LD and having worked in many venues over my years on the road, I knew we wanted the design to be very tour friendly, rider friendly and LD friendly," stated Jason. "That was the idea behind the design. A super simple, clean, symmetrical design that uses only a few fixture types, something anyone could come in and clone from to make any kind of show happen." 
Jason consulted with Jason Reberski, CEO at JRLX, for hours to hash out the details of the lighting package: "It became apparent in talking with Jason early on that this was no ordinary lighting system," Jason Reberski explained. "The demands placed on it would be tremendous; throw distances of 300 plus ft, overcoming daylight, the need to be flexible and capable of achieving many different aesthetics, and all while needing to be 100% IP65 rated. We worked closely with Elation and Jason to aid in specifying a package to achieve these goals."
While ease of use for lighting pros who come into the venue was essential, the rig had to work best for the venue's resident symphony orchestra, which meant lots of top down white light. With trim heights ranging from 25-40 ft, they needed a fixture that could get wide enough at the lower trims but then stay bright enough from the higher positions. Moreover, sitting right on the ocean, moisture, dew, and worst of all salt-air, were problems to contend with.  
"We wanted to avoid ugly-looking enclosures, so we needed the rig to be fully IP-rated," Jason said. "There were already 12 Proteus Maximus on that original spec when I came onto the project, for the towers out on the lawn, but I didn't know anything about them. As I looked into them, and then the rest of Elation's IP-rated line, I discovered they had all the options we needed – Leko, moving wash, static wash, and profiles."
The original spec listed a wash, a profile and a spot fixture but Jason found the Maximus could do it all in one fixture: "I went from three fixture types to one fixture type that could do the same thing and then some. Plus, it gave me a purer white, was brighter and had CMY."
The 13,000 sq ft concert stage is covered by a canopy of concentric, oval rings with an inner liner slit five times to expose catwalks. 37 Proteus Maximus hang from five overhead electrics, while 12 units work from six towers (two per tower) that range from 120 to 320 ft from the stage. 
The six towers surrounding the venue also house 36 compact Paladin Cube RGBW floodlights, six fixtures per tower, that set the towers aglow from within. It's an eye-catching sight that adds to the immersive feel and amplifies the overall beauty of the space. 
Joining the Maximus fixtures on all five overhead electrics are 34 IP65-rated Proteus Rayzor 760 wash and specialty effect lights.
Paladin Panels, outdoor floodlights with 50 15W RGBW cells, work from electrics 2-5 for toplight washes for the orchestra while doubling as strobe lights for other shows. "One aspect that I'm particularly happy with is the use of Elation Paladin Panels as symphony top-light with custom City Theatrical egg crate louvers," stated Jason Reberski. "We designed the accessories to both reduce glare and also accommodate an internal filter media frame to accept holographic diffusion so that as the fixture trim height changes we are able to achieve a homogenous stage wash. When Jason mixes a CTO, it looks just like a traditional tungsten top light system." Additional Paladin Panel fixtures work from all six towers. 
Not only can the rig cover a wide range of musical genres no matter who graces its stage, the lighting system is all LED, meaning the venue is saving on power, maintenance, and expendable costs like bulbs versus a traditional rig of halogen fixtures.
"I'm super happy with the way everything has worked out," Jason concluded. "Going with Elation, we were able to double the fixture count while maintaining the quality, performance and brightness. It's a rig the Symphony will benefit from for years to come."
Thanks to San Diego's famously mild weather, the new venue anticipates year-round operation. It will host more than 100 concerts and events a year, either by the symphony or other organisations, promoters or convention groups. The Symphony's opening weekend at The Rady Shell at Jacob's Park was on August 6-8, with an inaugural season of concerts running through to November, featuring musical talent such as Smokey Robinson, Yo-Yo Ma, Brian Wilson, the Symphony's Music Director Rafael Payare and many others.
This article first appeared in issue 31.6 of MONDO-DR, which you can read below –