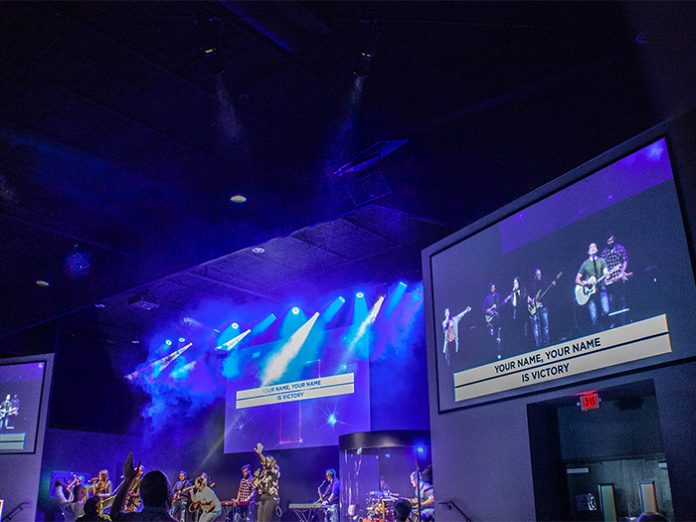 "You can tell a successful church just from the vibe," said Mark Salamone, sales manager at All Pro Integrated Systems. "The first time I visited Wellspring Community Church in Ruskin, Florida, they had a red movie theater carpet, velvet ropes, popcorn, and Star Wars stuff for the kids. There were a lot of young families, and it felt progressive and brimming with good energy. The service was amazing – full hands-in-the-air singing from everyone led by a charismatic pastor and a praise band loaded with talented musicians. The sound system was just ok, but Preston Eaves, technical arts director, was squeezing everything he could out of it. In terms of community service, Wellspring made it clear that they weren't just talking the talk – they are actively working to improve access to the material and spiritual needs of the community."
Mark, who has a long history of critical listening in the role of recording and mixing engineer, attended that service in anticipation of Wellspring's move to a new, larger sanctuary that would eventually benefit from Danley Sound Labs point-source loudspeakers, subwoofers, and DSP-enabled amplifiers. Wellspring Community Church's existing sanctuary held only 180 people, and congregants were regularly overflowing into the lobby even though the church was holding five all-live services every weekend! And the church had planted only four years prior!
"We could see where we were at and where we were going, and a bigger space was definitely needed," explained Preston. "Our new sanctuary seats 550. We have a high-energy praise band with drums, bass, acoustic and electric guitars, keyboards, organs, and a slew of vocals. The music is progressive and modern, with a Hillsong Worship kind of vibe. I got in touch with Mark and the folks at All Pro Integrated Systems a little over a year-and-a-half before the new sanctuary was supposed to be completed. I thought I was getting a jump on things but came to realize that I had actually set myself up for a time crunch!"
"The blueprints for the new room showed that it was going to be as wide as it was deep," Mark said. "A line array would be a bad choice. Danley's point source technology would be perfect. Danley boxes are very accurate – like extra-large format studio monitors. And Danley's subwoofers bring musicality and clarity with incredible punch"
Preston had heard of Danley, but he had never actually heard a Danley system. Coincidentally, Chris Bencsik of Bencsik Associates was arranging a demo with two Danley SH96s and a Danley TH118 subwoofer up against Grace Family Church's big-name installed system. Preston attended. "It was an installed system from another manufacturer that everyone respects up against a very small Danley system by comparison," Preston said. "They did a classic A/B bouncing between the two systems. The Danleys clearly outperformed the installed system – the difference was night and day. Everyone in attendance agreed. After hearing that Danley demo, how could we go with anything else?!"
The All Pro Integrated Systems engineering team worked with the Danley engineering team to model out an ideal Danley system for Wellspring's new sanctuary, and the All Pro team installed it. Two Danley SH96HOs deliver compelling stereo, supplemented by three Danley SH95HOs for down-fill and center-fill. The system design, handled by All Pro's Justin Schwartz, and Danley's legendary pattern control keep energy off the walls, which are acoustically treated to dial in the right acoustics for Wellspring's "hands-in-the-air" worship style. Two Danley DBH218 subwoofers round out the low end, and three 4-channel Danley DNA 20k4 Pro amplifiers power the system with loudspeaker conditioning DSP that is tailor-made for the Danley product line.
"Knowing our church and (maybe a bit selfishly) I really wanted the new system to hit you in the chest," Preston said. "I wanted to really feel the rumble! The 'first draft' didn't go as far as I had hoped it would, but the All Pro staff dialed up the subs and gave me a second listen the next day. I remember listening from the center of the room, feeling that bass, throwing my hands in the air, and shouting in triumph! It was exactly what we needed."