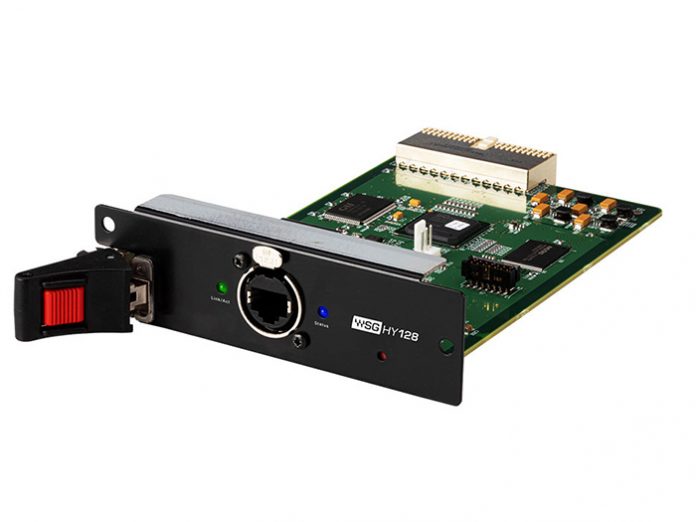 Waves Audio, the world's leading developer of professional audio signal processing technologies and leading maker of audio plugins for mixing, music production, mastering, sound design, broadcast, post-production and live sound, is now shipping the WSG-HY128 Card for Yamaha RIVAGE PM Series Consoles.
The Waves WSG-HY128 is a card for HY slots that makes it possible to run Waves plugins on Yamaha RIVAGE PM series consoles at ultra-low latency, using Waves SoundGrid® technology.
Together with a SoundGrid DSP server, a Mac or PC, and authorized Waves plugins, the WSG-HY128 lets you process up to 128 channels of audio using Waves' award-winning reverbs, equalizers, compressors, limiters, delays and more, with nearly no latency. You can also assign additional SoundGrid I/O devices to your network.
The WSG-HY128 card uses the Waves SoundGrid protocol to connect all I/O devices with the DSP server and the host computer. Multiple console synchronization and digital splits are supported using clock Sync over Ethernet (SoE).
Mick Olesh, Waves EVP of Sales & Marketing, comments, "Waves is excited to support Yamaha's RIVAGE PM Series Consoles with our new Waves WSG-HY128 card. This card will allow engineers using the RIVAGE PM Series to maximize their workflow and creativity, by providing them access to Waves' plethora of diverse plugins and, expand their IO count with extremely low latency – all via Waves' SoundGrid technology."
Motome Tanaka, Yamaha Group Manager of the PA Marketing & Sales Group, comments, "Yamaha mixers have always been designed to transparently deliver on-stage sound to engineers, allowing them to build their own sound from the best possible source audio. The RIVAGE PM Series has stayed absolutely faithful to that ideal. Plugins play a vital role in building any sound, and previously Yamaha worked very closely with Waves Audio to bring SoundGrid to its digital mixers equipped with MY card slots. With the new WSG-HY128 card for the RIVAGE PM Series, Yamaha is very pleased to have again closely collaborated with Waves to bring the rich and enticing world of SoundGrid enabled plugins to its flagship digital mixing systems."
WSG-HY128 Card features:
Run Waves plugins in real time on Yamaha RIVAGE PM series consoles
Supported sample rates: 44.1, 48, 88.2 and 96 kHz
Sample resolution: 24 bits
128 channels of audio at 44.1/48/88.2/96 kHz
Clock Sync-over-Ethernet (SoE) for digital splits and audio networking
The card can accept firmware changes/upgrades