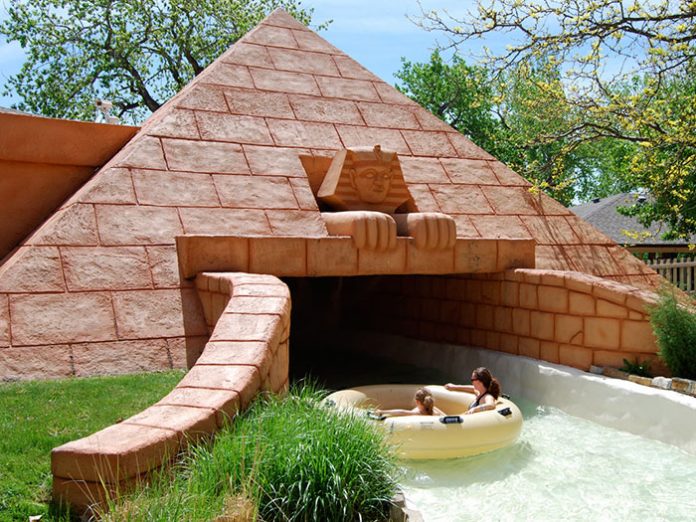 'Lost River of the Pharaohs' and 'Voyage to the Center of the Earth', both raft rides at Water World watermark in Federal Heights, Colorado have thrilled guests year after year since the early 1990s. When the park decided to refresh these two popular attractions, a theatrical approach to lighting was part of the vision and Gantom products were part of the solution.
Waterparks traditionally have not put much emphasis on entertainment lighting, but are beginning to adopt sophisticated tools and media as they reinvest to keep their properties fresh and competitive. "Water World has been a leader in bringing technology into the waterpark environment," explained Gantom president, Quan Gan. "It was a pleasure to work with an operator demonstrating so much creativity and passion for developing unique attractions and interested in trying new things."
The desire to upgrade the lighting was in fact the key impetus behind the upgrades, according to Hyland Hills Park District planner Terry Barnhart. "We were spending thousands of dollars every year maintaining stage lighting that wasn't designed to be used in warm and extremely humid environments," said Terry. "Additionally, we were seeking ways to take advantage of incentives from the local power company and reduce our energy consumption."
Hyland District Engineer Harlan Bryant learned about Gantom at the IAAPA Attractions Expo and was drawn to the company's signature small, compact LED fixtures. "We knew we wanted to switch to LED fixtures, and Gantom's Precision Z Spotlight series fit the size and cost profile we had established," Harlan said.
The Precision Z series features a one-watt LED lamp, and provides a 95% energy savings compared to a 20W halogen lamp. The fixture's sealed aluminum chassis also serves as a rugged shell to protect the LED and core electronics in outdoor and underwater applications.
Water World wasn't planning to submerge lights, but the underwater rating provided the assurance that the lamps would function in the water ride's high humidity environment. "Additionally, the small fixture size allowed us to hide the lights behind scenery, rather than hang them from ceiling racks 16 ft above the ride," said Harlan. This provided staff electricians much easier access to the lights and has reduced maintenance costs.
For Water World's needs, a sophisticated control system wasn't necessary. "The electrical system for each ride is on a timer and each showpiece has its own small controller we sourced from the haunted attraction industry," Harlan continued. "The system is reliable and easier to program than a home lawn sprinkler."
For one important scene in Pharoahs, the park did opt to use a separate controller for the Gantom lights. Guests travel into a throne room guarded by an Egyptian Anubis. The original attraction had faux candles with yellow bulbs placed around the room. Mastriona had wanted to simulate the flicker of candlelight, but at that time, the precise effect was not within reach due to limits of budget and technology.
When it came time to refurbish the attraction, Gantom had a solution. Their Precision Z series lights, connected to Gantom's DarkBox Flicker controller, use variable voltage to dim the fixtures to create a realistic candlelight glow and flicker.
"The DarkBox Flicker replaces the need for a DMX system," explained Quan. "The control box is plugged in between the light fixtures and the power supply, saving money, and eliminating the need for extensive wiring."
According to Water World's Communications Director Joann Cortéz, many guests think the candles are real and try to extinguish them by splashing water on them. The robust lights, all rated for outdoor use, have stood up to the daily dousing.
In addition to replacing existing light sources, Gantom supplied fixtures for new effects in the attractions, including mummies reaching out for guests lit with eerie blue-green lights, illuminating refurbished dinosaurs, and making treasure glitter.
"We like to make a few changes each year so our guests notice," explained Joann. The refurbishment process has continued since 2011 and has included the work of other notable industry creative companies such as R & R Creative Amusement Design and Distortions Unlimited.