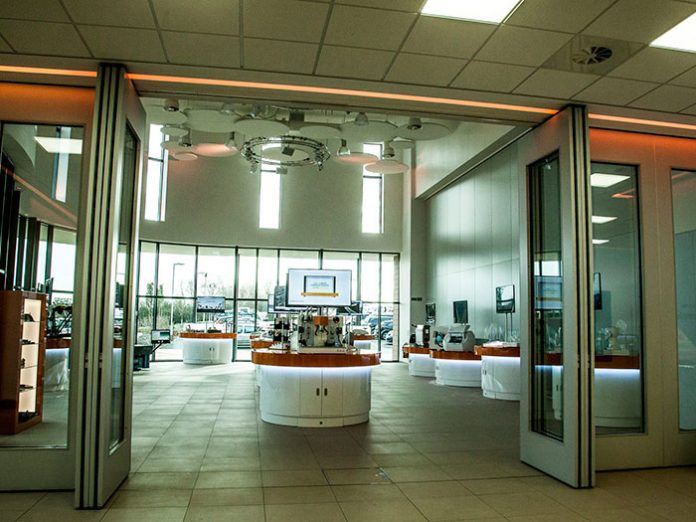 NEXO PS8 cabinets were the first choice of system integrator Design AV for the high-ticket Innovation Centre, newly completed at the corporate headquarters of Renishaw, one of the world's leading engineering and scientific technology companies.
This new facility, located in Gloucestershire, represents a £20 million investment for Renishaw, providing an additional 153,000 sq ft of space to house research and development and corporate services staff, as well as demonstration, training and conference facilities.
The company supplies products and services used in applications as diverse as jet engine and wind turbine manufacture, through to dentistry and brain surgery. It is also a world leader in the field of additive manufacturing (also referred to as metal 3D printing), where it is the only UK business that designs and makes industrial machines which print parts from metal powder.
Damian Orritt of Design AV has supervised the design and installation of audio and video facilities to bring the new meeting rooms, product demonstration areas and principal lecture theatre to the highest technical standard. With speech reinforcement a high priority, his choice of the compact PS Series loudspeakers reflects a confidence in NEXO that comes from his early background in live sound.
In the Product Demonstration gallery, the white PS8 cabinets have been installed above circular white discs which preserve the design aesthetic of the area. More PS8s are installed high above the large projection screen in the main lecture theatre, with capacity for 250 people, but capable of being divided into three sections. LS18 sub-bass units are also supplied, providing bass reinforcement depending on the type of event.
All audio is over IP, and Orritt took care to choose products that are flexible and adaptable enough to serve Renishaw's future needs, some of which may not even been thought of at the time of installation.