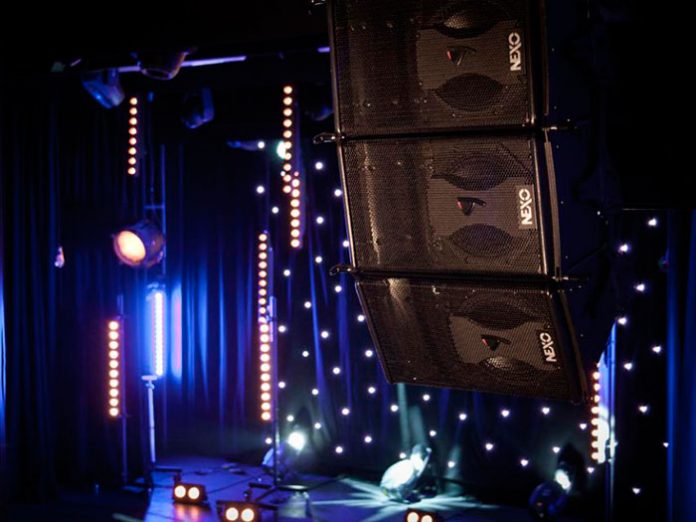 Two impressive new installations of NEXO's compact GEO M6 line array have been completed by leading educational establishments in time for the new school year, demonstrating the system's flexibility and extremely small footprint to great effect.
Denbigh School, Milton Keynes has opened a new building for its Performing Arts faculty, and this 350-capacity multipurpose space will deploy the modular NEXO GEO M6 for the growing number of student activities in music, dance and drama.
Music technology Leader Dave Wilkie, who oversaw the audio and lighting project together with NEXO dealer and installer Fabtronic, is himself a FOH engineer. "The GEO M6 system was ideal for what we wanted to do; because of its modular design, it's flexible enough to use for the whole space or part of it, allowing us to move the coverage by adjusting the angles of the lowest boxes," he said.
Denbigh School's system uses 6x GEO M6 cabinets with 1x LS18 sub per side of the stage area. "We don't have much load-bearing capacity but each hang weighs just 70 kgs, and has a very low profile. We paired it with a Yamaha QL5 console, running on a Dante network, and used the NEXO proprietary software NS-1 to do the modelling – when we fired it up, we found the consistency across the seating area to be quite staggering."
The School has purchased pole-mount hardware and wheel boards which allows Dave to take modules off the array and create a portable system which can be used elsewhere.
In Oxford, St Edward's School has purchased 10x GEO M6 cabinets for its North Wall Theatre, where a diverse range of events take place, from live music to theatre productions, film screenings to general speech presentations.
Supplied and installed by the Audio sales division of NEXO dealer A.C. Entertainment Technologies, the project was managed by Steve Eaton and the School's AV expert Clive Stevenson. Using 6x M6 modules for the main front-of-house PA, set up in a curved mini-array of 3 modules per side, another four cabinets were installed as two pairs towards the back of the hall. 4x NEXO LS18 subs are in the system, which is powered by just two NXAMP4x1 controller-amplifiers.
The GEO M6 array-able cabinet design combines high SPL output with exceptional sonic clarity for speech and music. The M620 can be used singly, in pairs, in curved arrays of three, in line arrays up to 12 cabinets long, depending on application. There is a range of simple accessories that allow flying, wall-mounting, pole-mounting and ground-stacking, pairing with any of NEXO's wide range of subbass cabinets to create a highly portable SR solution. GEO M6B bass extensions can be deployed inside a M620 line array, allowing the user to increase line array length for improved directivity control and output in the low-mid frequency range.