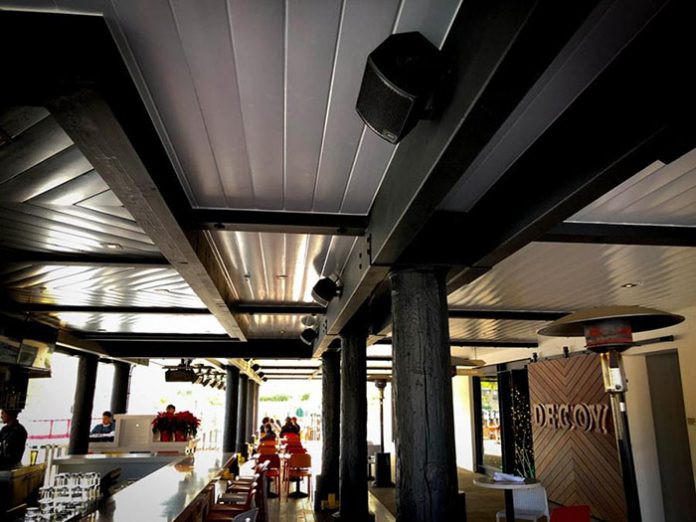 With 144 luxury rooms, Lakehouse offers ample entertainment options to delight and renew, including swimming, golf, tennis, lake activities, as well as award-winning indoor and outdoor dining options complete with audio solutions from VUE Audiotechnik.
"When we develop restaurants, we always look for ways to cultivate ambiance that is on brand," explained Brett Miller, President and CEO for property managers Eat.Drink.Sleep. (EDS). "Having a top-notch audio system is essential for creating the right vibe at the right time, whether it's background music, the soundtrack to our water screen light show, or special event DJ."
To design the perfect audio package for Lakehouse, EDS called upon Jaire Lopez at J&E Pro Audio out of San Diego. As a long-time collaborator who has successfully completed 10 installations at other Eat.Drink.Sleep. properties, Jaire and his team are intimately familiar with EDS' high regard for quality audio and unwavering attention to detail.
"Dining at Lakehouse is split into two levels," explained Jaire. "Decoy restaurant is upstairs and feels more intimate and upscale. Down the stairs and just outside is the dockside bar, which is somewhat more casual with views of the lake and surrounding greenery.
"We had a set budget, and the owners were adamant that audio quality could not be compromised, and that the system needed to match the upscale feel of the room. I immediately thought this would be a great opportunity to give VUE a closer listen."
In addition to aesthetics, J&E also needed to deliver enough audio horsepower for the occasional guest DJ and their evening water screen light show. Jaire contacted VUE headquarters and took delivery of a broad selection of the i-Class systems, including the i-6, i-8 two-way models, and is-26 subwoofers.
"I was instantly impressed with their fidelity and headroom," said Jaire. "The build quality on the i-Class is just great, and the supplied mounting hardware saves money and time for sure. Plus, the fact that you get wood cabinetry at this price is virtually unheard of. "
"The clients are extremely happy with the results", concluded Jaire. "The VUE i-Class has delivered performance in line with much more expensive systems. Whether just background or taking on something more aggressive, these VUE boxes always sound great with plenty of horsepower. I'm glad I gave VUE a shot and I'll definitely be using them again."