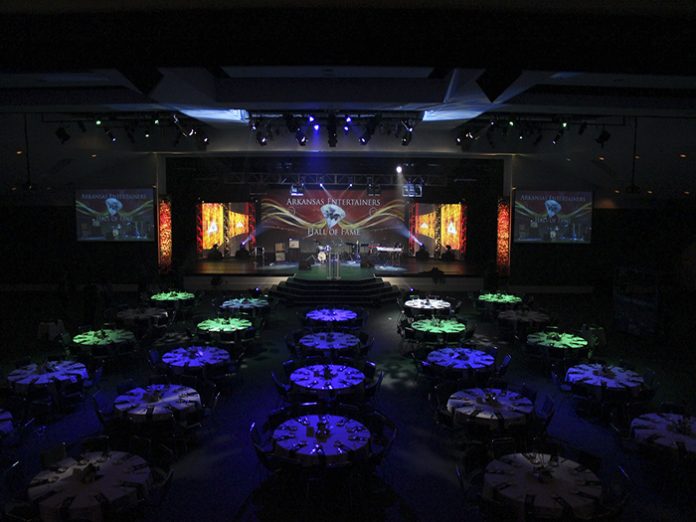 Horner Hall, the 16,000 sqft ballroom venue inside the Hot Springs Convention Centre in Hot Springs, Arkansas, has a unique geometric design resulting in an unorthodox footprint.
Its triangular stage sits on one side of an eight-sided, low-ceilinged space, where a 16-year-old sound system was drawing its last few breaths. Aside from that, ongoing goals have been to attract more of its core meeting/convention business as well as more music and other shows – resulting in a sense of urgency around finding a new sound system that could address all of these requirements.
That's why Caleb Miller, Manager of Technical Services, Hot Springs Convention Centre, sought the recommendations of Jeff Crisp, President of Texarkana Pro Sound and AV vendor for the Convention Center for 20 years. Jeff suggested a Bose ShowMatch sound system, due to its proven sound quality and the promising performance for the space, predicted by Bose Modeler software.
"For the last couple of years, we have been trying to use Horner Hall as more of a performance space, and we knew we needed a good sound system to attract those types of events," Caleb explained. "I had been working with Jeff to help establish what type of systems we might be looking at. When he originally approached me about using a Bose system, I was skeptical, because I had mostly heard the brand mentioned in a consumer setting – obviously that is changing! Jeff convinced me to give it a listen."
Last April, Texarkana Pro Sound installed a Bose ShowMatch system comprising three ShowMatch LCR arrays, configured with eight boxes for left and right arrays and four boxes for a centre array. These are buttressed by six Bose RoomMatch RMS218 VLF subs in two stacks of three each, on either side of the stage. Four Bose RoomMatch Utility RMU206 speakers serve as front fills. The entire system is managed by a ControlSpace ESP-00 Series II engineered sound processor and powered by 16 Bose PowerMatch amplifiers.
"The ShowMatch is really a pretty amazing sound system," said Jeff. "The Convention Centre and Horner Hall have been clients of mine for 20 years, so there's a trust factor. I know the room – we joke and call it 'The Turtle' – and knew we needed something special to make it all work and meet their new requirements."
Caleb said modern sound quality was critical for making Horner Hall more attractive for touring music and other artists, but the space's unique challenges also had to be addressed. "It's a low ceiling but we needed a system that didn't impede sightlines from anywhere in the room," he said. "The ShowMatch is compact and light, so it didn't present any rigging issues. And it just sounds great."
DeltaQ Array Technology from Bose Professional features replaceable waveguides that allow changing coverage and asymmetrical patterns that improve sound quality and vocal clarity by allowing directivity, or "Q," to vary with each array module, directing more sound to the audience and less to walls and floors. Jeff added, "We are very pleased with the quality and sound and the smooth and even coverage. We were able to improve sight lines by using fewer boxes than we would have with another product. And ShowMatch speakers are engineered meticulously, so very little DSP is required. The level of confidence that Bose provides is a dream come true for this type of job."
The first show at Horner Hall after the ShowMatch system was installed was by the Glenn Miler Orchestra. "With the old system you'd have the horns and the vocals competing with each other in the same space; with the ShowMatch, everything fell right into place," Caleb recalled. "I was impressed by how well the system handled vocal clarity. Our clients immediately noticed a difference in the quality of the sound, specifically the spoken word, and we have had interest now from a few promoters wishing to bring their artists to Horner Hall. Overall, we are very, very pleased."