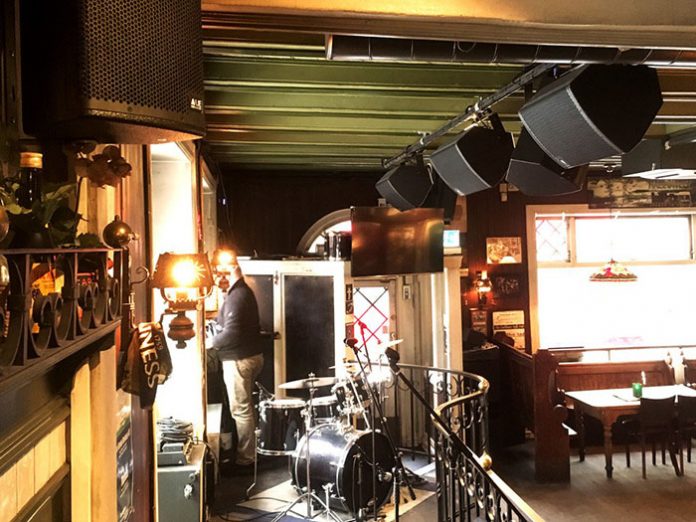 Centered around a live-stage area, The Dubliner Folk Pub hosts a wide array of local and international acts and boasts three separate themed bars, as well as an outdoor patio — a configuration that traditionally posed a variety of challenges for both coverage and sightlines.
In early December 2017 based on pressure from house drummer and booking manager Luis Landa-Schreitt, pub manager Peter Nicolacopoulos called upon VUE's Scandinavian distributor, and system installer, avon lyd, to specify a new system. Nicolacopoulos's requirements for the new system were three-fold: exceed the sonic requirements of the pub's demanding bands and guests, eliminate the maintenance and operating headaches that plagued the prior system, and be up and running in time for the busy Christmas and New Years' holidays.
Drawing upon prior success with VUE installs in other venues owned by the Dubliner's owner, Olaf Loly, avon specified a total retrofit of the prior  system centered around the brand-new VUE a-class compact advanced performance full-range system. The new system includes VUE a-12 two-way systems for the stage plus a-8s, along with an as-215 subwoofer placed next to the stage. Also, a-10 systems were deployed as stage wedges, while a total of 35 i-8 full-range speakers provide fill and distributed background music throughout the rest of the pub's three bar areas.
Rounding out the system is a new Yamaha TF3 console, while retrofitted Powersoft amplifiers and a BSS BLU 160 matrix processor with new Contrio wall panels provide power and processing to the a-12s, a-8s and i-8s. A new Lab.Gruppen IPD 2400 power amplifier provides necessary power for the a-10 monitors while ensuring short wire runs. avon also dismantled all amps, matrix and cabling and re-installed it to their stringent standards to ensure maximum stability for years to come.
"After enduring years of frustration and reliability issues with the prior system, VUE was the right solution for the Dubliner," said avon's system designer and co-founder, Edgar Andraa Lien.  "The fact that pub owner Olaf Loly has a lot of VUE speakers in his many other venues and restaurants made Pete's choice easier. In fact, at Hva Skjer, another of Olaf's venues, the VUE system has performed flawlessly for 4 years with zero damaged speakers. But what really sealed the deal was when Pete heard the incredible sound of other VUE installs in Oslo and it was then he knew VUE was the right choice for Dubliner's demanding bands and guests.
"I had over a long period of time been hoping for a new PA system with a new desk and monitors. avon delivered the perfect system for The Dubliner. In addition to the outstanding sonic performance of the VUE speakers, the new system has a very comprehensive and easy-to-operate Yamaha TF3 desk. Thanks to avon and VUE, the new system has lifted the overall quality of the venue to an even higher level."