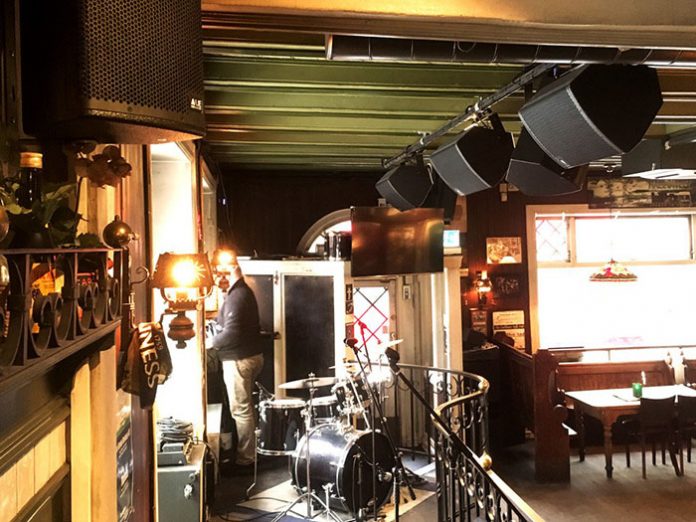 Located in the heart of downtown Lynchburg, Virginia, RA Bistro features seasonally-inspired American cuisine inside of a slice of urban Americana: a 75-year-old commercial dry cleaning building with rustic open-truss ceilings, painted brick, cityscape art, front and back patios, and a live-edge Eucalyptus bar top.
Owner and Chef Alex Richardson wanted everything to be perfect, and the food and the ambience certainly were, but the restaurant's sound wasn't up to par. The venue's surface-mounted speakers were unevenly distributing music and creating hot spots. Richardson turned to leading regional AV system integrators focus4media for help, and they in turn looked to Bose Professional for the best solutions available. Fifteen Bose FreeSpace DS 40F speakers, powered by a PowerMatch PM8500N networked amplifier, produce smooth sound and consistent volume throughout the restaurant.
"We have a very open structure, with different levels in the building, so I knew this would be a very challenging installation," said Alex. "In fact, that's why I thought it would take a lot more speakers and a higher budget to get really great sound in here."
Ross Brown, Director of Projects & Engineering at focus4media's Alabama office, agreed that the project was challenging. "The food and the feel of the restaurant are great, but Alex was having a problem getting it to sound as good as he wanted," explained Ross. "There were hot spots and a lot of smearing because of the reverberations from the interior brick walls. We needed to tame that and distribute sound more evenly."
Instead of complex acoustical fixes, focus4media's engineers used Bose Modeler software to create an acoustical picture of the restaurant and a plan for positioning the DS 40F pendant speakers strategically around the venue, using their form factor to deliver sound closer to diners and keep the sonic energy off of the walls, the wood floors and other reflective surfaces. The result is a smooth, even sound throughout the venue, clear and present enough to let the music choices — with programming assistance from focus4media — help reinforce Alex's brand but always with the right amount of volume without being intrusive or distracting.
Chef Alex was more than pleased with the outcome. "The sound is fantastic," he says. "We're a small restaurant and I didn't think we could achieve the kind of sound the big guys get, but we did, and at a very reasonable cost — much more so than I had thought possible."
Focus4media has turned to Bose Professional for audio systems solutions often, and Clay Lester, company Director of Sales for Virginia and Tennessee, says that's an advantage for them. "Our partnership with Bose has elevated the customer experience that clients demand in today's marketplace," he added. "Every business strives to be unique and provide an atmosphere that is memorable. When you combine the performance of the Bose Professional product line with the content services focus4media provides, you have a powerful combination, an experience that customers enjoy."
Ross concluded: "We're not just hanging speakers and televisions; we're also creating and collaborating on content and other services that help bring those things to life," he says. "Bose has become our partner in that. From the design to execution of our projects, Bose delivers every time."