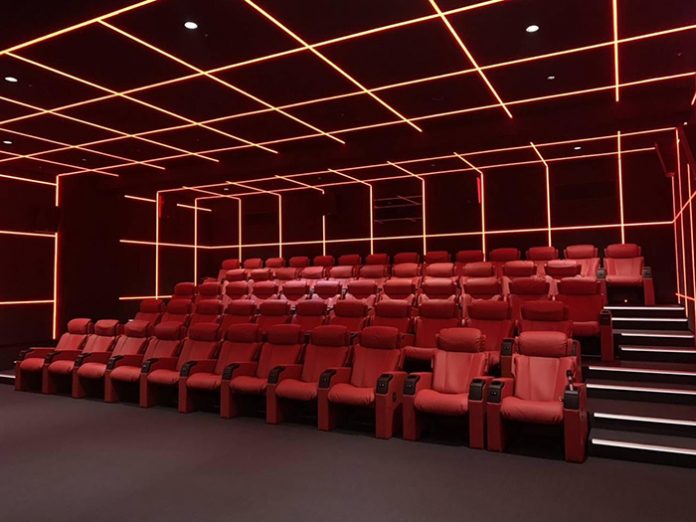 Venice Cinemas has deployed a suite of innovative Christie projection and content management solutions to deliver awe-inspiring visuals in its upgraded multiplex in Taoyuan City.
Located in the bustling business district of Zhongli, Venice Cinemas is spread across two buildings connected by an iconic, red-coloured pedestrian bridge reminiscent of those found in Venice, Italy. It recently underwent a major facelift by adding five new halls at the basement level, boosting the total number of cinema auditoriums from 10 to 15. These five new halls are equipped with 8.5-metre (27.8 foot) screens, adorned in special colour schemes, and connected to a spacious lobby featuring highly immersive waterfall projections that accentuates the multiplex's distinctive "aquatic" theme.
All five halls are equipped with Christie's robust and reliable cinema projectors that provide astounding visuals, and offer greatly improved colour and contrast for audiences. In the new lobby, the lifelike waterfall projection is powered by six Christie DWU630-GS 1DLP laser projectors, while content management is accomplished by two Christie Pandoras Box Players and a Pandoras Box Manager. The installations were completed by Christie's trusted partner, Dacoms Technology, which has more than three decades of expertise and experience in cinema and professional AV systems integration.
"We have enjoyed longstanding ties with Christie and Dacoms for over a decade and the recent upgrading of our multiplex underscores this enduring partnership," said Maggie Lee, special assistant to the president, Venice Cinemas. "We unanimously decided to deploy Christie's projection solutions and Dacoms' integration services. Not only are we impressed with the performance, colour reproduction and cutting-edge technologies of Christie projectors, we're also grateful to Dacoms for the timely completion of all installation works with finesse despite very tight deadlines."
Noting that Venice Cinema's decision to add five new halls has been driven by both internal and external factors, Lee said the expansion is aimed at providing patrons with more diverse film choices and greater flexibility in movie schedule planning. Ultimately, the goal is to meet the increasing needs of discerning movie-goers and to maintain competitiveness in the local exhibition industry.
"As an independent exhibitor, we need to find ways to engage our audiences and provide them with inventive and refreshing experiences," said Maggie. "The waterfall projection titled 'Deep in Venice' in our new lobby is a case in point, as this 'aquatic' theme is synonymous with the name of our cinema. We are very satisfied with the design and execution of the 'virtual waterfall' by Dacoms following their amazing work at Xpark Aquarium, and we're pleased that it has become a major highlight of our upgraded multiplex since the official opening in late February."
Terence Lee, executive vice president, Dacoms Technology, commented, "This is the first panoramic waterfall projection to be executed within a cinema in Taiwan, and we are honoured to be part of it. The visuals are achieved using Christie DWU630-GS laser projectors, Christie Pandoras Box, and customised curved projection walls to create a highly realistic waterfall design that seamlessly integrates themes and spaces together. Together, with the Christie cinema projectors fitted in the five new halls, Venice Cinemas is poised to present a brand-new experience to Taiwanese movie fans."
Han Kim, executive director for APAC, Cinema, Christie, said, "Venice Cinemas is a longstanding user of Christie's digital cinema projectors in Taiwan and we are delighted that it has chosen a combination of our cinema projectors, 1DLP laser projectors and content management solutions for its expanded multiplex in Taoyuan to deliver stunning on-screen visuals to movie-goers. This is an ingenious deployment of our integrated solutions in a cinema environment, and I applaud Dacoms for completing this inventive installation."