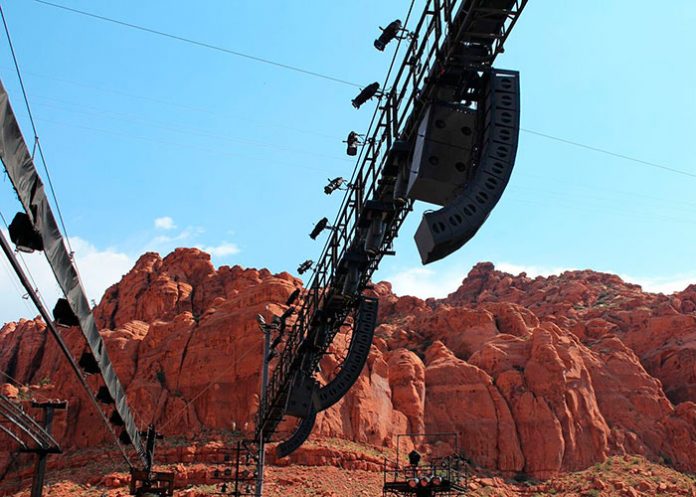 Set in the beautiful Padre Canyon, Utah, The Tuchan Centre for the Arts boasts a 42,000-square-foot stage offering theatergoers a unique experience. Completed in 1995 the facility includes a 1,920-seat outdoor amphitheater, 328-seat indoor theater, black box theater, dance studio and more.
At the start of the year, Tuacahn entered the next decade with great sound from a newly installed L-Acoustics Kara line array system. Installed in April by Poll Sound, which also installed the previous dV-DOSC system, the new rig consists of an LCR three-hang array of 11 Kara boxes each, as well as four SB18 subs flown two per side outboard of the left and right main hangs. The new L-Acoustics system complement are 14 coaxial X8 enclosures used for low-front fills and stage monitors, and a dozen larger X12 enclosures: eight facing forward from the rear of the stage and four used for on-stage fills. The entire system is powered by six LA8 and six LA4X amplified controllers.
"The dV-DOSC sound system worked incredibly well here for ten years; it was subjected to intense heat during the days and rain and other elements year-round, but it never let them down," recalls Deward Timothy, Poll Sound's Owner and President, referring to temperatures that routinely hit 105 degrees Fahrenheit during the day. "We recommended the Kara as the best choice for a new system to follow that."
Timothy was familiar with the challenges of flying a large line-array system in an outdoor environment like this—a catwalk was constructed around the weight and other requirements of the system— but this time it was compounded by a tight schedule, which saw Poll Sound technicians working in the rigging while the season's first show was in rehearsals. Much of the system tuning was consequently done at night.
As well as dV-DOSC accomplished covering, the venue's seating area and keeping sonic energy off of the rock walls, the Kara system has improved on that. "The coverage is exceptional… incredibly precise," says Timothy. "With the dV-DOSC we were using Lab.gruppen amplifiers and Lake processing, which needed considerable tuning. But the Kara is a much more integrated system, with its own FIR filters and distance-loss compensation calculations. It's uncanny how the system is so perfectly tuned from top to bottom. There's tons of gain and the kind of precise coverage that's hard to achieve outdoors. The theater operators are immensely happy with it, and so are we. Here's to ten more years of L-Acoustics there".