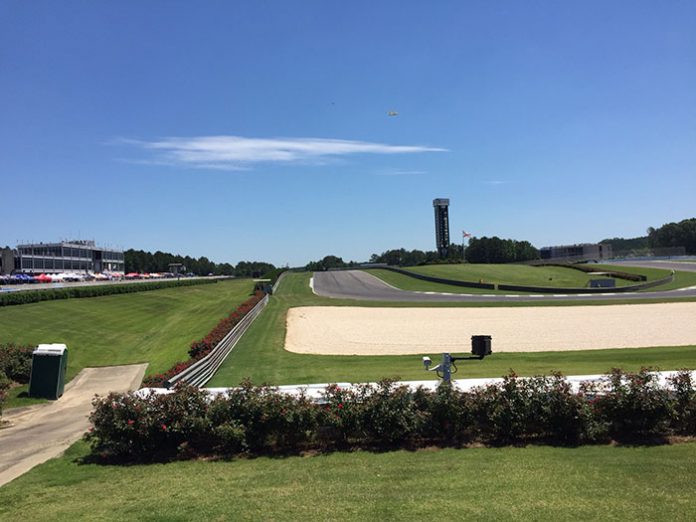 Major racetrack, Barber Motorsports Park, understands the importance of reliable race-control communications. The 740 acre park, located just east of Birmingham, Alabama,  features a 16-turn, 2.38-mile car and motorcycle racetrack where patrons enjoy Grand-Am, NASCAR, AMA Superbike, and other exciting races.
To ensure clear, properly prioritized communications in an extremely noisy environment, system integrators Data Plus Security of Hueytown, Alabama, installed a customized system based on a Symetrix Prism 8×8 DSP unit.
"The track used to have a jury-rigged system made out of telephone parts, and it was a disaster," recounts Data Plus owner Jonathan Curelar. "They also had two-way radios but only one person could talk at a time. They have 30 people on a conference who each need to talk. It was a big issue".
Curelar's team designed custom weather-resistant enclosures to house the gear and selected the connectors, amps, and noise-cancelling microphones and headphones. Then they took advantage of preexisting CAT6 wiring between Race Control and the corner stations to implement a Dante-based digital communications system, managed with the Symetrix Prism 8×8.
"We use Symetrix DSPs in a lot of projects," Curelar explains. "We've installed Symetrix-based conferencing systems in a variety of courthouses, for instance. Symetrix has awesome products and continuously improves them. I knew Prism had everything I needed to tie together and manage the track's station communications."
The new system bought enabled up to 30 people to conference together, allowing Race Control to manage the conversations so key communications could be heard. "The Race Control director only talks when it's important, so that has to take priority over the individual stations," expounds Curelar. "Indy races have a race director, and nobody can talk over them. And at the smaller races, many of the people at the stations are volunteers who sometimes chat, which may not interfere with important announcements. We also needed controls for the individual stations because you don't always have the same person at the same station, and some people don't hear as well, or speak very loudly, or are soft spoken."
Curelar's team used Symetrix Composer to create the controls and showed the track staff how to monitor and control each station. They created different paths and priorities, including a ducking routine that lowers all microphones except Race Control. "We are there live with the Composer software on race day, too, so we can do on-the-fly adjustments as the race goes on," Curelar confirms.
The Symetrix-based system proved highly reliable. "We installed it just a week before an Indy event, and it was all ready to go by Thursday, when we did the first full check with Indy cars on the track," Curelar recalls. The new communications system performed so well throughout the event that the Indy coordinator proclaimed it by far the best she had seen and took Data Plus' contact information to pass to other tracks.
Although the quality and features of the Prism 8×8 were major reasons Curelar chose Symetrix, he also cites his experiences with the manufacturer's staff. "The people at Symetrix are some of the best I've ever worked with," he enthuses. "We are not a big company but when I approached Symetrix about becoming a dealer, they did not ask how much I was going to sell; they just cared that their product was going to work for me. The customer support is awesome, and the guys in tech support are phenomenal. So I feel comfortable with Symetrix, and I'm not going to anybody else."