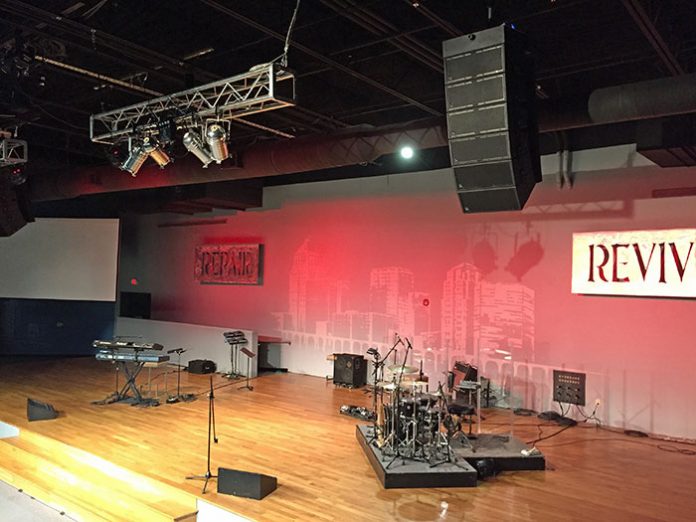 The Church on 68, South Greensboro, North Carolina offers a wealth of programs to bring greater relevance to all who worship there. The church offers people the opportunity to participate in the Sound Team, Video and Lighting Team, the Worship Team (or praise band), a Kids Team, and more.
Music plays an essential role in church's worship program, to ensure the best possible sound for performers and the congregation alike, the church recently upgraded their sound system, which now draws from the catalog of WorxAudio Technologies.
Selah Media Productions of Mount Holly, NC, an AV systems design and installation firm that caters to the worship and commercial markets while also operating a live production division, was contracted to design and deploy the new sound reinforcement system at The Church On 68. Buck Roberts, President of Selah Media Productions, oversees system design, sales, installation, and training services for the company. He discussed the project and his reasons for deploying WorxAudio's TrueLine XL1 Line array modules – powered by the company's recently introduced PDA Series integrated power amplifiers – along with the company's legendary TL218SS sub bass enclosures.
"Music plays a major role in worship services at the church," Roberts reports. "There is an outstanding praise band that generates a terrific vibe, which really gets people involved. Because of this, church management wanted a sound system that delivered a big, rich musical experience. Speech intelligibility was another vital concern. The previous sound system used distributed speakers throughout the space and coverage was very inconsistent. Hence, the ability to hear clearly articulated speech throughout the room was considered extremely important. We've done several projects with WorxAudio line array systems in the past, so I knew that the broad horizontal dispersion pattern of these systems would make a significant difference in this space."
The Church On 68's sanctuary is quite large. The space is 110 X 110 feet with an exposed steel ceiling at a height of 25 feet. Seating capacity is for 1,500 people. Acoustically, the room is challenging, as Roberts described. "While there is a carpeted floor, there are a lot of reflections due to parallel walls," he explained. "Because of this, we treated the surfaces with acoustical panels to control the reflections."
The WorxAudio loudspeaker setup that Roberts and his crew deployed includes six WorxAudio XL1 Line elements per the left and right edges of the stage area. These self-powered enclosures – driven by WorxAudio's PDA Series integrated amplifier modules – are flown at a 19-foot height, 4 feet from the downstage edge. For low frequency support, the XL1 line arrays are accompanied by two WorxAudio TL218SS subwoofers. These two dual 18-inch enclosures reside on the floor in front of the stage.
On installations of this scope, quality technical support is an important concern for many AV integrators. Here too, Roberts was very pleased with his WorxAudio experience. "WorxAudio / PreSonus brought Hugh Sarvis and Tony Flammia out to assist in the tuning of the space," he said. "We absolutely love WorxAudio. We've been dealers for a number of years and are really passionate about the quality of their products. The company takes a very active role to ensure the success of our projects."
With The Church On 68 project fully operational, Roberts reports he has received numerous kudos, "This was the right solution for this church. I don't think there is any other combination of products on the market that could have accomplished what we did – especially at this price point. The staff at the church is very complimentary of the system. They feel they finally have a system that delivers a world-class experience capable of supporting concerts, church services, and other significant events."
Whitman Toland, Senior Pastor, shares Roberts' enthusiasm, "In choosing a company for our sound system upgrade, one of the most important things was not only the quality of the sound equipment, but communication and how easy it was to use once installed. We have discovered WorxAudio not only has the finest state-of-the-art components and equipment, but also a commitment to helping us provide the best experience for our congregation and our sound engineers. Thank you!"