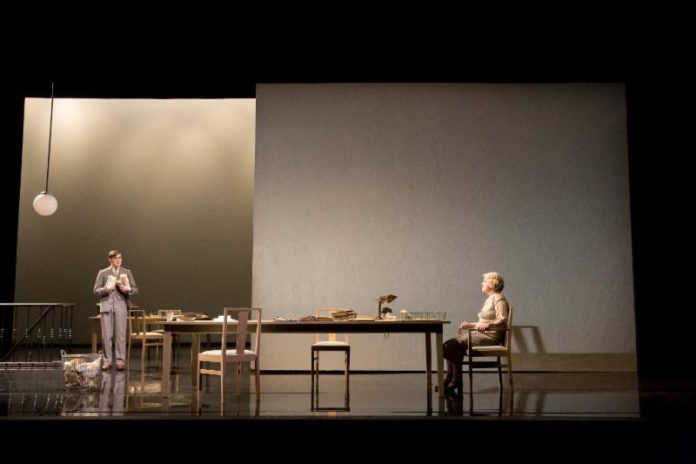 A new production of Harvey Granville Barker's play Waste is currently showing at The National's Lyttelton Theatre with smooth swipe curtain movements utilising Triple E's Chaintrack, Unitrack and Unibeam systems.
The controversial play, which was famously banned by the censors when it was first written, tells the story of the ambitious independent politician Henry Trebell and his plans for a bill to disestablish the Church of England.
The National Theatre's Deputy Production Manager, Clíona Ní Mhocháin, approached Triple E's Managing Director David Edelstein to assist with the track solutions.
"We needed a smooth, silent and reliable system to achieve a swipe motion to go from an empty stage to actors' preset," explained Clíona. "We also wanted to create an aperture to suggest the outside world further upstage that could change size and position easily and quickly, which Chaintrack provides."
The team has rigged a total of three tracks, all with motors and speed variable control. The track systems are a mixture of the newly supplied Chaintrack and the National Theatre's existing Triple E stock of Unibeam and Unitrack.
"One track and curtain swipes from one side of the stage to the other, and the other two tracks and curtains are on the same truss but slightly staggered to allow us to move them to different positions on and off stage but look like they are on the same plane," Clíona continued. "Chaintrack was easy and quick to install, has worked perfectly from the start and is low maintenance. It's easy to operate and almost silent which tied in nicely with the style of this production."
The National Theatre has a longstanding and positive relationship with Triple E. Triple E's managing director David Edelstein was part of the stage management team at the National Theatre when it opened in 1976, progressing to production management on the Olivier and Cottesloe stages. Since then, Triple E track systems and motors have been used on a wealth of NT productions, including, most recently,Travelling Light, which toured UK theatres and was broadcast to cinemas worldwide in 2012 via NT Live.
"After discussing the show's needs with David and seeing a sample of the Chaintrack we were happy that it suited our requirements perfectly," said Clíona. "The ability to store the curtains into spiral stacks means that when offstage they fit behind, and within the footprint of, the show masking flats."
David Edelstein concluded: "Working on the Chaintrack systems for Waste was a very positive experience, the NT knew exactly what they wanted to achieve and we were able to fulfil the brief with the minimum of custom parts. It was great to see so much of the NT's existing stock of our equipment being used to good effect on this production."