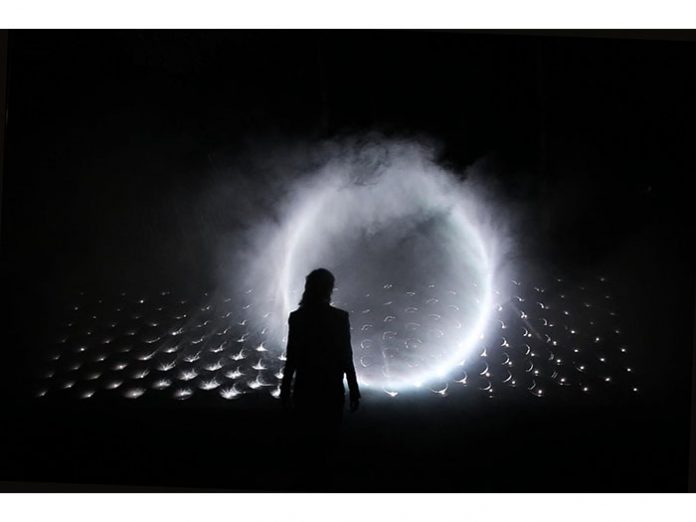 Junghoon Pi, Professor of Music & Sound Design at Seoul Institute of the Arts has recently employed a TiMax SoundHub immersive audio processor to add spatial dimension to an art installation commissioned by the Asia Culture Center in Gwangju, Korea.
Based on his previous work with TiMax, the studio of Kimchi and Chips sought Junghoon for collaboration on the third edition of its Light Barrier series. Influenced by impressionist painters who were inspired by the introduction of photography to create 'viewer-less images', the installation allows images to arise from the canvas, – "creating paintings outside of perspective". Junghoon created an immersive soundscape rendered and distributed by a 16-channel TiMax SoundHub dynamic spatial audio matrix, to help embed the images into the audience's senses.
The installation uses a multi-segment mirrored apparatus to split the beams of eight video projectors into 630 individual projection elements, which in turn create a total of 16 million, measured and calibrated, pixel-beams. Each mirror creates a group of light beams that collaborate to form animated mid-air images in the heavily hazed space, all varying in both the physical and the time domain.
Forty channels of audio support the six-minute sequence, which employs the motif of the circle to travel through themes of birth, death, and rebirth, helping shift the audience into a new perception of existence.
A total of 20 full range loudspeakers are driven by TiMax, with sources fed from an SSL Live L300 desk. Rigged at a height of seven metres and supported by six ground-stacked sub bass units, four of the speakers are positioned behind the mirror structure. At the other end of the 70-metre hall a further four speakers correspond, and six delay pairs in between complete the distributed system. The sub-bass units are spread out down the length of the room. The audio stems are created and played from Ableton connected to the desk via RME MADIface XT.
"TiMax was perfect for moving sounds from one loudspeaker zone to another. It really is so easy and effective with TiMax to create sound movements through multiple speaker zones: just intuitive and simple. TiMax has the freedom to use any kind of loudspeakers and Timeline cue playback is comfortable to me."
Junghoon concluded: "I've used TiMax since I was introduced to the product by (US sound designer) Scott Lehrer in a workshop in Seoul, and as Professor at the Seoul Institute I teach TiMax on the sound design degree course. Kimchi and Chips' Light Barrier was the perfect opportunity to flex the capabilities of TiMax to its fullest."