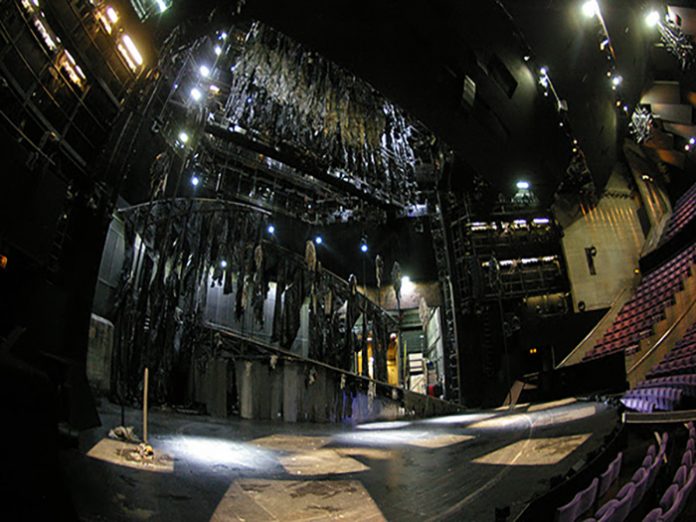 According to Paul Hornsby, the NT's Lighting Resources Manager, the acquisition forms part of a ten-year plan. "We review which equipment has reached the end of life and decide what needs to be retired first — but the decision is driven by LDs as well. We only go dark for five days a year and we managed to replace these on the rig without losing a show."
The purchase was authorised jointly by Hornsby, Matt Drury, Head of Lighting, and Jack Williams, Lighting Supervisor for the Olivier Theatre, and followed an intensive three-day evaluation against a number of competitive brands.
Organised by Stage Electrics Sales Manager, Paul Roughton, and attended by around 60 lighting designers and technicians from the NT and other London theatres, this took place on the Olivier and Lyttelton stages. "The Martin MAC Encore proved a real winner, primarily due to its colour mixing and repeated accuracy with the framing shutters," he said.
The final installed inventory comprises 29 MAC Encore Performance (24 x WRM 3000K versions and 5 x CLD 6000K versions) and 13 x MAC Encore Wash WRM fixtures. The Performance fixtures were specified with optional enhanced Frost Flags and the Wash fixtures with optional PC lenses.
Paul Hornsby confirmed that achieving the tungsten look from an LED fixture had been the initial aim. "Our start point was to recreate what the Tungsten Wash did — and then look at additional feature set." Key amongst the features, he said, was the quietness of operation, flexibility, energy-efficiency as well as the power output.
The new MAC Encore offers unparalleled 3000 K warm tungsten emulation and 6000 K cold, with an advanced colour mixing system, offering a fully variable colour correction.
Jack Williams describes the transition from the TW1s to Encores as seamless. "We switched the fixtures between runs of Macbeth and relit with the LED – it looked identical. There has been ready acceptance of the Encore amongst leading LDs."
On the importance of flexibility, Jack commented: "We are in rep and we have no idea from show to show what the sets and style will be. The flexibility of the Encore is superb and we've actually been able to reduce the number of other fixtures on the bridges."
The MAC Encore offers record-breaking whisper quiet operation. "This is genuinely impressive and a vital feature," Jack continued. "Directors are looking for near silence in the auditorium during intense passages on stage. Brian Friel's Translations is a current case in point where we turned all the arc sources off. You immediately noticed the difference."
Matt Drury also emphasised the low size/weight ratio of the Encores and added that the ease of first line maintenance had been another key driver. He also highlighted the generally low cost of ownership, with low consumption and without the need for lamp replacement. "Energy saving is vitally important and we were all of the mindset that we would continue heading towards energy efficiency."
Paul Roughton of Stage Electrics concluded: "We have supplied and supported Martin products for many years, and the Encore range continues their reputation for top-class theatre products."