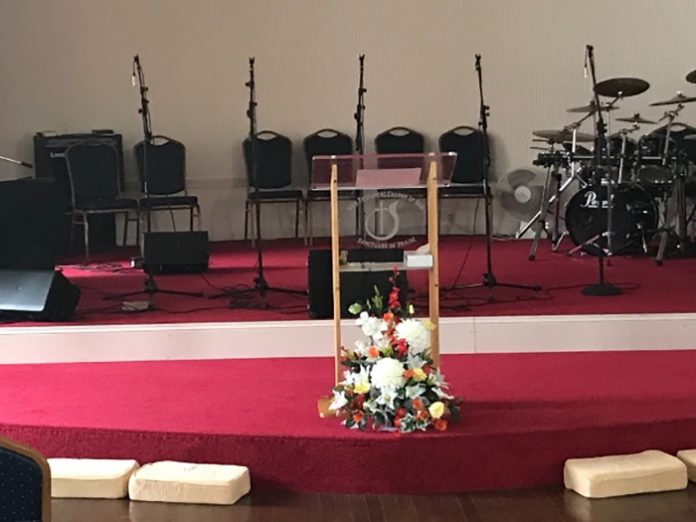 The New Testament Church of God (NTCG) has been established in Slough for more than 40 years and has occupied its current Herschel Street location since 1990. One of more than 130 UK locations of the denomination, this busy house of worship has a seating capacity of around 150 and as well hosting regular Sunday services, holds a number of other worship events throughout the year.
Sound reinforcement for music and speech is of fundamental importance to a contemporary house of worship of this kind and having conducted a review of its provision, the church, led by Pastor Wayne Perkins, decided that the time had come to make improvements. Whilst the church was generally happy with its existing front of house speakers, issues surrounding onstage monitoring had reached a critical point and far greater flexibility was needed in terms of audio-mixing both onstage and for the Front of House.
Pastor Wayne takes up the story: "Our programme of events across the year is varied and features everything from the spoken word to music soloists and full band ensembles. People of all ages and levels of experience take part in performances, so delivering clear sound on stage across every frequency is crucial to the communication that lies at the heart of our purpose. We had been suffering some intermittent faults with our existing analogue monitor system and given the fact that it was more than 20 years old, decided to replace it with something more up-to-date and reliable. A new mixing console was also essential to improving all-around audio delivery, as was the need for good quality microphones."
The church contacted Audiologic to seek guidance and advice on the best way forward and following a site visit, Business Development Manager Paul Simpson recommended a QSC Audio system for stage monitoring, complemented by Sennheiser wireless microphones. Consulting carefully with end-users is a hallmark of Audiologic's approach to ensuring that they are supplied with systems that most closely match the requirements of a given space. In this instance, the church wanted a scalable system to take account of future demands. Audiologic duly took this into account when making its recommendations.
3 QSC K8.2 2000W powered active 8" loudspeakers were installed across the stage as foldback monitor speakers. The K.2 Series is QSC's latest range of highly flexible loudspeakers which ensure smooth coverage across any listening area. The advanced control and functionality offered by the speakers is contained within a robust and ultra-reliable enclosure, delivering exceptional performance at an extremely competitive price. The QSC K family of speakers have long been a favourite for house of worship applications and the K.2 will be no exception.
To complement the introduction of its high quality stage monitoring system, the church took delivery of 2 x Sennheiser ew135 G3-1G8 handheld wireless microphone systems and 1 x Sennheiser ew152 G3 headset wireless system, as well as a further 5 x Sennheiser E835 S Cardioid microphones for wired use. Synonymous with high quality, dependability and versatility, the microphones chosen for the installation enable the church to meet every possible application.
Completing the picture was a QSC TouchMix 30 professional mixing console. The most powerful compact mixer ever created, this feature rich console delivers the capabilities and sound quality of the world's finest large format mixers in an incredibly small package. Perfect for a wide range of applications the 32 channel TouchMix 30 offers Wizards, presets and a range of tools that assist both seasoned professionals and novices to achieve fantastic results, quickly and intuitively.
Paul Simpson of Audiologic was satisfied that the system constituted an ideal solution at the church: "First of all, its fair to say that the quality of audio now enjoyed at the church easily surpasses anything that went before. The combination of products constitutes excellent value for money and the system can be easily expanded to suit any future requirements. Something that is common to all performers on any stage – experienced old-hand or novice – is the confidence that comes from being able to hear themselves clearly. The combination of QSC and Sennheiser products on stage at the church can only encourage and support the self-assurance required to deliver excellent performance. Having heard the difference that the QSC K8.2s have made to the on-stage sound, the church is already looking at upgrading its existing front-of-house provision to QSC K12.2 speakers."
Pastor Wayne concluded: "Paul from Audiologic visited us and took time to listen carefully to our requirements. He demonstrated great understanding and took us through exactly what we needed, clearly explaining the benefits of the selected products to our particular situation. The vast improvement in sound quality has been remarked upon by everyone and after some initial training from the installation team, we have found the equipment intuitive and easy to use. If we want to add to the system in future, it would be a straightforward process. We're very pleased indeed!"