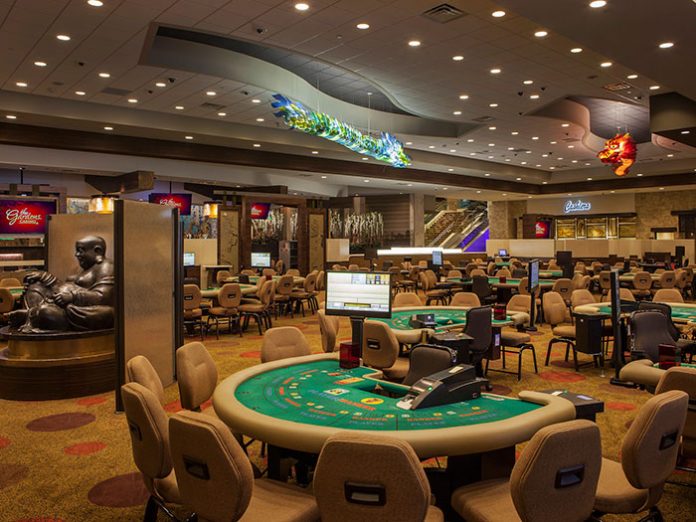 The Gardens Casino has announced the opening of a new $90 million, 200,000 square foot, state-of-the-art venue with superior card tables, an upscale bar and lounge, premium restaurant, 12,365 square foot event space and an innovative HARMAN Professional Solutions AV delivery system. To provide guests and employees with maximum access to satellite TV, player tournament lists, jackpot announcements, dealer rotations and promotional signage, the facility turned to HARMAN's AMX SVSI system (https://www.amx.com/svsi/), which distributes 30 media inputs to 220 screens throughout the property, easily assigning any signal to any TV, anytime with the simple touch of an iPad.
General Manager of The Gardens Casino, Ron Sarabi commented: "The ease of the platform is seamless and extremely simple to manage. It gives bartenders and floor managers and people outside the IT department; the ability to change channels and manage media feeds directly from their stations. Using any of our six iPads, our staff can accommodate programming requests almost instantaneously."
The AMX SVSI Networked AV Digital Media Distribution and Switching solution uses industry standard IP networking to deliver the most scalable, flexible, cost-effective and easily controlled solution available for connecting media from any number of sources to any number of destinations, within a room, across an enterprise, such as The Gardens Casino, or around the world.
AMX SVSI was introduced to The Gardens by veteran gaming and hospitality AV integrator Bill Miller of Reliable Security Sound and Data, who served as a consultant and integrator on the project. Miller recognised inefficiencies in the media distribution system at the casino's former location such as relying on local programming and DirecTV channels assigned to specific monitors. Also, the system was cumbersome for the staff and inconvenient for guests, who were tied to specific areas of the casino in order to view their choice of content. Bill also stated that his company was a very early adopter of the AMX SVSI technology and had previously designed and installed systems in two New York casinos. Bill concluded that the flexibility of the system has tremendous appeal and was an ideal fit for The Gardens facility.
Ron Sarabi also added that the industry regards The Gardens Casino as a technology leader: "We're proud to be the first gaming facility in the region to install AMX SVSI technology. It allows us to better serve the thousands of guests who come through our doors each day and to optimise viewing opportunities in our expanded space. No longer managing dozens of DirecTV boxes and remote controls has made our work easier and more efficient."
The Gardens Casino project was built using N2000 hardware on a physically separate network, using Cisco switching hardware and fiber uplinks between Intermediate Distribution Frames (IDFs). It is currently being expanded to include15 additional inputs.