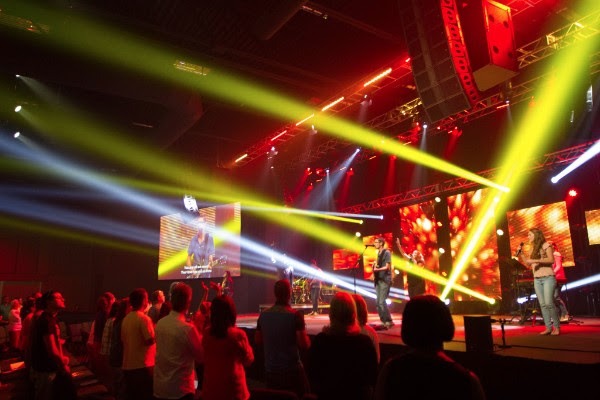 Over the past 17 years, The Cove Church has increased its membership to 5,000 congregants, in the process expanding to five regional campuses and a constantly growing number of neighbourhood locations. But what ties them all together is Pastor Mike Madding's sermons, which are broadcast and streamed from the church's Mooresville, NC main location each week.
Realising that the centre cluster of the point source sound system, that had been in use there since that building opened in 2008, was creating a visual problem for those broadcasts, the church decided to upgrade its entire sound system with a line array design that would keep the centre area above the stage completely clear. After evaluating several contenders, an L-Acoustics Kara system was chosen because only it could give The Cove Church both the sound and the look it needed.
Special Event Services (SES), which has been The Cove Church's AVL systems integration partner for 16 of its 17 years, installed a system comprising L-R main hangs of eight Kara enclosures each, with two hangs of two SB18i subs behind each main array hang, and low end further bolstered by four SB28 subs on the ground. Far L-R arrays of eight Kiva each act as side fills for a challenging room that's over 160 ft wide and less than 100 ft deep from stage lip to back wall, while two more Kiva enclosures were added as front fills. Six LA8 amplified controllers power all of these loudspeakers.
"The look of the broadcast has become much more important for churches now," said SES Director of Touring Operations, Michael Brammer. "Going with a line array was the way to get the look we wanted, and the L-Acoustics Kara system gave us the sound we needed at a price point that was manageable for the church."
Michael said the sanctuary's challenging dimensions were overcome using Kara's excellent dispersion characteristics and the seamless sonic blend with the Kiva boxes used for side and front fills. "L-Acoustics was simply the best overall solution for this project," he said.
The L-Acoustics PA system also solved some issues for Ricky Touchette, who heads the audio department for all of The Cove Church's locations. "The new system sounds phenomenal, but what's especially great about it is that it lets our volunteer FOH engineers get the mix to where they want it to be much more quickly than ever before," he explained. "The Kara system is just easier to mix on; it's so smooth sounding. We're able to get it where want it to go and don't have to fight it. That makes a huge difference when so much of our audio staff are volunteers."
Ricky is also pleased with how well Kara(i) is handling the church's challenging acoustics and contemporary style of worship music. "The room is very wide, kind of shallow, and has a low ceiling, but the Kara system fills it evenly," he said. "Coverage is so consistent that we really don't have to walk the room to check different parts of it. If the average is 100 dB, it won't be more than 102 dB at the closest point to a speaker. This system provides us with more than just great sound – it provides confidence."