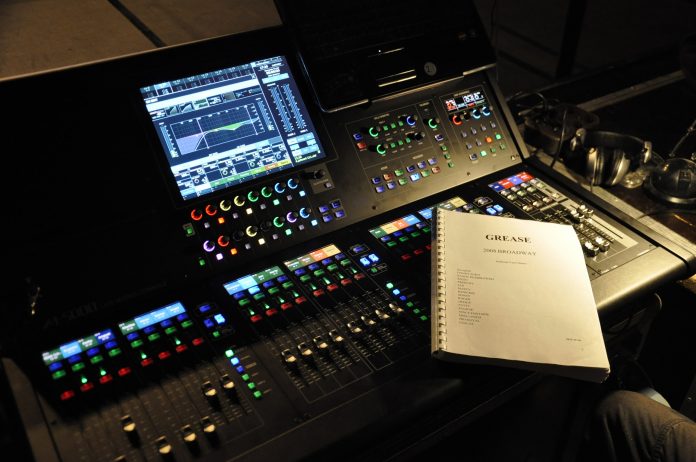 Roland is the word in Hungary, as the Roland M-5000 and M-480 live digital mixing consoles alongside Roland Digital Snakes head out on tour with Grease – the Musical. This 11 date arena tour is produced by long term Roland customers, Szatyi Stage Team who, earlier this year, supplied an all Roland setup to produce the live stage sound for local TV2 channel shows Rising Star and The Voice.
Ideal for a large theatre and live sound applications such as the Grease production, the M-5000 was chosen as the FOH console for the tour primarily because of its unique O.H.R.C.A configurable architecture. O.H.R.C.A stands for three key concepts: Open; High Resolution; and Configurable Architecture. This internal architecture is not fixed to any configuration and can be freely defined within a range of up to 128 input or output channels or busses, allowing the operator essentially to build a console to suit the application. Each path can be used as a mixing channel, AUX, matrix, subgroup buss or MIX-MINUS buss in any input/output configuration delivered at a pristine 24-bit/96kHz sound quality. O.H.R.C.A supports Dante, MADI, Waves Sound Grid, and REAC audio protocols, as well as audio delivery over video using SDI, DVI and SFP cabling. The M-5000 also has two REAC (Roland Ethernet Audio Communication) ports which allow extra I/O boxes to be added via Cat5e cable at 96kHz. A third REAC port can be used for connecting to monitors or recording.
Mr. László Szatmári, Owner of Szatyi Stage Team, described the M-5000 and O.H.R.C.A design as a solution to fit all the different areas of work his company is active in, such as live sound, broadcast, rental/hire and production. "We wanted to find a variable console for many different applications for the long term future. All the new functions and sound quality (of the M-5000) impressed all of our team. We enjoy the huge creativity and possibilities that Roland gives inside this new concept."
For the Grease tour, the M-5000 is connected to two Roland S-2416 (24 x 16 Modular Stage Unit) which are set up as a redundant connection using the Roland XI-REAC expansion interface. The XI-REAC provides an additional two REAC ports with 40 inputs, 40 outputs per port. The rear panel of the S-2416 provides AES/EBU connectivity (25-pin D-sub type) for eight channels of input or output, enabling connection to speaker processors, amps, and other devices capable of AES/EBU input or output. Input via AES is assigned to channels 25 through 32 and output is selectable by a mode switch. With two REAC connectors – a main and a backup – a redundant REAC network is possible. If a problem occurs with the main line, operation instantly switches to the backup with no break up or click/pop in sound. What's more, use of Neutrik Ethercon connectors assures both a reliability and ruggedness for any type of environment. The S-2416 is also the first Digital Snake capable of a cascade connection. Switching the device to Cascade mode and connecting another Digital Snake makes it possible to expand inputs and outputs up to 40 40 channels.
The M-480 48 Channel Live Digital Mixing Console was chosen as the console for monitor position. Inputs from the band on the stage to the M-480 are provided by the Roland S-4000S-3208 Digital Snake (32×8 Modular Stage Unit) and a Roland S-1608 (16 x 8 Modular Stage Unit) split separately from the analog output.
Commenting on the Grease project, Gergὄ Márkus, Sales Manager at Roland Eastern Europe said, "Mr. Péter Halász, sound engineer from Grease, has used the M-480 many times and he likes Roland Digital Mixers because the reliability and stability is always 100%. After they checked the sound quality of the M-5000 he was really impressed with the sound improvement. The new snake heads with added AES/EBU outputs made it possible to add the Martin Audio amplifier which gives excellent sound quality with M-5000. The engineer particularly liked the user fader layers on the M-5000, describing them as essential for handling that type of mixing structure, and also the Anchor function as genius. The USB I/O feature is really helpful for this show because they are using Ableton Live for backing tracks."