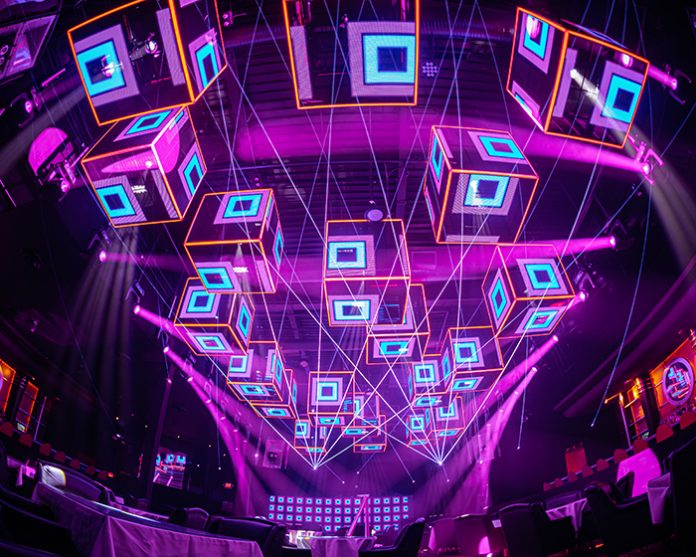 Situated in Atlanta's bustling midtown and surrounded by lofts and high-rises, the Southeast's most renowned gentlemen's club, The Cheetah, recently underwent an extensive renovation for the first time in 30 years. The revamp included a lighting and visual system from Cameo, GLP, and grandMA in addition to a new and vastly more capable sound reinforcement system, designed and installed by idesign.  At the heart of the new sound system are loudspeakers drawn from the E11EVEN Sound and Vantec catalogues of Valencia, Spain-based DAS Audio.
idesign, a full-service, Miami FL-based lighting, video, and audio company that caters to upscale establishments such as nightclubs, lounges, hotels, resorts, and restaurants worldwide, was contracted to design and deploy the new audio-visual setup at The Cheetah. Working in close coordination with John Fiorito, DAS Audio of America's National Sales Manager for Nightclubs and Hospitality for the sound reinforcement portion of the project, idesign's owner and lead lighting/video designer, Michael Meacham penned a breath-taking setup, comprising video cubes, strobes, lasers, and video screens in addition to the DAS E11EVEN Sound and Vantec loudspeakers.
"The Cheetah's Main room / DJ stand is at the heart of all the activity," Michael reported. "These areas use a combination of live and DJ-sourced music. Here, we deployed a combination of four E11EVEN Sound ES-112 three-way passive point source loudspeaker enclosures – each consisting of a 12-inch horn for the midrange, an M-75N neodymium compression driver, and two bullet tweeters for the high end. These are mated with eight E11EVEN Sound ES-215 passive subwoofers, with each enclosure holding two 15-inch neodymium transducers. Completing the setup are four E11EVEN Sound ES-221 2 X 8800W ground stackable subwoofers – each outfitted with twin 21-inch transducers and six-inch voice coils in a crossfire enclosure configuration."
For the DJ booth, there are a combination of four DAS Audio VANTEC-20A active curve sourced line array enclosures serving as the monitors. "Each enclosure is outfitted with a low frequency driver, a high frequency driver, plus a horn/waveguide," Michael continued. "These are accompanied by two VANTEC-18A-powered subwoofers, each enclosure outfitted with an 18-inch transducer."
The task of piping music throughout the restaurant area is handled by eight DAS E11EVEN Sound ES-26 two-way passive point source enclosures. Each enclosure consists of a combination of twin six-inch transducers mated with a DAS Audio M-34 compression driver. Completing the setup, the various E11EVEN Sound loudspeaker systems are driven by a total of 14 DAS Audio EP Series Class D power amplifiers working in conjunction with four DAS IO48 digital signal processors.
When queried about the E11EVEN Sound loudspeakers, Michael discussed the attributes that he felt really stand out: "They are a premium product designed specifically for venues such as The Cheetah. They produce very high SPLs with the utmost clarity," he noted. "The loudspeakers are custom made and have a variety of horn coverage pattens available to ensure there are no dead spots and superb coverage throughout the venue."
With sophisticated installations such as the one at The Cheetah, questions invariably arise. For this reason, responsive and capable support services are crucial to keeping a project on track. In this regard, Michael was very complimentary of DAS Audio. "DAS Audio provides direct support for the installation dealer, including design, project management, and on-site visits, while ensuring the sound system is perfect and the customer is 100% satisfied," he said. "Their products also have a five-year warranty with immediate replacement should anything fail, with no cost to the client."
'CREATIVE AND UNIQUE'
Alongside the brilliant DAS Audio sound system, idesign installed a mesmerizing lighting package to enhance The Cheetah's guest experience and encapsulate its performers. As the club hadn't been renovated for over 30 years, its owner, Jack Braglia, knew that the entire space needed something special and unique to align with its high-end performances. idesign installed custom transparent one-metre x one-metre video cubes as the main ceiling feature as well as adding a range of lighting and visual fixtures including Cameo Lighting Opus S5s and Azor B1s, GLP JDC-1 Line strobes,  Kvant Club Max 6800 lasers, a front entrance 2mm HD video screen and a 3mm DJ booth video screen.
"When I first saw Cameo at LDI a few years ago, I instantly knew they were a fantastic lighting manufacturer," Michael explained. "I was really impressed with the quality of the fixtures as well as the quality of lighting to price point ratio. It was at this LDI that I met William Brieva,  Cameo's Business Development Manager. He has been remarkable in getting us everything that we need , supporting idesign, and our projects. Cameo Opus S5 is a feature rich fixture with full colour mixing. The Azor B1s were chosen as a bright, LED tight beam fixture that would be the punchy centre light for the cubes.
"For the strobes, I wanted a fixture that's creative and unique. I have always loved the GLP JDC1 strobes – they are the perfect choice, being compact with bright pixel segments in the centre and RGB pixels on each side."
For the lighting control, Michael selected an MA Lighting grandMA2 Light console for its reliability and customization features. As The Cheetah's visual programming is deeply macro based, it gives the operator more time to focus on running the desk, instead of pre-programming the majority of the content. "The back-up feature is also great as if the console crashes, this will make sure the show still goes on," said Michael. "The grandMA2 Light with NPU expansion controls everything via DMX and Art-Net."
When it came to working on the visual side of the club, Michael started the design process with a 3D model of the venue and added each of the different elements individually. "It's very much like a painting or writing a song," he said. "After designing the Penthouse Club in Tampa, Florida, with a double-sided, diamond-shaped 120 ft transparent video screen, I had been kicking around the idea of creating transparent LED cubes ever since. With the creative possibilities in Cheetah Lounge, I knew that this would finally be the perfect venue," he furthered.
"After the 3D model was built in Vectorworks by Jim Rood and myself, I then exported the .Obj file into Syncronorm's Depence D2. While I was getting close to the final design, we provided the owner, Jack, with an Oculus VR headset and exported the VR renders showing the space from all different angles including video, lighting and laser looks. The VR renders from Depence D2 are insane! This software has been a game-changer in our industry. As the designs were updated, Jack would receive updated renders to view in Oculus VR."
Michael and Ruben mapped the video cubes in three different ways. The first map sees each side of the cube running individual custom content created by visual designer, Akel Issa. The second option is a video-mapping performance that displays the same content on all sides of the cube. The third video-mapping technique plays one continuous video through all of the cubes, creating a unique, abstract spectacle for guests. The video cubes are controlled by Avolites Ai mapped by Ruben Laine from Creative Integration Studio.
"idesign and the venue owners are so happy with the final outcome of using the 3D cubes but the production process proved to be very challenging," furthered Michael. "Our team had to build the cubes to be able to service the transparent modules without taking the entire cube apart, easily access the Cameo moving light inside of it, and integrating all of the wiring components between the modules, fixtures, and LED strips. Holmes Ives, idesign's Project Manager, along with our idesign team meticulously assembled custom hardware solutions to create the transparent cubes.  They spent roughly a month building the lighting and video systems alone."
Projects such as The Cheetah are an extremely collaborative venture, with Michael wanting to extend his gratitude to all that worked on the renovation. "Projects like this are very complex and take an immensely long time to put together. Fortunately, we have a remarkably skilled team," he reflected. "My business partner, Christine Wilhite, handles all the ordering, shipping, and logistics. Holmes takes the detailed drawings and figures out how to bring the design to life. Our idesign technicians, Steve Watson, Jeff Giancaspro, Ben Sahagun, and Eric Guyton built this lighting and video system to perfection. John Fiorito from DAS Audio and the idesign audio technicians always deliver a clean-sounding, well-tuned professional system. idesign has the ability to deliver high-profile projects like this because of our expert team," he concluded.
This article first appeared in issue 32.1 of MONDO-DR, which you can read below –