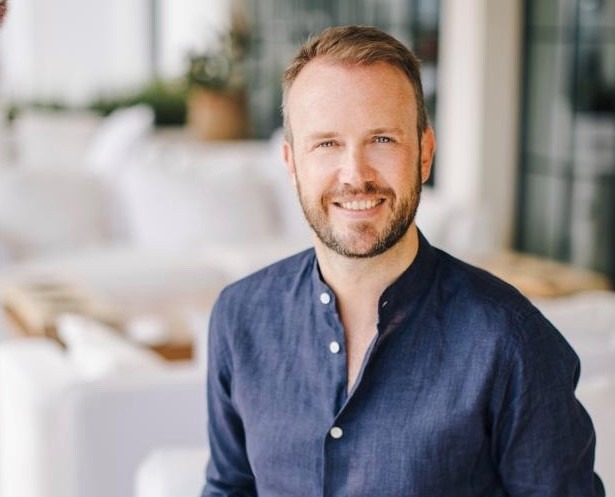 With a career spanning some of the most sophisticated nightlife hotspots, Nick McCabe has cemented himself as a beacon of the industry since the early '00s. The Newcastle-born entrepreneur established himself frequenting nightclubs around the North-East of England, catching the dance music bug of the '90s and tuning into the era-defining beats of Pete Tong. From there, his career took him to the furthest corners of the world, working with companies such as Hakkasan Group, Track Entertainment, Angel Management Group, and, his current position as CEO of Pacha Group.
Nick's passion for music began during his time studying graphic design at The University of Teesside. Alongside his degree, he toured the circuit of Newcastle social clubs playing in a covers band, immersing himself in the city's music scene and partying in its venues at night. After connecting with a mutual DJ friend who needed a producer, he was snapped up when the song they collaborated on was played out at an old dance music jaunt, Madisons, in Newcastle's Haymarket district. "The next morning, we were in the offices of Global Underground signing a deal, so I guess I got into the industry literally overnight!" he explained.
"Things didn't really work out musically for me, but me and my friends decided to move to Miami in July 1999 and one of them got a residency in a club called Liquid. At the time, I had no intention of getting into the hospitality industry, but we wanted access to all the great clubs on the scene. We were just a bunch of kids from Newcastle with no connections or anything. That's when I decided to set up the nightlife website, cooljunkie.com, just to get into the clubs. I thought if I had a business card with a cool logo it might make it easier!"
The Cooljunkie portal soon became a hit with the local scene in Miami and quickly spread to other areas of the US including New York, Chicago and Los Angeles. The website brought together dance music enthusiasts by setting out the most popular clubs, DJ interviews, upcoming events and a plethora of party pictures featuring those hitting the clubs at the time. "The website got very big very quickly and we built it up over a few years. When I lost my corporate job in the .com crash of the early 2000s, I was able to focus on Cooljunkie, growing it from a side venture into a fully-fledged business," said Nick. "In 2005, I sold the business to a company called Track Entertainment in New York who then partnered with Neil Moffitt, the man behind Godskitchen, Global Gathering and Angel Management Group (AMG). We spent some time doing festivals together and then moved to Las Vegas to start on a new project."
When Nick moved to Las Vegas, the city was crying out for its very own club scene. It wanted its own DJs, clubs and electronic music, so Nick and Neil set up a hospitality consultancy business where Nick became Chief Creative Officer. During his time there, Nick oversaw numerous large-scale projects for well-known brands including Pepsi, Bacardi and T-Mobile. Following his role with Track, he created a series of extremely popular 'B-Live' music festivals for Bacardi in 2006. This inspired him to begin his own music marketing company, The Big Idea in 2007. Through this new business, he continued to work on Bacardi B-Live, before going onto join the AMG team full time.
Nick worked as Vice President of Strategy at AMG for six years, overseeing company strategy and championing business development. After the business was taken over in 2013 by one of the most well-known, leading nightlife and hospitality brands, Hakkasan Group, his role progressed into President and COO, moving onto CEO in 2017, seeing him open US clubbing cultural institutions including; OMNIA, Jewel and Hakkasan. "There was no masterplan," he explained, "I never expected to be a nightlife or hospitality guy as such, but I guess passion came into play and I knew it was my calling."
While Nick was there, Hakkasan Group created a powerhouse of premium hospitality offerings that included an impressive portfolio of global venues for seasoned partygoers. Hakkasan's commitment was to 'crafting remarkable experiences' and with Nick at the forefront of the business, they did just that. His widespread experience in the nightlife sector played a significant role in his ability to navigate his way through the challenges faced by the industry at the time, leading the brand to worldwide status and recognition as one of the best in the world.
"It was a huge honour and period of growth for me to oversee a global brand like Hakkasan. I was able to evolve from someone who was primarily focussed on nightlife into understanding all aspects of hospitality, and especially the elements required to maintain a luxury brand," furthered Nick.
'I had a grand plan for Pacha'
Pacha is a name synonymous with sophisticated nightlife, Ibiza sunsets and the world's most dedicated dancers, however, the past year has proved difficult with the obstacles set down by the COVID-19 pandemic. Nick joined the company in early 2019, managing to get one full season of parties under his belt, but his focus soon had to shift to help the company navigate its way through the turbulence caused by the pandemic. "The impact on us was extreme," he explained. "We were a little insulated as we're a diverse business with hotels, bars and restaurants, too, so it wasn't a complete shutdown for us a company. However, Pacha is our main brand, it's the figurehead, so not being able to operate that has been impactful financially."
Pacha is a club that holds its community close to its heart, employing locals from the island, as well as welcoming worldwide clubbers, so alongside keeping the lights on and the business afloat, Nick wanted to do the right thing for the employees. "We tried our best to minimise the impact that the pandemic had on our employees by minimising the number of people who ended up on Spain's ERTE furlough scheme," he explained.
As for everyone, the pandemic came as a total shock to Nick who was about to begin the next stage of his exemplary career. He left Hakkasan in 2018 looking for a new challenge after feeling he'd taken the company as far as he could, and the team at Pacha had big ambitions for the brand, alongside a vision that met Nick's. All of that combined with an electronic music-obsessed Geordie desperate to take control of the iconic cherries meant that the opportunity couldn't be turned down. "I had been in America for a long time, so moving to Ibiza where the purest form of club culture began made complete sense to me," he furthered. "I had been stealing ideas from Ibiza for years, so when the opportunity arose for me to introduce my own, it was very exciting!"
When he landed the role, Nick had big plans for the brand, but decided to hold off on executing them at first, as he wanted to introduce himself to the island and get a flair for the culture. "I had a grand plan for Pacha and was looking at it from a long-term perspective, but when I came in, I wanted to learn about the business first-hand and introduce myself and my team to the island. At first, I was this glitzy Vegas guy that everyone thought would be making suits in clubs mandatory, so my aim for the first season was to just take it all in."
View this post on Instagram
One of the key considerations for Nick was how he could expand on Pacha's already extremely well-established reputation in the clubbing world. When he joined, the company was already at an interesting crossroads, with questions being asked about which direction was best for the brand. There were some teams that wanted to keep Pacha smaller and more local, with others questioning whether it should be built into an even bigger, global phenomenon.
In 2017, private equity firm, Trilantic Europe became a major shareholder in the brand after coming to an agreement with the franchise's owner, Ricardo Urgell. In the first two years after the agreement, Pacha was without a CEO and Nick felt as though its shine had gone. "Pacha had franchises all over the world with very mixed results. There wasn't a lot of brand equity management, so the first question was, how do we take control of this and elevate the brand back to where it should be? We began closing franchises, ending deals and thought about the best way to re-establish the brand in a cool way again."
To do this, Nick cemented his focus on the talent side of the business as key DJs, including David Guetta, had left prior to him joining. He reintroduced himself to DJs he'd previously worked with, aiming to improve the audience experience in the club, and looked at other key areas of the business including merchandise. "The merch was brilliant back in the day and there was a great magazine that existed, too. Pacha also had its own record label at one point, which took itself quite seriously and put out some great releases. So, you have all these brand extensions, which made a lot of sense and helped build Pacha, but they'd all been left to the wayside.
"We decided it was important to start thinking about those things again. We brought in Pete Tong as a board member and music advisor last year, too. Our aim was to look at the golden years of Pacha and learn from what happened, what built the iconic brand and how we can restart that process."
Pacha Group isn't only synonymous with great nightlife, the brand also owns hotels, bars and restaurants across the globe. It was a logical extension for the company back in the '90s, with the first Pacha hotel outside of Spain opening in 1993, and now reaching other islands including Formentera. The idea was to capture people before and after nightlife hours, too, giving people the full Pacha experience with the same unmatched hospitality.
"The opening of Casa Pacha in Formentera last year was a big moment for me as CEO and for Pacha Group as a brand," said Nick. "It's a bucket-list destination for so many people, so when we visited it for the first time, I knew we had to have a presence there." Secluded on Formentera's longest beach, Migjorn, the hotel consists of 16 rooms and suites, named after people and concepts from Pacha's history, including; Hippy, Lío and Ricardo. Casa Pacha also has its very own 'Chiringuito' beach bar, where guests can wine and dine with delicious Mediterranean food focussing on locally sourced and sustainable produce. "It's captured the imagination of Pacha and has been so well received by everyone who has been able to make the trip this past year. Of course, we'd love to have the music element there, too, but we have to be careful about that as the restrictions are constantly changing due to COVID."
Pacha Group's recent expansion has been focussed on its hotels and Lío venues, with Nick approaching the nightclub side of the business with caution. "The pressure of opening a club stamped with the iconic cherries is huge, and people expect it to be done right," he explained. "So, for the moment, we're taking our focus away from the nightclub side of the business and looking at what we can do with the hotels, and our Lío venues."
This summer, Pacha Group branched out into Mykonos, opening a Lío and Destino on the edges of its crystal blue seas. Nick also has plans to open a beach club in 2022, as the island provides yet another picture-perfect setting for Pacha's loyal following. "We're also hoping to open a Lío in Dubai early next year, as well as one in London, which will come a bit later. There's plenty going on, less so with the Pacha brand for the time being, but on the hotel side, we're really interested to see where that goes," he said.
The past year has been difficult not only for Pacha Group, but the entire hospitality and events industries. The COVID-19 pandemic halted live gigs, club nights, theatre and most bar and restaurant activity, having a devastating impact on owners. Ibiza's clubs opened again on the 8 October this year, but the current restrictions mean that venues have to operate at 75% capacity with masks required indoors. For Pacha, this isn't feasible as the intimacy felt within its walls is at the heart of the clubbing experience. The venue is also in the middle of a refurbishment that will see its audio-visual systems reinvented and interior updated with high-end, comfortable furniture and storage space for guests, with the grand reopening planned for early 2022.
"We want people to have the full Pacha experience, without restrictions and with a DJ that feels comfortable playing in a safe environment. The first night we open Pacha after the renovations, we want to show it off! We want it to be full of authentic energy, which is why we made the decision to open next year when there'll be a real thirst for it," concluded Nick.
With a career any committed clubber would be jealous of, Nick McCabe is set to carry Pacha Group out of the post-pandemic fog, reinventing the brand by bringing it back to its roots. With his impressive portfolio of party destinations, the Newcastle-born raver is living proof of what can happen if you follow your passion. From listening to Pete Tong's Radio 1 show as a teenager in the '90s, to fronting up global brands such as Hakkasan and Pacha, his admirable adventure is sure to inspire the next generation of electronic music's eager entrepreneurs.
This article first appeared in issue 32.1 of MONDO-DR, which you can read below –