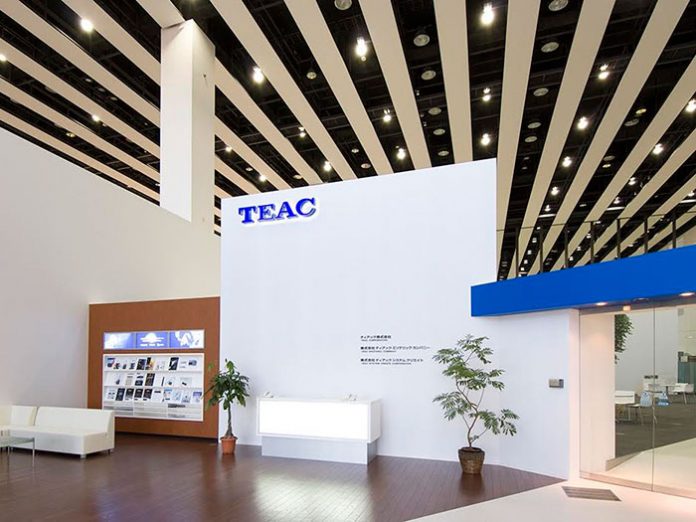 TEAC Corporation, operating internationally in Professional Audio and Music Instrument industries under the brand TASCAM, is now the official distributor of dBTEchnologies product lines in Japan.
The companies finalised the agreement after some meetings in Tokyo and in Bologna at dBTechnologies headquarters, where TEAC team visited the production and R&D departments of Italian manufacturer and have been introduced to the most recent dBTechnologies creations.
Mr. Kenji Matsu, TEAC CORPORATION Executive VP of Professional Audio Business Unit, who recently met dBTechnologies sales team in Bologna, explains: "TASCAM is always looking for new business partnerships to expand our business area. I am very excited to break into real Sound Reinforcement market in Japan with dBTechnologies. I believe this collaboration will bring good and new wind into both companies and I am sure the relationship will be getting even stronger in the future".
dBTechnologies Sales&Marketing Director Giovanni Barbieri comments: "In the last few years, dBTechnologies expanded its international distribution network and widened its offer and product range both in the professional audio and musical instrument segment… For this reason, dBTechnologies needed an experienced and widely respected partner to compete in the discerning Japanese Market. Thanks to its successful history and internationally renowned expertise in the AV world, TEAC Corp is the best possible partner to raise brand awareness and position dBTechnologies in such a complex marketplace. Since our first meetings with the company board, I realised that TEAC's team recognised dBTechnologies potential, and was more than ready to provide outstanding attention to all aspect of distribution, from sales and marketing, to customer support and training. For this reason, I am completely confident that this is the beginning of a longterm flourishing partnership".
In view of a further development of their Professional Audio offer on the Japanese market, TEAC is planning a presentation event in Tokyo next October 2016. During the event, dBTechnologies product lines will be presented to the media as well as the whole sales network.
TEAC Corporation was originally founded as Tokyo Television Acoustic Company in August 1953. Its goal was to be a leader in magnetic recording technology. Later, the company changed its name to TEAC for Tokyo Electronic Acoustic Company.
Through his extensive knowledge and deep insight into mechanical engineering, founder Katsuma Tani, a former aviation and aeronautical engineer, was instrumental in the development of the company's magnetic recording technology. It is these high standards that continue to drive TEAC forward into the new century of recording and playback technology, where TEAC aims to be an integral part of the creative engineering industry and to constantly provide customers with new and innovative products.
TEAC has two main business divisions: Information Products and Audio Products. The Information Products Division manufactures Measurement Devices, Video & Image Recording Devices and In-flight Entertainment Products. The Audio Products Division consists of three brands: TEAC, for consumer audio products; Esoteric for a high-end audio products; and TASCAM, for professional audio equipment.
TASCAM is widely renowned as one of the most innovative and reliable audio equipment brands in the global professional audio market. Broadcasters, stadiums, concert halls and recording studios all over the world, use TASCAM products such as multi-track recorders, solid-state recorders as well as CD players. In fact, TASCAM is everywhere in the pro audio market worldwide!
TEAC Corporation will continue pushing the frontiers of new technology to enrich society through high-quality, innovative products.