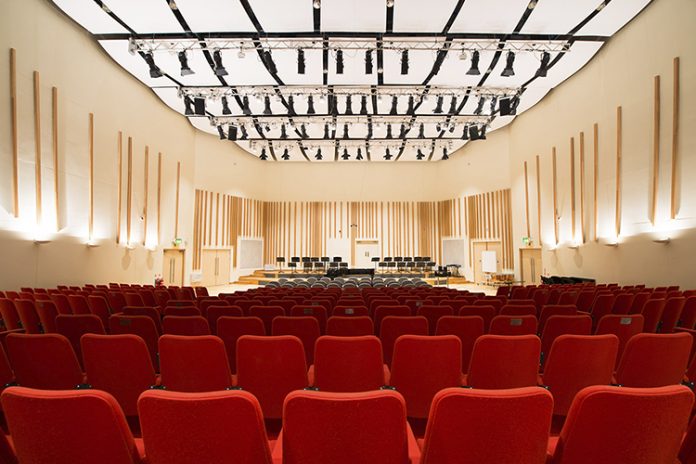 Situated at the heart of The University of Manchester's campus, the Martin Harris Centre for Music and Drama recently underwent a significant refit, including the installation of a state-of-the-art, energy-efficient production lighting package, featuring a control desk, LED luminaires and power controls from ETC, and auditorium lighting from GDS, all supplied and installed by Stage Electrics.
An important arts venue for north-west England, the Martin Harris Centre offers students a fantastic space in which to study and perform, as well as hosting many professional musicians, performers and prize-winning authors. It provides an excellent space for contemporary and classic theatre, music and comedy events, and holds a reading series that has in the past featured such literary luminaries as Martin Amis, Will Self, John Banville and Clive James.
The project, which was made possible due to significant funding from the Faculty of Humanities, is part of a campus-wide initiative that supports the University's commitment to environmental sustainability and saw a complete overhaul of the lighting in the venue's Cosmo Rodewald Concert Hall and John Thaw Studio Theatre.
Longstanding supplier to the University, Stage Electrics was appointed to design, specify and install a complete lighting system for the two multipurpose facilities. Karl Spencer, the venue's technical services manager, worked closely with Stage Electrics' Rob Beamer and Karl Formstone to ensure the right solution was selected and installed.
"Energy efficiency was a driving factor in this project, but there were other points to consider too, like flexibility," said Rob Beamer.
"The venue hosts a lot of classical concerts where maximum light levels are critical, whereas colour rendering and colour mixing capability is important for lighting dramatic performances, for example. For power controls, space was at a premium, so we had to bear that in mind too."
The comprehensive solution, specified following extensive demonstrations between Stage Electrics and the University, includes an Ion console with two fader wings; a Unison Paradigm power control system; Sensor dimmers with ThruPower modules; and an array of ColorSource PAR, Source Four LED Series 2 Lustr and Daylight HD fixtures and a comprehensive state-of-the-art house lighting system from GDS.
Rob added: "We put a lot of time into getting it right. The challenge was to deliver a versatile, energy-efficient lighting solution to maximise the experience for both performer and audience, without compromising on quality. And I think we have succeeded."
Karl Spencer, the Martin Harris Centre's technical services manager said: "As part of this extensive lighting project, our spaces have been converted to energy-efficient LED, for both lighting performances and house lighting. The end result is excellent and our performers and audiences alike are already enjoying the improved lighting. The installation offers us a flexible, efficient and sustainable lighting solution which underpins the University's environmental sustainability strategy."