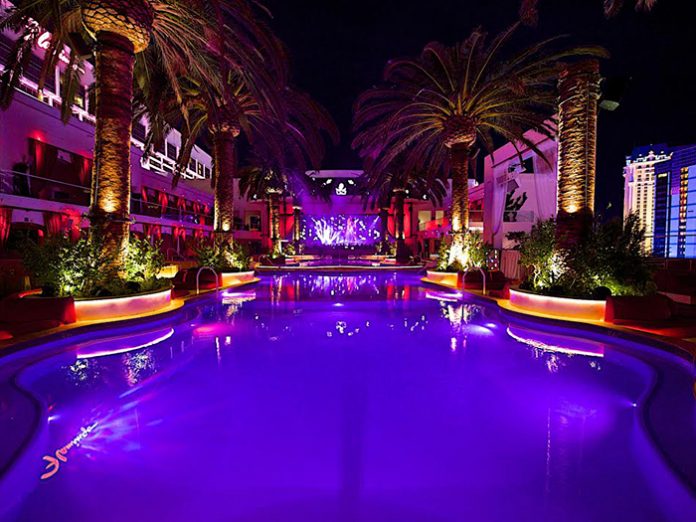 The driving force behind some of the world's most iconic clubs and the producer of movies including "Weekend at Bernie's" and "The Man With One Red Shoe," Victor Drai has an undeniable talent for turning dreams into reality. One vividly beautiful and exciting example of this ability is Victor's Beachclub, a magical vision come to life that was recently made even more compelling with the addition of artfully placed colour changing fixtures from ILUMINARC.
The only venue of its kind in Las Vegas, the indoor / outdoor rooftop club was inspired, as Victor later told the press, by earlier visits he made to the top of what is now The Cromwell boutique hotel in Las Vegas to watch New Year's fireworks. Marveling at the view of The Strip from 11 stories above the ground, Victor's envisioned the ultimate nightclub on the roof. That's precisely what he delivered, creating a 70,000 sq ft indoor / outdoor rooftop paradise with over 150 VIP tables, 35-inch natural palm trees, eight pools, two VIP balconies, four 35-inch dance poles, four bars and a gourmet kitchen. The one-of-a-kind venue has also established itself as a leader in nightlife entertainment with the launch of Victor's LIVE, a series of full 45+ minute concerts by internationally acclaimed performers to include resident artists such as The Weeknd, Chris Brown and others.
However, even dreams that come true must constantly evolve. Recently, Victor took another step to enhance the guest experience when it asked Steve Lieberman of SJ Lighting to replace a collection of warm white fixtures with colour changing LED pods. This transformation took place at the entrance to Victor's Beachclub and at the venue's main outdoor DJ booth.
"We took out the white arc lights at the entrance and replaced them with ILUMINARC Colorist Pod 18QA fixtures," said Steve, who also did the original lighting at the famous club. "The ILUMINARC fixtures were our first choice for the design, but they were swapped out for the warm white light products. After seeing the white light in this kind of setting, though, everyone agreed that colour would be more appropriate for creating the ambiance we were after."
High output fixtures (2,232 lux at 5 metres) powered by 15w RGBA LEDs, the Colorist Pod 18QAs were positioned about 25ft from the entryway arch that leads from the indoor club to Victor's Beachclub. "As guests are entering the beachclub you want to convey the message that they're walking into a special kind of place," said Steve. "You can do this much more evocatively with richly coloured light than you can with white light."
Steve is impressed with the versatility, colour and output of the pod fixtures. "Their output is absolutely fine from the distance where we have them positioned," he said. "We are streaking the walls with them. They add another level of excitement to the design. We're not having to use multiple fixtures to get the kinds of looks we want. We're able to do everything just with them, dialling them into our main system."
In addition to illuminating the archway between the two sections of the club, ILUMINARC Colorist Pod 18QA fixtures are being used to illuminate the main DJ booth in the beachclub. "Colour is again the key factor in the decision to do this," continued Steve. "It's just much better for the ambience of the club when the DJ booth is immersed in these rich colours."
The IP65 rating of the ILUMINARC Colorist Pod 18QA was also a key factor in the decision to install the units. "Being in what's basically an outdoor environment, the fixtures not only have to be invulnerable to moisture, they also need to be protected against the fine dust you get in Las Vegas," said Steve. "Mostly, though, the Colorist pods contribute to the ambience at the club. You can't easily explain how replacing some warm white lights with eight colour fixtures can make such a big difference, but when you see it you understand. It's a matter or experience."