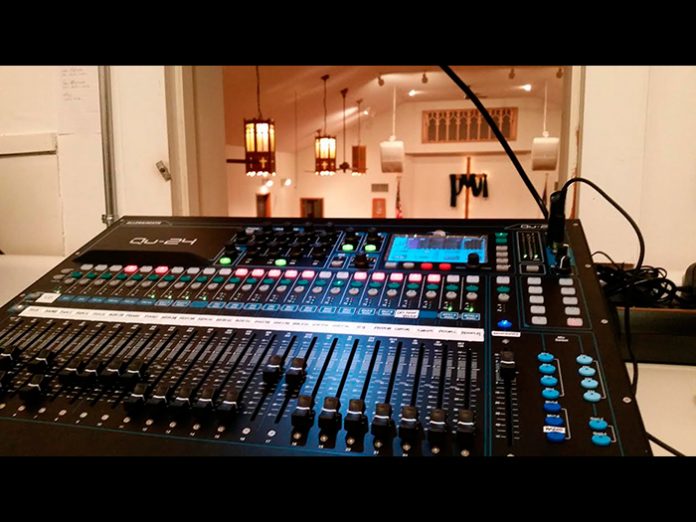 First Reform Church, located in the small town of Buffalo Center, Iowa, installed Allen & Heath's Qu-24 compact digital mixer, ME personal monitoring system and an AR2412 IO rack in its house of worship.
Sound Engineer and Production Consultant, Jeremy Rollefson, installed the Qu-24 upstairs in the church's sound booth, while the ME-U monitor hub and AR2412 were placed behind stage in his custom stage rack.
"The Qu consoles have massive processing capabilities. The workflow is extremely recognisable for those who are used to an analogue mixer, so it makes training church volunteers easy," said Jeremy.
The mixer's integrated USB recorder can playback multi-track files. Jeremy uses it to master basic mixing techniques and workflow for church services. The dSNAKE low latency audio connection enables the Qu-24 to connect over a single Cat5 cable to the AR2412, and it is compatible with the ME personal mixing system.
"I have found that the ME system is very simple in its operation and is adaptable for use on stage or in the house of worship!" he said. "With this set up for monitoring, the artist has the ability to take control over their own mix without the FOH engineer's responsibility to route individual mix buses from the sound console," continued Jermeny.
Gene Fisher, a Guitar Center pro based out of Rockford, Illinois, sold Jeremy the Qu-24. He said the console had exactly the praiseworthy sound the church was looking for.
"I have been a sound guy for over 40 years and for most of my career I have been a dedicated Allen & Heath fan. Hands down, their products have the best sound quality and logical layout on the market," said Gene.
When it comes down to choosing a console, the trait that Jeremy values most is the manufacturer's customer service.
"Allen & Heath always makes excellent products and American Music & Sound has made this decision easy for me because I know that I can count on their expertise and reliability," he said.
Jeremy has been in the music industry for the last 17 years and has traveled the world as a Live Sound Engineer, Monitor Engineer and Production Manager for acts such as Toby Keith, Miranda Lambert, The Newsboys and Switchfoot.