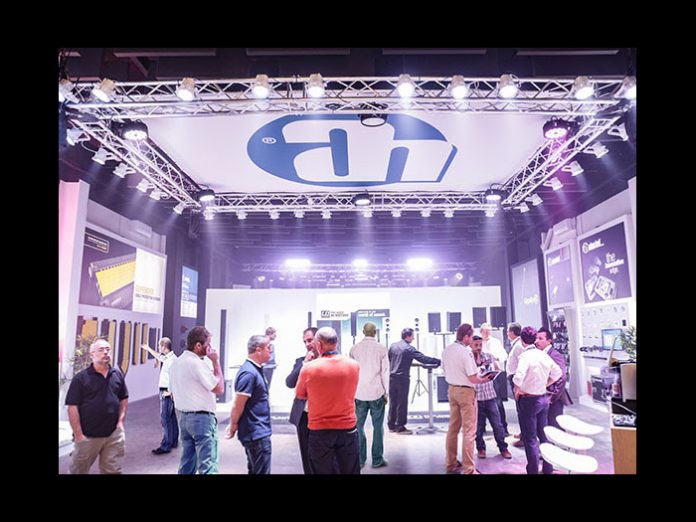 The cultural metropolis of Barcelona was selected as centre stage for the southern European market. The entire Adam Hall product range will be showcased and used for demonstrations or presentations.
Adam Hall, a key player in the pro audio, lighting, and event industry has opened a showroom in Barcelona. Products from the entire product range are now presented in a 500 sq metre viewing area. The focus is not only on own brands like LD Systems, Cameo Light, Palmer and Defender, but also on the brand new label Gravity and the new ultra-compact LD Systems CURV 500 Line Array which will be permanently featured in Barcelona. The new Cameo lasers are also on site, as well as many of the products from other manufacturers distributed by Adam Hall, such as RAM Audio or Audac.
There is even a stage to show off the sound and light equipment. The new showroom is not only an event centre for Adam Hall clients, but also serves as a platform for presentations to their own customers, for example. Over 7000 products from the comprehensive Adam Hall range can be tested or presented there in a live atmosphere.
An office and training area of 400 sq metres is located next to the showroom.
"For this new showroom in southern Europe, we have chosen the location of Barcelona because this city is very attractive and draws many business travellers from all over Europe," said Gabriel Medrano, International Area Manager, Adam Hall Southern Europe. Also, the cultural features and great infrastructure including a comprehensive range of hotels and affordable transportation made Barcelona a favourite, adds Medrano. Especially when planning events or performances. The new showroom is located only a few metres from the beach in a very busy district of the metropolis.
The opening ceremony for French customers took place on 28 and 29 October. Guests from Italy, Spain, Portugal and Brazil were invited between 3 and 6 November. During the celebrations, a blues band convinced guests of the great sound quality provided by the LD Systems PA system. At the end of the day, the latest Cameo lasers delivered a fascinating light show, amongst other features.
Many customers seized the opportunity to purchase products from the Adam Hall range at a special price during the opening days.