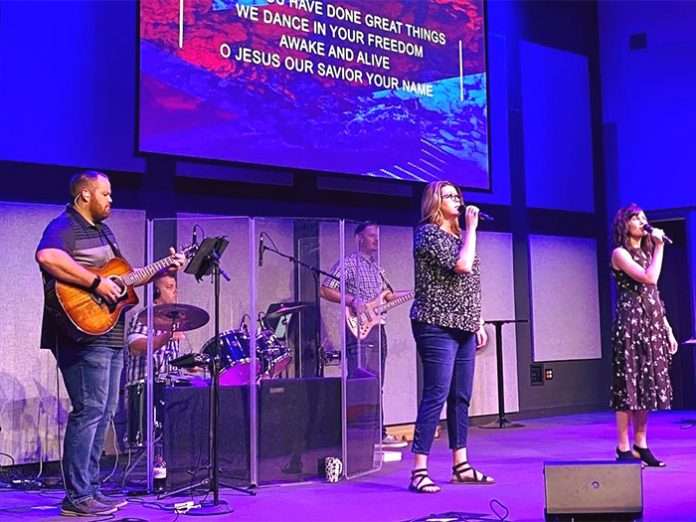 Step by step, the final pieces of Manna Fellowship church's new building fell into place this summer.  On June 24, the church's red white and blue sign was installed. A day later, the stage was framed. In July the cement walkways were complete and the reception area floors polished to a brilliant sheen.
Finally, on Sunday August 16, almost three years after the initial planning stages began, the sleek new white and gray building located in a wide expanse of green about 36 miles south east of Kansas City was ready to welcome worshippers. Only a fraction of the church's 400 congregants attended services that day, following social distancing guidelines. The others participated via a livestream broadcast.
In both cases, their connection to the proceedings was enhanced by the church's new LED stage lighting system, anchored by 20 CHAUVET Professional Ovation E-160WW ellipsoidal fixtures installed by Stark Raving Solutions.  Outfitted with 19, 26 and 36-degree lens tubes, the 100-watt fixtures are hung on the first curved electric. From this position, they provide soft white front light for those on stage.
Stark Raving Solutions, which was responsible for audio, video and lighting design as well as integration for the church, made stage lighting a priority at the new building. "Quality, even fields of light are critical to enhancing the connection between the preacher, musicians and worshippers in the seats," said the company's Marcus Hammond. "Seeing the stage clearly means less distraction, which results in a more enriching experience."
Hammond specified the system which was built by the Stark Raving Solutions design team. Aaron Smith, the Worship Pastor at Manna Fellowship, programs the church's lighting system each week. All involved in the project are happy with the supportive light on stage.
"This is the basic building block of church lighting," said Hammond. "The Ovations are somewhat of the standard of white light," he said. "The price per fixture was critically important since the church just invested in a new building, so too was the cost saving that results from the energy efficiency of this LED fixture."
The smooth dimming and easy focus of the Ovation E-160WW will help the church vary looks for different services and events, according to Hammond, while the smooth even field of light is camera-friendly for livestream services.
As Manna Fellowship, a vibrant church in an increasingly popular area, continues to grow the reliable and flexible stage rig will serve as a supportive foundation for future more, elaborate lighting systems. "The new church building is completed, but the church isn't finished developing," said Hammond. "Next step is likely to be the addition of moving fixtures for colour washes. Enhancing the worship experience is an ongoing process."