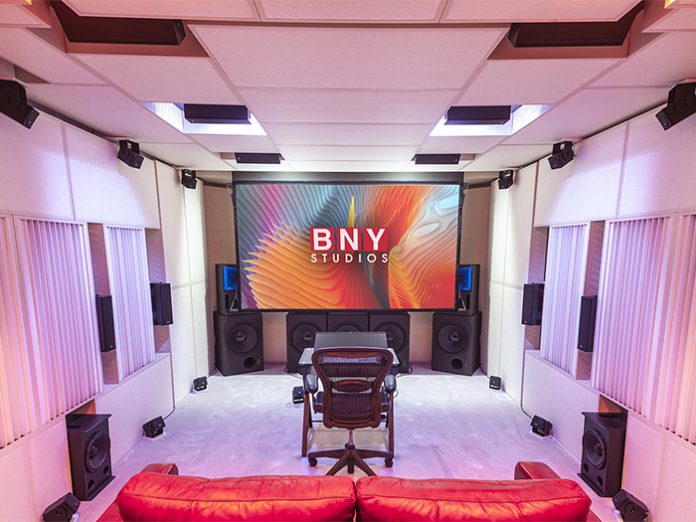 In Sioux City, Iowa, BNY Productions has been working in their production studio remotely broadcasting an average of 100 live and virtual "hybrid" events per week for the past six months. As high-profile candidates travel throughout the United States for political rallies and speeches, BNY Productions has relied on Meyer Sound Bluehorn System full bandwidth studio monitors for accuracy and precision every step along the way.
BNY, a Meyer Sound dealer and collaborator, is a full-service production company, delivering events that vary from phone and television interviews, video conferencing, and remote recordings. The circumstances called for an audio system that would deliver transparent and linear phase response. The Meyer Sound Bluehorn System was the optimal solution for BNY and their clients.
"Bluehorn eliminates the guesswork. So if it sounds good here, that is how it is going to sound everywhere. That makes my job so much easier — it is what it is and I love that," Bill Kristijanto, co-owner of BNY, said.
In addition to BNY's remote-only events, they have taken on "hybrid" events, which include physical and virtual attendees who access the event via a virtual conference room. While in-person events in cities around the country are still produced and broadcasted remotely in the BNY studio, ULTRA-X40 point source loudspeakers have been used for on-site monitoring. The sound reinforcement systems for the events vary by location, but are comprised of Meyer Sound equipment including ULTRA-X40 and LINA very compact linear line array loudspeakers.
"When people send me materials recorded on an iPhone, for example, I'm going to have to fix it. If I didn't have a good set of monitors, then I would be doing a lot of guesswork. So, Bluehorn has helped in a way that most monitors can't," Kristijanto said.
While the Bluehorn System has played a pivotal role in BNY's "Studio A," it is also equipped with nearly 50 Meyer Sound self-powered loudspeakers, including MM‑10XP miniature subwoofers, MM-4XP miniature self-powered loudspeakers, and UP‑4slim ultra-compact installation loudspeakers. The studio is also used as a recording studio and laboratory to test new ideas for live events.
Since 2016, BNY Productions has provided the audiovisual support for political events for a variety of clients. In March 2020, the COVID-19 shelter-in-place restrictions forced their live operations to shift to remote, virtual-only broadcasts.