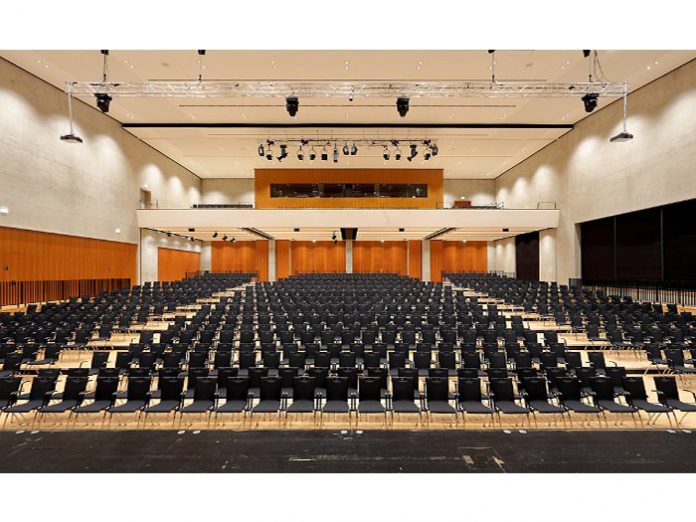 Like all regional venues, Stadthalle Singen – in the German town of the same name – plays an important cultural and economic role in the wider local area. Located close to the Swiss border, the venue hosts both entertainment and corporate events. Recently upgraded with a Yamaha CL5 digital mixing system, it is now even more attractive to both national and international users.
Owned and managed by Kultur und Tourismus Singen (KTS), Stadthalle Singen has attracted over 850,000 visitors to more than 2,400 events in the ten years since it opened. Described as 'the mostversatile event and conference centre between the Black Forest and Lake Constance', it features the Thügasaal (up to 690 seats), Small Hall (up to 270 seats) and Gallery (up to 203 seats), plus three meeting rooms and two seminar rooms.
Thanks to an inventive, modular construction with movable floors, a flat space of ​​1700 m² can be created by combining the Thügasaal, Small Hall​​, main foyer and side foyer. This versatility allows a wide range of large events such as theatre, ballet, opera, musicals, rock, pop and classical concerts, congresses, fairs and corporate events to be hosted, as well as more intimate occasions like cabaret, lectures, readings, seminars, meetings and parties.
Recognising the increasingly complex events that Stadthalle Singen attracts, this autumn its Yamaha M7CL mixing console has been upgraded to a CL5 with Rio3224-D and Rio1608-D i/o units.
"The modular room concept, with different spaces regularly being used in parallel, requires flexible signal distribution throughout the venue," said Ulf Hahn of Praxl Licht-Tontechnik GmbH, who supplied and installed the new system. "The flexibility and use of Dante were obvious reasons for choosing the Yamaha CL5, but it was also important that the console would be very reliable and widely accepted by artists and technicians."
Another advantage of the CL5 was that the house technicians – who were used to the existing M7CL – easily converted to the CL5, thanks to the uniformity of Yamaha's Centralogic user interface and operating system. "The CL5 is an industry standard mixing console, so all users will be familiar with it. It takes Stadthalle Singen to another level of audio quality and versatility," concluded Ulf. The excellent return on investment delivered by Yamaha mixing consoles has also been highlighted by the M7CL being retained as a standalone solution for outdoor or smaller events in other venues that are part of KTS.