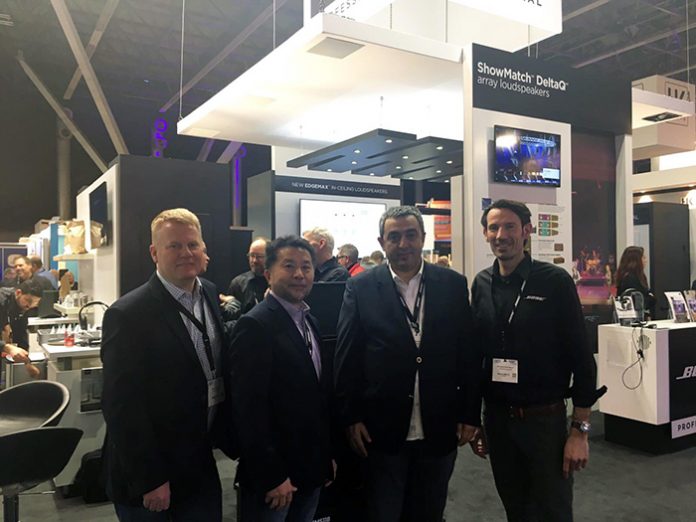 Istanbul-based Trio are adding Bose Professional to their portfolio of manufacturers and will take the reins as the distributor for Bose Professional products in Turkey from 1 April 2018.
Trio's continued focus on technology and innovation has helped to establish them as a market leader in the region. Over the years as the industry has evolved so too has Trio's product portfolio, which includes some of the world's leading manufacturers in AV technology and has resulted in the team building strong relationships with resellers and customers alike.
Embracing developments in products and software has enabled the team to deliver state-of-the-art solutions for a large and varied range of projects across multiple vertical markets, earning along the way a well-respected and trusted reputation within the industry.
After recently relocating to new offices in the Mustafa Kemal Culture Center, Trio have an impressive demonstration area and training rooms. Resellers and customers have open access to this facility as well as the highly skilled technical team, product trainers and specialists in after-sales support, all thanks to the investment Trio makes to send their teams across the world to attend product training.
Bertrand Doutrepont, EU Export Sales Manager for Bose Professional, is excited to welcome Trio to the network 'It is such a key time for the Bose team, we're going to be focusing on integrating our latest products into the market which means a lot of focus on education and training, as well rising to the challenges that come with entering into some new vertical markets. Having a distributor such as Trio strengthens our already solid network as we continue to move forward'.
As the market continues to grow, so too do Trio's ambitions, with a company mission 'to become the market leader in delivering products from the best brands in the world to every corner of Turkey'. Trio's Managing Director Ozgur Demirel shares 'Working with Bose Professional has long been an aspiration of ours and we're really happy it's now coming to fruition. We've kept a close eye on the new products coming from Bose over the recent years and are looking forward to now taking these to our customers. It marks an important milestone is the history of Trio'.