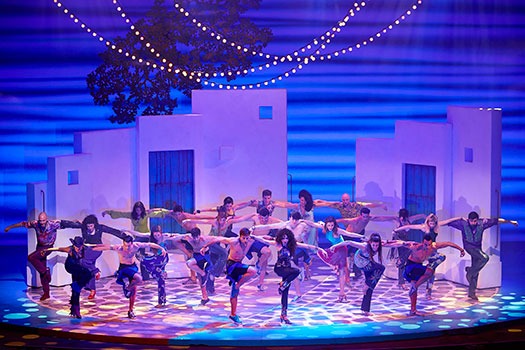 Sound designers are specifying the Meyer Sound Leopard linear sound reinforcement system to support a growing number of musical theatre productions in America and Europe alike. With support of six productions on three continents, Leopard is making an impression in the world of musical theatre with its level of clarity, power, and precision.
Motown: The Musical in London
Noted sound designer Peter Hylenski chose to deliver the soulful sounds of this West End hit musical at London's Shaftesbury Theatre with 28 Leopard line array loudspeakers and six 900-LFC low-frequency control elements, supplied by London-based Autograph Sound.
"Motown is an extremely dynamic show," said Peterk "With Leopard, the low-level dialogue is crisp and articulate, while the full musical numbers have punch and clarity.
"The first time I heard Leopard, I was amazed by the clarity, smooth vertical coverage, and amount of power in such a small package," Peter continued. "Also, the 900-LFCs work perfectly with Leopard, and their compact size is an added bonus. Having a flexible building block for low frequencies opens up possibilities for dealing with the architectural challenges of many theatres we play."
Mamma Mia! in Barcelona, Spain
"Leopard was the right choice for this tour," said Poti Martin, Sound Designer for Mamma Mia. "I needed a powerful system to cover larger houses, but also one that was compact and easy to rig for the job. Leopard's high-frequency control is amazing, so it gets clear sound all the way to the back of the room. The sound is very consistent everywhere."
For Mamma Mia!'s three-month run in Barcelona's multi-tiered, 1,653-seat Teatre Tivoli, Martin specified dual hangs of 12 Leopard loudspeakers each and six 900-LFC elements. The system was supplied by Fluge Audiovisual of Madrid.
"The 900-LFCs are powerful and musical at the same time," he added. "They make the overall sound incredibly round and full."
The Bodyguard in Cologne, Germany
For a production of The Bodyguard in Cologne's 1,740-seat Musical Dome, noted sound designer Richard Brooker put together a system of 24 LEOPARD loudspeakers and nine 900-LFC elements, supplied by FeedBack Show Systems & Service of Stolberg.
"The Bodyguard is a very dynamic show, and the LEOPARD system delivers clarity for low-level dialogue as well as loud, punchy, concert-like musical numbers and cinematic-style sound effects," reported Richard.  "Also, this particular theatre is very wide, and Leopard's broad dispersion covers it beautifully. And remarkably, this is the first time I've ever put a large array up in a theatre and left the EQ flat."
Trip of Love in New York, NY, USA
At New York's 499-seat Stage 42, 18 Leopard loudspeakers and six 900-LFC elements support the 1960s-themed Trip of Love. "Leopard gives the show outstanding clarity," reports Domonic Sack, sound designer for the musical along with Peter Fitzgerald, both with New York's Sound Associates. "It's a heavy rock show, and we're getting a great vocal sound from them, with tremendous gain before feedback."
Also in New York, the hit Broadway musicals School of Rock and On Your Feet are both supported by Lyon, another member of Meyer Sound's LEO Family of line array systems.
Scotland and Brazil
Elsewhere, 18 Leopard loudspeakers and four 900-LFC elements were supplied by Edinburgh-based Blueparrot for a production of Legally Blonde at King's Theatre in Glasgow, Scotland. And in Brazil, Sao Paulo-based Gabisom Audio Equipment has deployed 16 Leopard loudspeakers for a production of Wicked at Teatro Renault.