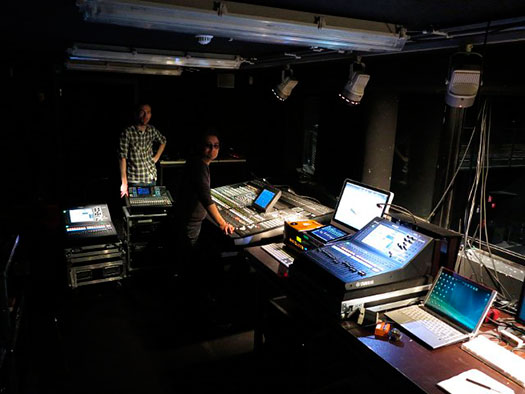 As well as providing excellent facilities, sound quality and ease of use, Yamaha professional audio equipment is renowned for its reliability and long life. The oldest of five Yamaha digital mixing consoles owned by the Théâtre National in Brussels is over 10 years old and still in reliable daily use, so investing in two further Yamaha mixers was an easy decision for the theatre's technical team.
Originally established over 60 years ago, Brussels Theatre National de la Communauté Française de Belgique was the first French-speaking theatre in the country. In 2004 the theatre moved to a brand new building, where the decision was made to 'go digital'. A Yamaha PM5D was the console of choice, seamlessly working with the building's Optocore network thanks to the MY-series YS2 interface.
The PM5D was so successful that the theatre invested in four more Yamaha digital mixers in the following years – a DM1000, M7CL-32, LS9-32 and LS9-16, which meant a much wider range of productions and performance spaces within and outside the theatre could benefit from Yamaha mixing technology.
The theatre's latest console purchase has been two QL1s. Supplied – as was all the previous Yamaha equipment – by Brussels audio visual dealer Riva Audio, the QL1s satisfy a growing demand for high quality, portable mixing.
As well as the theatre's own shows, hosted in a variety of spaces, it works closely with the city's KVS (Royal Flemish) Theatre on a joint programme of productions and collaborates with six other pan-European theatres and festivals in the Villes en scène/Cities On Stage project. It has never had more demand for mixing consoles which are advanced, reliable and portable.
"All the Yamaha consoles we have supplied to Theatre National are still in regular use. Ever since we supplied the PM5D 12 years ago they have been really happy with the exceptional reliability of Yamaha," said Riva Audio's Frederic Vard.
"Working with other venues means that the theatre is staging a growing number of productions in a variety of locations. Adding the two QL1s satisfies their demand for mixers that can be easily moved, yet have the latest facilities and flexibility which producers and audiences demand. And, being Yamaha, they are confident that they will be working flawlessly for many years to come."