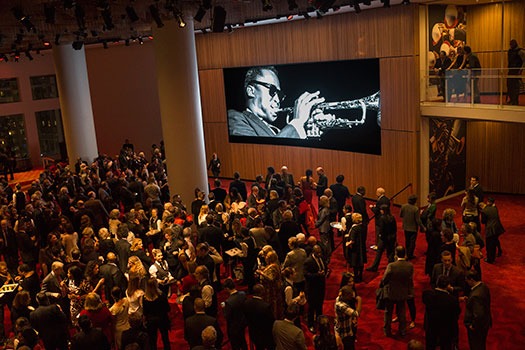 WorldStage provided system integration and installation for a new high-resolution LED screen as part of a major renovation to the public spaces at Jazz at Lincoln Center's home at Columbus Circle.  The display was unveiled to Jazz staff and patrons at a December 17, 2015 event MC'd by Bette Midler.
The Unilumin U-Tile 2.6 LED display is at the heart of the redesigned Mica and Ahmet Ertegun Artrium, which is used for events and pre-concert gatherings.  The display measures 26 feet 3-inch wide by 9 feet 9-inch tall and has a shallow curve; the custom framing system was designed and fabricated by RP Visual Solutions in California.  The 2.6mm pixel-pitch LED display provides over 3.5 million image pixels – well beyond HD resolution.
"The 2.6mm super-high resolution display provides a visual focal point for the space, and I'm looking forward to see the staff and clients of Jazz at Lincoln Center utilize the display for all kinds of purposes," says WorldStage president and display designer, Joshua Weisberg. "The display is crisp, vibrant and does not show pixilation even if viewed from close distances."
The new display is fed content from a Dataton WATCHOUT media server and also receives feeds originating within the facility, such as Closed Circuit feeds from the Rose Hall or Appel Room concert spaces.  A Meyer Sound speaker system for audio playback complements the LED screen.
"Jazz at Lincoln Centre has WorldStage to thank for the centrepiece of the Mica and Ahmet Ertegun Atrium," says Doug Hosney, vice president of the Frederick P. Rose Hall.  "The dedicated team that included everyone from the WorldStage president to the wiring techs brought the wall together and delivered it on time and on budget."